Board of Directors & Staff
Gaining Ground is managed by an active Board of Directors whose members represent diverse backgrounds in the arts, business, law, education, human services, public relations, and community activism.
---
Board of Directors
Sue Mildrum, President
Lisanne Wheeler, Vice President
Amy Capofreddi, Treasurer
Kristen Van Damm, Secretary
Catherine (Katie) Bekel
Christa Collins
Sigmund Correa
Shilpi Tanden Desai
Laurie Engdahl
Jen Flint
Sam Hiersteiner
Karen Perkins
Ashley Perssico
Yvette Philip
Joe Rigali, Emeritus
Lucy Rosborough, Emeritus
Polly Vanasse
---
Staff
We are fortunate to have talented farm and office staff to manage our day-to-day operations. Currently, we have seven year-round employees including a farm manager, two co-assistant farm managers, executive director, operations director, and communications manager. For the 2023 growing season we also have one assistant grower, two field crew members, and a groundskeeper.
---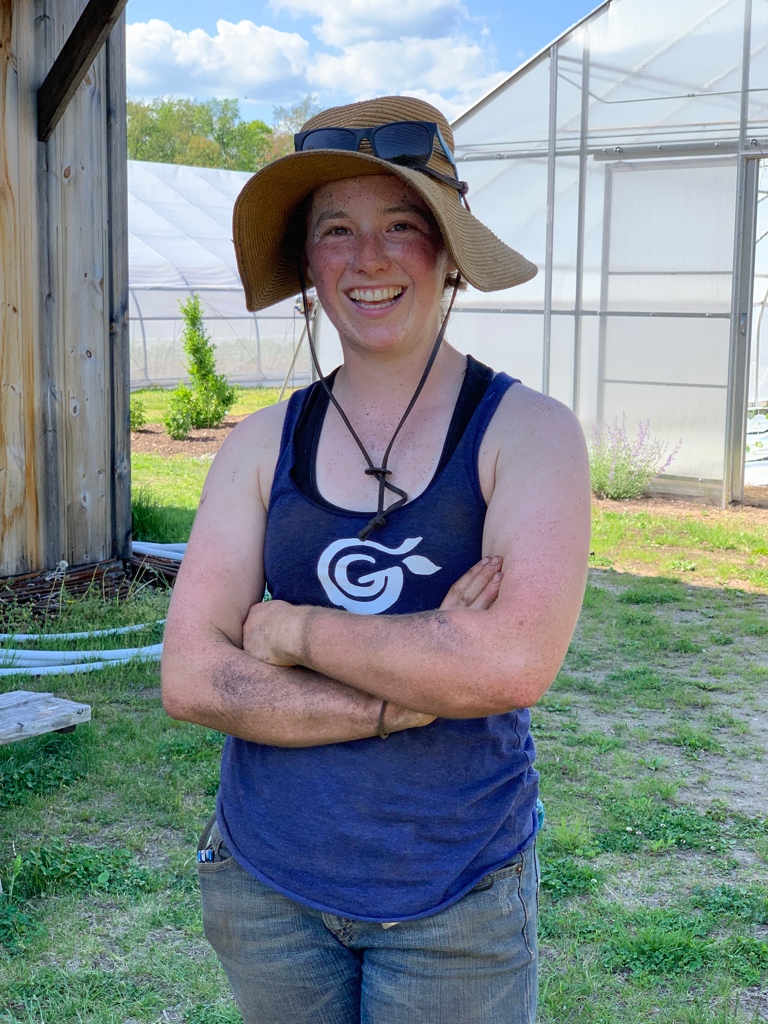 Kari Bender
Co-Assistant Farm Manager

Kari is thrilled to be returning to the Gaining Ground team this year for her fifth season farming. She loves working in the soil and with plants in all their forms. Kari is also a sewist and a crafter and is currently learning more about native plants and their personalities. At Gaining Ground this year, she is excited to dive more deeply into greenhouse work and cultivation of perennial herbs. She is grateful to be working with such an incredible team of people and looks forward to another successful season.
---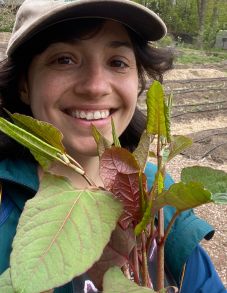 Dani Capalbo
Communications & Development Manager

Dani joined Gaining Ground in 2022, having first learned about the farm during an E-Mass CRAFT workshop. At the time, she was enjoying a life-changing harvest apprenticeship at Siena Farms—her first foray into agriculture after more than 10 years in the nonprofit sector. Now she feels exceptionally lucky to combine her passions for capacity-building, storytelling, and growing food into one role at this beautiful farm! Dani's interest in local food has roots in her childhood, when she helped her grandfather tend his urban garden. Dani is also a chef instructor for Take Back the Kitchen at Haley House. She enjoys baking sourdough, writing songs, and cooking for loved ones.
---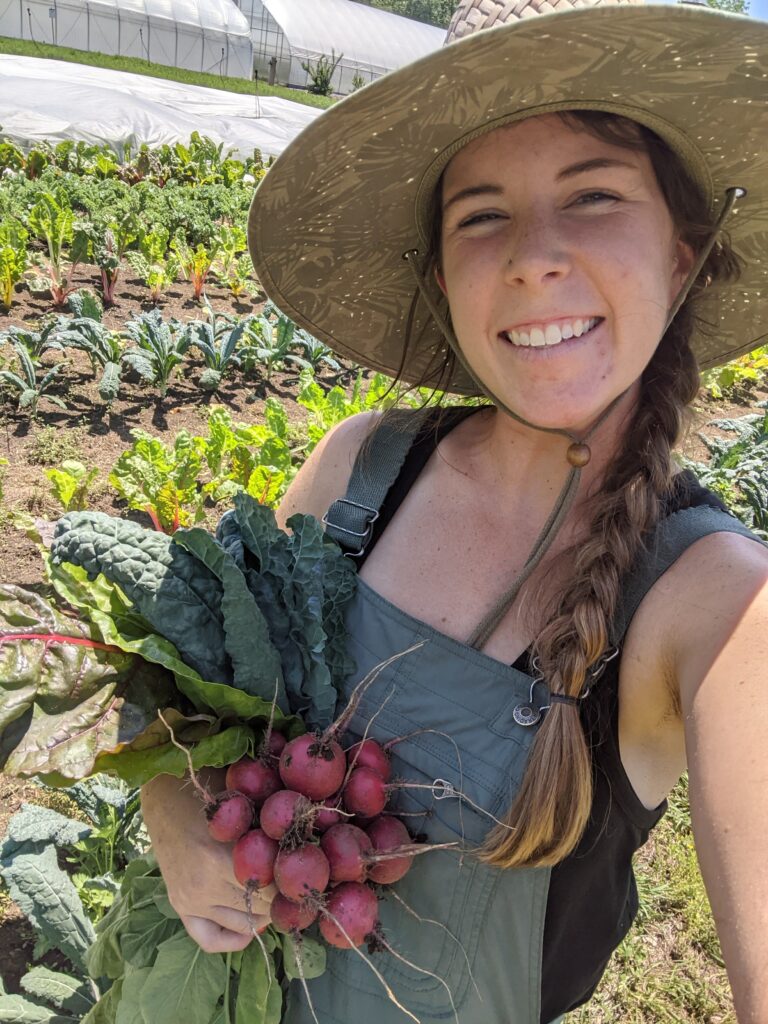 Chrissie Edgeworth
Co-Assistant Farm Manager

Chrissie, whose roots are in Chicago, is returning for her third season at Gaining Ground. Previous jobs have taken her through various wilderness areas in New Hampshire, Montana, and Idaho. She was lucky to call Yellowstone National Park her classroom while leading high school science education courses. And the Peace Corps allowed her to work and learn alongside farmers and agropreneurs in Guinea, West Africa. Chrissie enjoys learning about the intersections of food, ecology, community, justice, and creativity. When she isn't on the farm, she's crafting and running her jewelry business Ramblejoy Jewelry Co., hiking, writing, or enjoying the company of friends.
---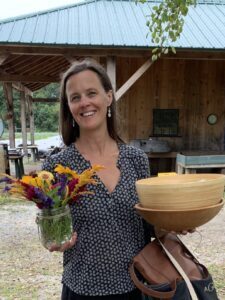 Allison Goodwin
Operations Director 

Allison joined Gaining Ground in 2017. A farm field trip in third grade sparked her lifelong passion for sustainable agriculture, connecting to the land, and increasing equitable access to fresh, healthy food. She has worked on organic farms throughout the United States as well as in Wales, Ireland, Thailand and Australia. Allison currently directs Gaining Ground's operations including partnerships and produce distributions. She worked previously at Chelsea Green Publishing and at several environmental non-profits, and holds a bachelor's degree in environmental studies from Marlboro College in Vermont. In her free time, Allison enjoys gardening, hiking, and spending time with family and friends.
---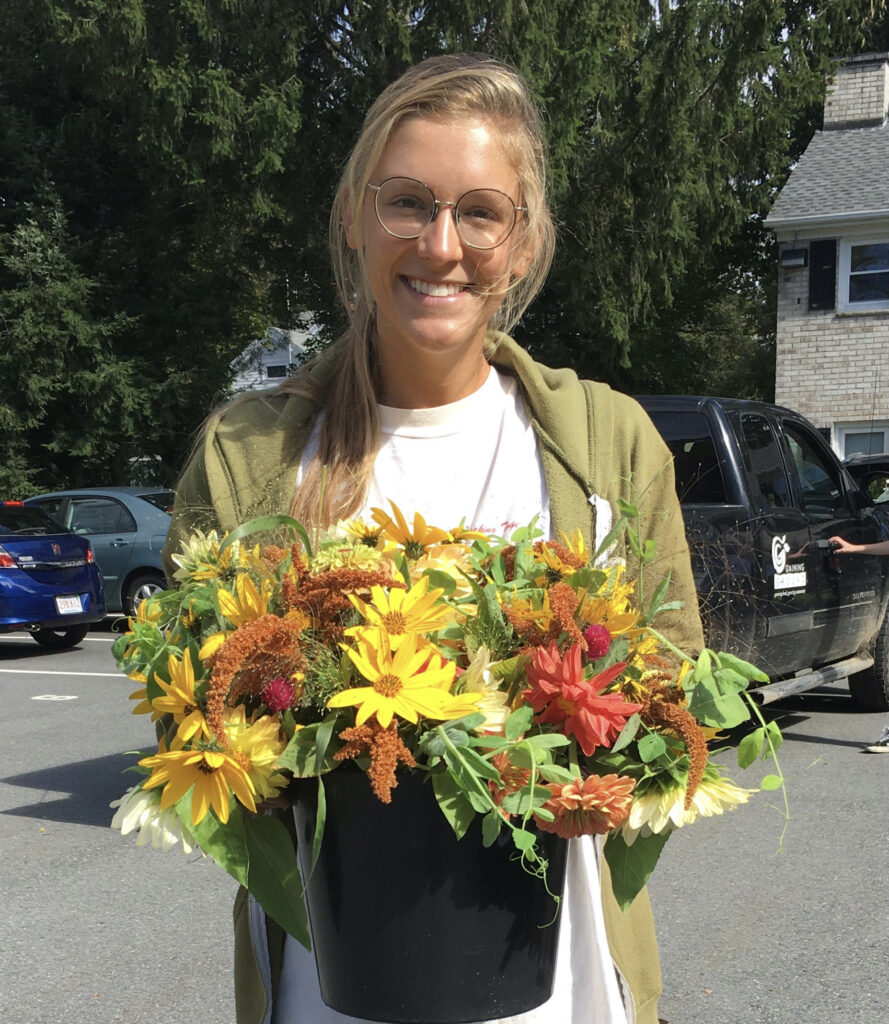 Avery Indermaur
Volunteer and Outreach Manager

Avery is grateful to be returning to Gaining Ground for her third season. She joined the field crew in 2021, shortly after graduating from Duke University with a major in environmental science, minor in cultural anthropology, and a certificate in sustainability engagement. Avery is passionate about the connection between wellness and sustainability, particularly through food and farming. She loves sharing this passion with volunteers on the farm, whether it is by doing fieldwork, packing and distributing food at the Food for Families market, or giving educational tours or presentations. Teaching volunteers and visitors about what we do and why we do it and experiencing the joy and excitement of this work alongside them is one of her favorite parts of her job. When she's not in the field or the office, you can find her doing yoga, walking everywhere, dancing, baking, or tucked in a coffee shop with a good book.
---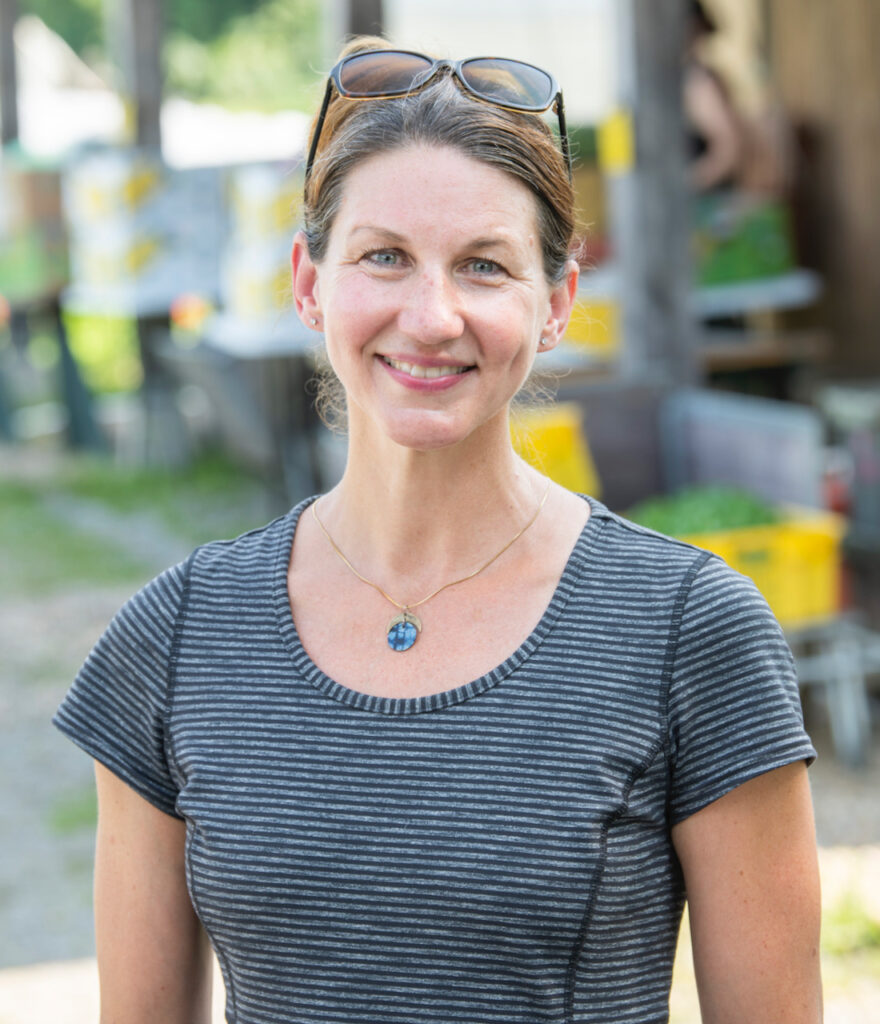 Jennifer Johnson
Executive Director

Jennifer is passionate about equitable access to healthy food and the healing power of nature. She's found her dream job at Gaining Ground and loves working with Gaining Ground's staff, board, volunteers, and partners to grow food and grow community. She earned a degree in communications from Boston University and completed the in-residence Business for Impact program at Georgetown University. Jennifer began her career in marketing communications before pivoting to non-profit development and management. Outside of work you'll most likely find her making soup, sharing her love of Dolly Parton, or sitting around a campfire with friends and family. She lives with her family in Concord and enjoys reading, running, hiking, gardening, and kayaking.
---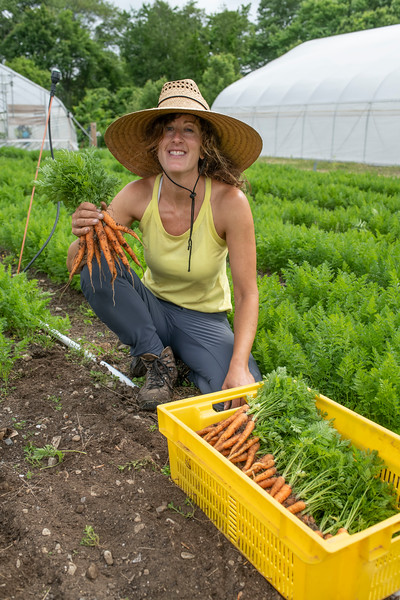 Anna Kelchlin
Farm Manager

Anna believes in connecting people to the land through growing food. She is honored to be a part of the process of healing land and community with a reciprocal and regenerative mindset. She spent seven seasons farming at Waltham Fields Community Farm and is now entering her fifth season at Gaining Ground. She holds a masters degree in education with a focus on multicultural community education. Anna is a heart transplant recipient, a certified Iyengar yoga teacher, and enjoys speaking Spanish and traveling to places near the sea. She is pumped to plant more cover crops, spread mulch piles, and discover diverse life forms above and below the soil!
---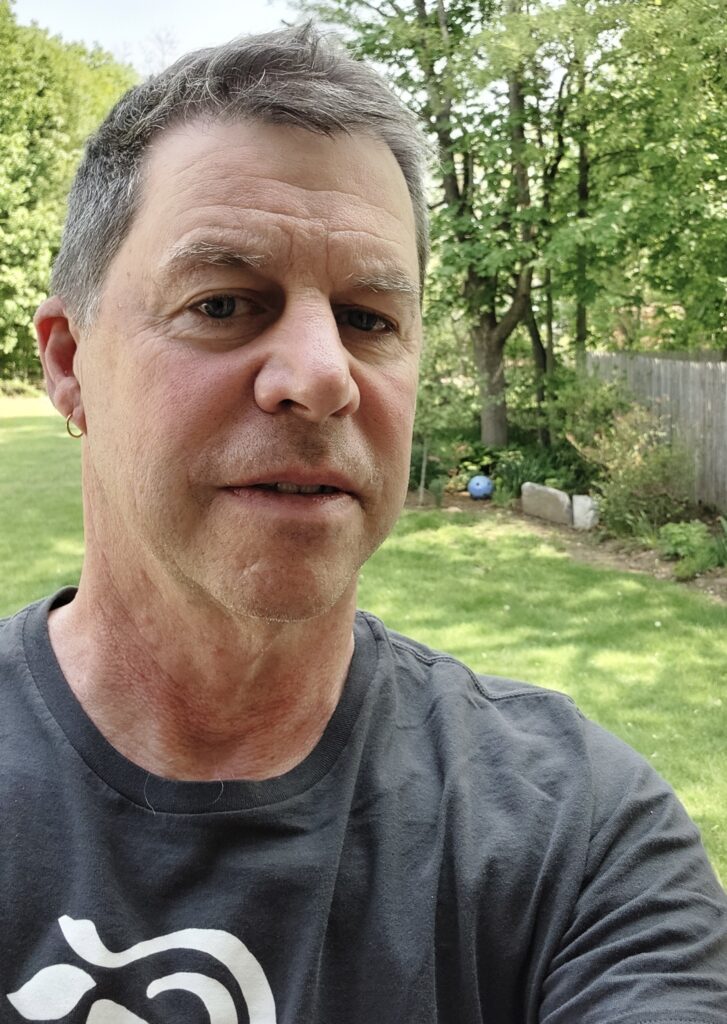 Geoff Nelson
Groundskeeper

Geoff has a long interest in farming and helping those experiencing food insecurity. He works at Drumlin Farm in Lincoln and volunteers at the Acton Food Pantry. He earned a degree in visual communications (photography and graphics) and worked for a small publication firm before shifting his focus to outdoor education. After working at an outdoor education center in Virginia, he worked as an exhibit designer and property manager at Discovery Museum in Acton. He lives in Maynard with his wife and son. When not working, you can find him cooking, taking photos, reading, hiking, surfing, biking, and gardening.
---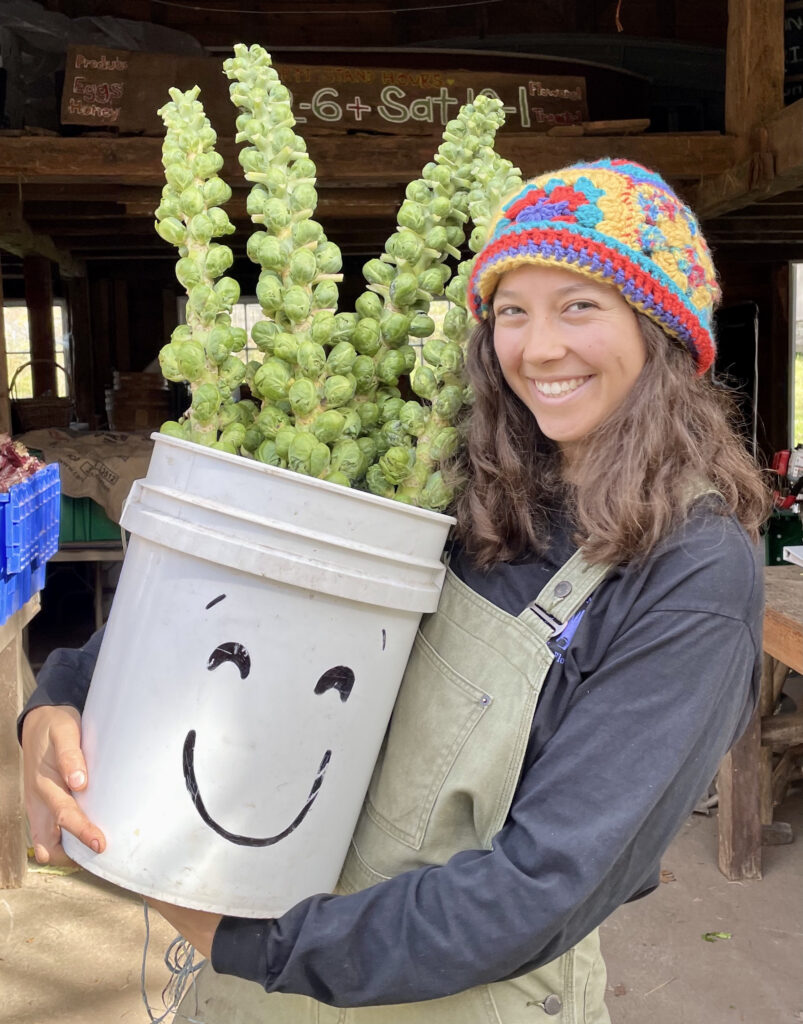 Maddie Weikel
Assistant Grower and Assistant Volunteer Leader

Maddie (she/her) first learned to grow in organic, no-till systems in the Concord area, and now joins the Gaining Ground team for her first season in 2023. She finds joy and power in farming and the opportunities it provides to build community by growing food and stewarding the land, which can offer tools in pursuit of our collective liberation from systems of oppression. Previously, Maddie has worked with and learned from young people, and she is excited to continue cultivating those connections and skills with the Gaining Ground community. Since graduating from New York University in 2020 with a bachelor's degree in sociology and environmental studies, her farming journey has moved alongside a journey to more deeply connect with Judaism. She is inspired by the many lessons that ever-evolving Jewish tradition has to share about land stewardship, and vice versa. When not out in the fields, you can find Maddie reading, making to-do lists, crafting, roasting vegetables, vacuuming, and sharing meals with friends.
---