Board of Directors & Staff
Gaining Ground is managed by an active Board of Directors whose members represent diverse backgrounds in the arts, business, law, education, human services, public relations, and community activism.
---
Board of Directors
Elisabeth Elden, President
Polly Vanasse, Vice President
Gary Vilchick, Treasurer
Jen Flint, Secretary
Penny Austen
Amy Capofreddi
Theresa Cohen
Christa Collins
Nick Ferbert
Jessica Huddy
Lauren McKown
Sue Mildrum
Gretchen Nelson
Karen Bechtel Perkins
Joe Rigali, Emeritus
Lucy Rosborough, Emeritus
Linda Booth Sweeney
Lisanne Wheeler
---
Staff
We are fortunate to have talented farm and office staff to manage our day-to-day operations. Currently, we have four year-round employees including a farm manager, executive director, program manager and outreach manager. We also have four assistant growers and four field crew members.
---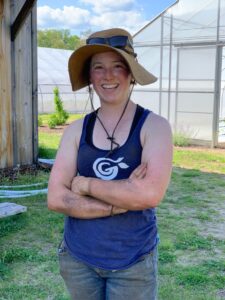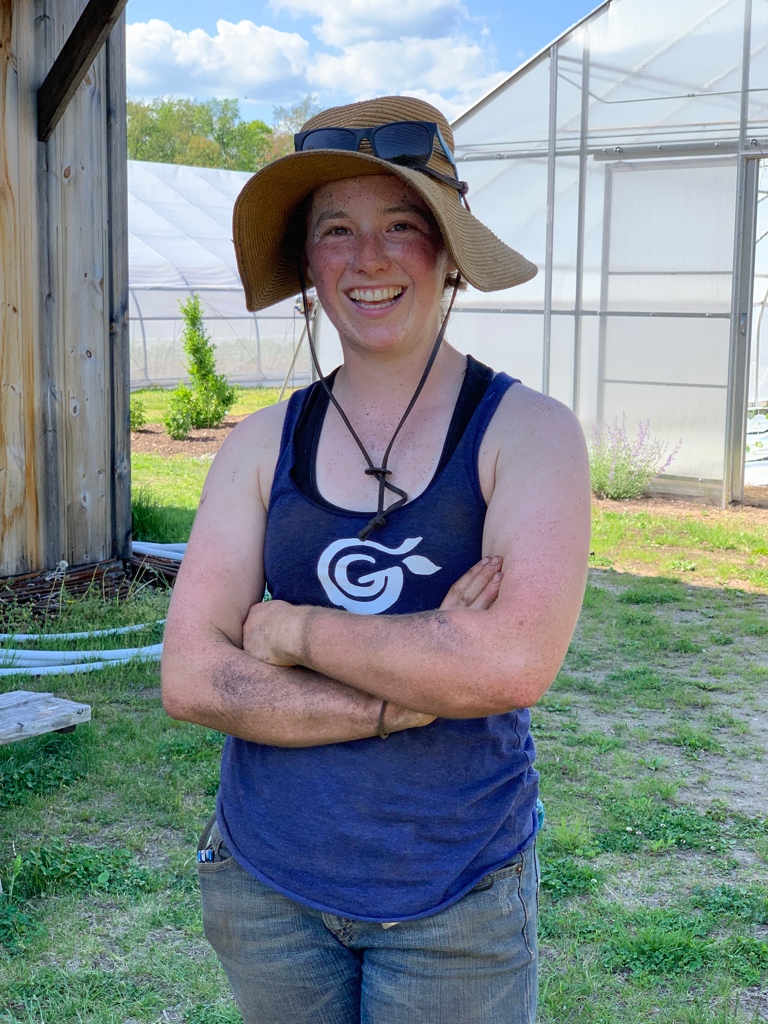 Kari Bender
Assistant Grower

A mechanical engineer by training, Kari strives to solve real world problems centered around the environment, equality, and empathy. Previously working in pasture-raised livestock production at Codman Community Farms, she is now focusing on no-till produce farming methods. Kari tackles projects through the lens of an inquisitive engineer. Fixing tools, troubleshooting and problem solving skills are off the chart! Always hustling in her Lee dungaree overalls, she attacks every project with gusto and a boom box, cranking out great tunes.
---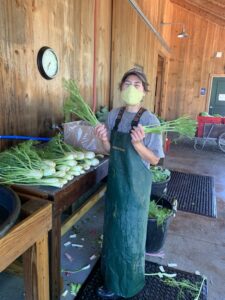 Stacy Entel
Assistant Grower

Stacy is entering her fifth season of farming, after growing with the Neighborhood Farm and the Farm School. As former elementary school educator, Stacy enjoys learning about nature and sharing her understanding. She loves flower-drunk honeybees and nerding out about carbon sequestration. Stacy is an upbeat collaborative worker who is willing to jump in and provide energy and ideas to accomplish tasks and solve unexpected situations. She also enjoys volleyball, hiking, and baking, and will politely befriend any cat she meets. 
---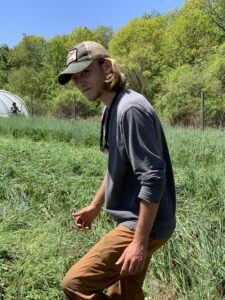 Oliver Gaehde
Field Crew
Oliver studies conservation and sustainable agriculture at the Oregon State Cascades University's School of Natural Resources. After working on organic farms and homesteads in New Zealand, Australia, and Fiji, he found his interest in permaculture farming and eco-architecture. Gaining Ground is a perfect fit for Oliver's passions with its regenerative no-till practices. In his free time, he enjoys playing card games, soccer, backpacking, skiing, making bonfires, and raising local New England silk moths.
---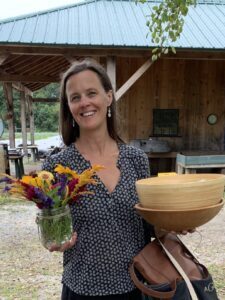 Allison Goodwin
Program Manager 

Formerly administrative assistant for all things fundraising, Allison has expanded her responsibilities to include coordination of recipient partnerships, volunteer programs and any other projects that pop up. She is detail-oriented, efficient, and unflappable. Previously Allison worked at Chelsea Green Publishing and also on several organic farms in the US and abroad. She has a degree in environmental studies and has unlimited degrees of patience and poise. Allison is often seen running out to the barn as she keeps everything running smoothly.
---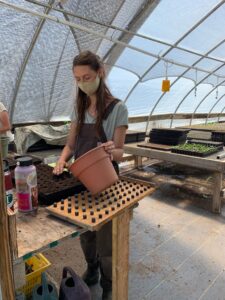 Isabelle Jamison
Field Crew
Passionate about how farming is practiced throughout the world, Isabelle is a linguistics and cultures student. She has studied the effects of climate change and drought on farming in Morocco, and aspires to continue studying climate and resource-affected farming elsewhere abroad. When not digging in with curiosity and focus to projects at the farm, Isabelle can be found embroidering, creating natural dyes, baking, kayaking, or catching bugs.
---
Jennifer Johnson
Executive Director

Jennifer brings years of experience working with nonprofits in development and communications. Formerly commuting into Boston, she now bikes to work and spends more time outdoors. Arriving just before the pandemic, Jennifer has navigated with compassion and professionalism. Jennifer's can-do attitude, her good sense of humor, her ability to move among a variety of people and groups with ease, and her passion for communities and healthy living make her a great fit for Gaining Ground.
---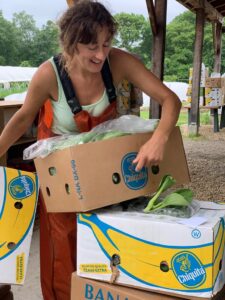 Anna Kelchlin
Assistant Grower

Anna believes in connecting people to the land through growing food. She is honored to be a part of the process of healing land and community with a regenerative mindset. Formerly farming at Waltham Fields Community, Anna is our irrigation technician, insuring an inch of water weekly to all crops. At the other end of the farming pipeline, she manages our wash station, pumping out 125,000 pounds of seasonal produce, all washed, weighed, and distributed to more than a dozen hunger relief partners. She is fluent in Spanish and enjoys flooding the wash station area with sounds of the Latin beat. Anna teaches Iyengar yoga and strives to empower others to live fully and feel peace.
---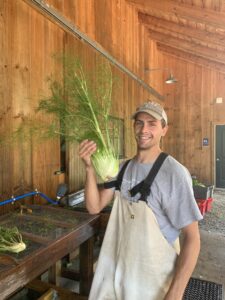 Tim O'Brien
Field Crew
Joining the field crew midseason in 2019, just after a killdeer nested in the leeks and fledged two chicks, Tim returned this spring to experience the farm cycle starting in early spring. He is an avid naturalist who pays detailed attention to his farm tasks and the environment around him. One of Tim's favorite things about farming is being more in tune with changes in the seasons and the weather and how they affect the local ecosystem. Besides bringing people closer to their food, farming also helps connect farmers and volunteers to the land.
---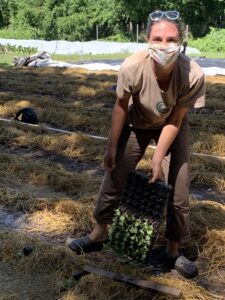 Kim Schmidt
Assistant Grower

This is Kim's third season sharing her expertise about food and farming with the staff and volunteers. A native of Kansas and Missouri, Kim worked for a number of years with youth and also ran her own CSA farm. In addition to overall field work, she manages all of the seeding and watering in our greenhouse and also oversees everything from planning to bouquet arrangements in our flower beds. Kim enjoys camping, hiking, knitting and she bakes wicked good pies for birthday celebrations.
---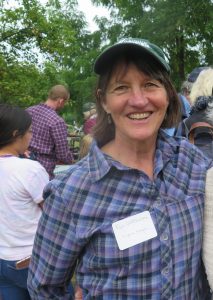 Fan Watkinson
Outreach Manager

Active in the local agricultural community, Fan has overseen Gaining Ground's programs since 2014 and is currently focusing on social media and online communications. A gardener, community organizer and life longer learner, she thrives in this regenerative agriculture, hunger relief organization. Each season is filled with new challenges and opportunities, with working along side the farmers and raising the barn as outstanding experiences.
---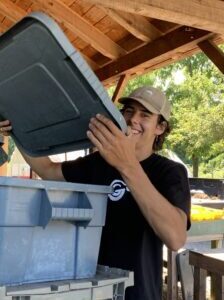 Jalen Winstanley
Field Crew

Jalen is an environmental and indigenous studies student in Ithaca, NY, and long-time naturalist with a deep-running passion for the land and wildlife of the Concord area. He loves the hands-on work and ecological focus of no-till agriculture. This is his first season of vegetable farming, and when not at Gaining Ground he can be found roaming the Concord or Ithaca woods in relentless search of good birds, fish, bugs, and plants.
---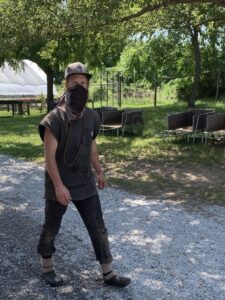 Doug Wolcik
Farm Manager

During his eight seasons at Gaining Ground, Doug has developed our no-till regenerative farming program and managed our farm staff and volunteers to produce three times as much produce on the same amount of land. Doug has led workshops at the Northeast Organic Farmers Association (NOFA) conference, hosted farm tours for the Collaborative Regional Alliance for Farmer Training (CRAFT), and participated in a three-year research project on no-till farming practices and nutrient density of produce in conjunction with NOFA and the USDA.