Support Us
Make a Donation
Gaining Ground relies on donations from individuals, businesses, civic groups, faith communities, corporations, family trusts and other grant-giving organizations to ensure our ongoing existence and success. Your contribution enables our program to continue to make an important difference within our community. Gaining Ground, Inc. is a 501(c)(3) non-profit organization.

Contribute Securely Online


Mailing Your Donation
Send your donation to Gaining Ground, P.O. Box 374, Concord, MA 01742. Please make checks payable to Gaining Ground.
Other Ways to Give

Donor-Advised Funds
A donor-advised fund, or DAF, is a charitable giving vehicle created by an individual, family or organization that simplifies the administrative burden of fulfilling your philanthropic objectives. It offers the favorable tax benefits of giving directly to Gaining Ground with added flexibility around timing of gifts.
Gaining Ground does not directly manage donor-advised funds. However, they can be established at many financial institutions or community foundations.
If you do choose to make a gift to Gaining Ground through a DAF, please let us know with an email or call to our office at office@gainingground.org or 978-610-6086 so that we can thank you for your support.
You can also choose to have any remaining DAF funds distributed to Gaining Ground after your lifetime by naming Gaining Ground as a beneficiary of all or a portion of remaining funds. If you choose to do so, please use our legal name, "Gaining Ground Inc.," and Tax ID: 04-3083976. 

Matching Gifts and Workplace Giving
Whether you are currently employed or retired, your employer may amplify your individual support with a matching gift. Many companies match the gifts of spouses, surviving spouses, and outside directors as well. Check with your Human Resources department to determine whether your company supports matching gifts to Gaining Ground. Gaining Ground's tax ID/EIN is 04-3083976.
If your employer requires a form to be filled out by our organization, you may email it to office@gainingground.org or mail it to:
Gaining Ground
P.O. Box 374
Concord, MA 01742

Memorial and Honorary Gifts
Gaining Ground gratefully accepts honorary and memorial gifts. Please make your gift using our online donation form, and select the option for honor or memorial gifts. You will be able to include additional details of your gift using this option.

Donate via Paypal:
Find us on Paypal here.

Donate via Venmo:
Find us on Venmo here.

Contribute Needed Items
Our needs vary throughout the year but our frequent needs include:
Banana boxes (These are easily collected from your local grocery store)
Child-sized work gloves
Adult-sized work gloves
Wheelbarrows
Vermont garden cart – large
8- or 16-oz. Mason jars
Firewood
Folding tables
Kitchen chairs
Bags of leaves

Buy Our Cookbook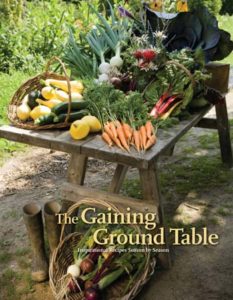 The Gaining Ground Cookbook is available by contacting our office to order it through the mail or via local pick-up.
Cover photo by Allie Cottrill
Cookbook design by Studio-e
"I just spent the last 45 minutes reading the cookbook, and BOY am I impressed. I love everything from the background info on Gaining Ground, the font selection, page graphics, photos, tips, and mostly the recipes! Sign me up for five more copies."

Spread the Word
If you work as a financial adviser, estate planner or attorney, please highlight Gaining Ground as a worthy charitable organization to your clients. Many employers also recognize our work via matching charitable donations. If you know of a family foundation that would be interested in our work for hunger relief and community service, please tell them about us.

Join Us on Social Media