A Farm That Yields Much More Than Food
April 7, 2023 • Allison Goodwin, Operations Director

Gaining Ground's 2022 growing season was a resounding success with 115,373 pounds of vegetables, fruit, herbs, maple syrup, honey, and cut flowers distributed to our neighbors experiencing food insecurity. Thanks to a team of hardworking, experienced farmers led by Anna Kelchlin, as well as the helping hands of more than 3,100 volunteers, production increased 17 percent over the previous season. Our 2022 distribution total is equivalent to 461,000 individual servings of nutritious food, donated with respect and care to over 1,200 households each week throughout eastern Massachusetts.
"Our partnership with Gaining Ground has allowed us to provide some of the highest quality, local vegetables to our guests and further enhance the nutrition and flavor of the meals we serve. It supports our efforts to utilize more seasonal ingredients and introduces our guests to varieties of vegetables they may never have heard of—and which they taste with excitement and appreciation. We especially appreciate that Gaining Ground honors the dignity of the women in our community. When we first began our partnership, we were welcomed to their farm in Concord so our guests could see it all first-hand—from seed, to plant, to their plate—and meet the farmers dedicated to growing their food. This collaboration supports our shared missions of fighting hunger and increasing access to nutritious food."

—Jennifer Hanlon Wigon, Women's Lunch Place
Too little rain is, it turns out, easier for our farm to handle than too much. Last season was mercifully absent the relentless rains that characterized the summer of 2021, and the farm's well kept our fields sufficiently irrigated. Quantities of the following crops doubled in 2022 compared with the previous season: onions, leeks, melons, broccoli, celeriac, napa cabbage, sweet potatoes, and parsnips. For the year overall, the top three crops distributed by Gaining Ground were lettuce (13,119 pounds or 11 percent of total produce distributed last season), carrots (12,544 pounds, 10 percent), and summer squash (9,035 pounds, 7.8 percent).
Reflecting on the 2022 season, it's easy to be impressed as our production numbers continue to climb. I ponder other, more nuanced impacts that are harder to quantify, however: the exuberance of Bridge Boston Charter School kindergarteners who visited the farm on a sunny April morning; a regular volunteer who fixed structures and tools each week without being asked. I recall the grateful smile of a Food for Families guest, accepting her weekly bag of vegetables with a wink and a warm squeeze of my hands. The 2022 season comes back to me in small, meaningful vignettes: the surprised face of an adult volunteer who learned that garlic grows as a bulb, beneath the soil; a partner representative who brought bagels to the farmers each week; the growing confidence of a Community Farm Team member as the season progressed; a recipient of our vegetables who remarked on the tranquility of the land during his first visit to the farm.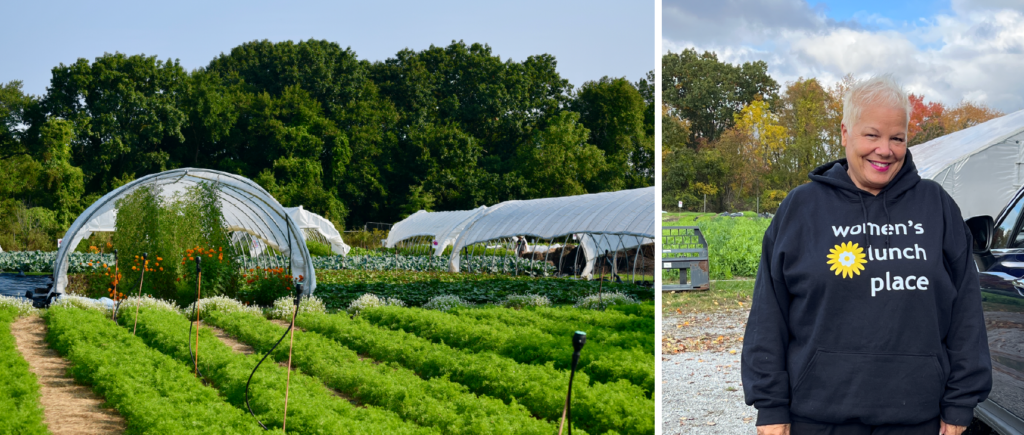 With each passing year, it is clear to me that Gaining Ground provides more than just nourishment. We are engaged in a reciprocal relationship with our community—giving and receiving, teaching and learning, supporting and being supported. For nearly 30 years, Gaining Ground has offered deeply rooted hope, purpose, education, and sustenance to thousands. Each volunteer, board member, donor, employee, and partner representative co-creates and shares in this legacy.
Gaining Ground's partnership with fifteen local food pantries, emergency meal programs, shelters, schools and nonprofits is integral to our success. We engage in a feedback loop with these organizations to center client preferences, prioritize crops that reflect the diverse backgrounds and cuisines of the entire community that receives our produce, and strive for inclusivity and equity. Through initiatives like translated recipe cards, new crop experiments, regular surveys, and annual site visits (both to and from partners), we strive to thoughtfully and creatively meet the needs of the 1,200 households we supply with fresh, organic produce.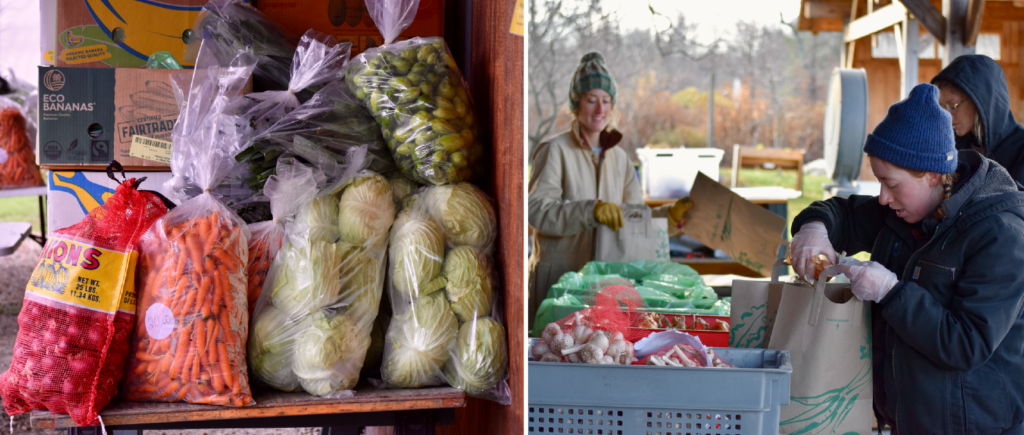 As Gaining Ground's 29th growing season begins, we are honored to partner with the following organizations to address food insecurity:

Bedford Food Bank

Bridge Boston Charter School, Roxbury

Community Teamwork/Head Start, Lowell

Daniel's Table, Framingham

East Boston Community Soup Kitchen

Eastie Farm, East Boston

Food for Families, Concord

Healthy Waltham

House of Hope, Lowell

Loaves and Fishes, Devens/Ayer

Lowell Transitional Living Center

Open Table, Maynard/Concord

La Colaborativa, Chelsea

Sudbury Food Pantry

Westford Council on Aging

Women's Lunch Place, Boston

Farm Update, Hunger Relief, Recipients