Adapting to Meet Rising Need: The Bedford Food Bank
June 27, 2023 • Christine Savage, Communications Manager

The landscape of food insecurity in Massachusetts has transformed in the three years since the COVID-19 pandemic began. In 2019, the rate of household food insecurity was 19 percent, according to the Greater Boston Food Bank. Today, it stands at 33 percent.
This profound change has demanded ingenuity and adaptability from many of the organizations working to get people the food they need. The Bedford Food Bank, one of Gaining Ground's long-standing hunger-relief partners, is an outstanding example of this commitment to community and collaboration.
"We're seeing new people come into the food bank every week and their circumstances are very difficult," Carla Olson, healthy communities coordinator for the Town of Bedford, recently told us. "Some people are surprised by how much food insecurity there is in the suburbs, but it's significant. And for those folks who had been right on the edge of being able to pay their bills before, now it's even harder. Costs for everything have gone up—especially for groceries—and it becomes a question of choosing what bills you're going to be able to pay each month."
Carla oversees the operations of the food bank, which has undertaken a significant transformation in the time since the pandemic began.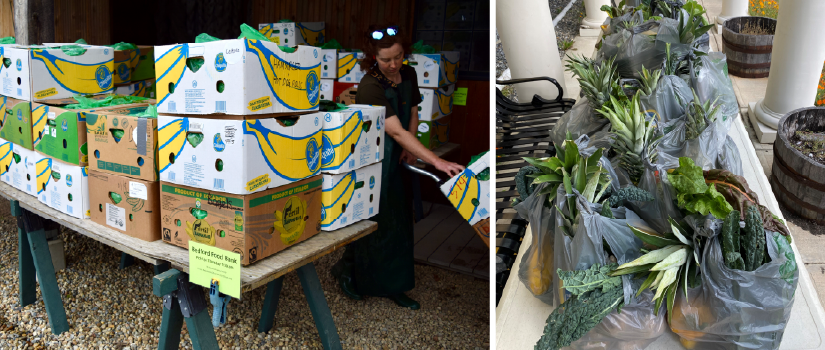 The food bank's beginnings were nearly 35 years ago when a local family started the nonprofit Bedford Community Table/Pantry. Before 2020, they provided food for between 30 and 35 households each week. When the pandemic struck, need in Bedford increased rapidly, and the pantry needed additional space, staff, and supplies in order to meet rising demand. To make this possible, they formed a partnership with the town. The municipality assumed day-to-day hunger-relief operations and the nonprofit joined hands to help fund the food bank's efforts.
"The model we're using is really exciting and the journey has been amazing," said Carla. "We thought that the town might take on the work of the food pantry for a few weeks, and then it was six months, and now it's been three years and there is no end in sight. We've been really trying to look at it as a service of the town: People self-identify as being in need, and it's just like going to the library or the department of public works or the fire station to get services. Some people use those services a lot more than other people, some people may never use the services at all, but they're available if and when anyone does need them."
The Bedford Food Bank now provides groceries each week to roughly 180 households experiencing food insecurity. Food bank staff members work with volunteers who pack up bags of food for each household the organization serves. The majority of clients pick up their food via a drive-thru distribution, but the food bank also organizes a robust home delivery program for more than 60 households.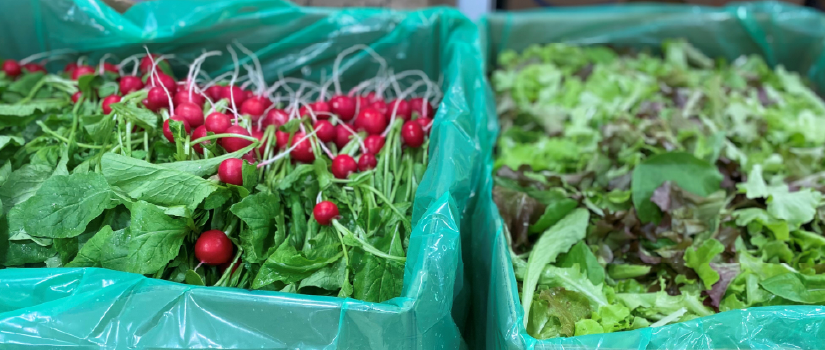 At Gaining Ground, we are grateful that the Bedford Food Bank is working with such dedication and flexibility to ensure that the produce we grow reaches the people who most need it. The food bank gives away 30 to 35 pounds of food each week per family, including shelf-stable items, dairy products, and frozen food, which is often a protein. "Then folks will get the produce bag—and that is the most desired item we give away," said Carla. "The majority of our produce comes from Gaining Ground, so when the farm season gets going, the weight of the weekly distribution goes up because we'll have so much more food to give out."

Despite the challenges that the Bedford Food Bank has already overcome in the past several years to ensure community members can access the nutritious foods they need, it's clear that the factors that have worsened food insecurity won't be going away overnight.

"For those families who live paycheck to paycheck—and there are a lot of people who are in that situation—it is really stressful," said Carla. "We are hoping to continue to provide the same amount of food that we have in the past, but with all of the pricing and supply chain issues, it's challenging. Even the Greater Boston Food Bank and different stores or markets that we buy from are having trouble sourcing items. Without Gaining Ground, we just could not provide such a robust distribution to people. That fresh organic produce is a huge draw for people—we love it and they love it."

Hunger Relief, Recipients