Help Us Celebrate Poetry on the Farm
March 1, 2023 • Gaining Ground

For the third year in a row, we're marking the arrival of spring with a celebration of poetry, food, nature, and farming.
This month-long event will feature poems authored by Gaining Ground clients, partner organizations, and poets throughout our community.
The poetry installation will take the form of a self-guided tour throughout our farm and fields and will feature original poetry as well as information about food insecurity and regenerative farming. This year we will again be creating a virtual version of the exhibition, which we will host on our website.
We are collecting poetry submissions from people of all ages on topics like food access and food insecurity, the outdoors, seeds and plants, spring, wildlife, fruits and vegetables, growing and gardening—or anything else related to food, nature, and farming.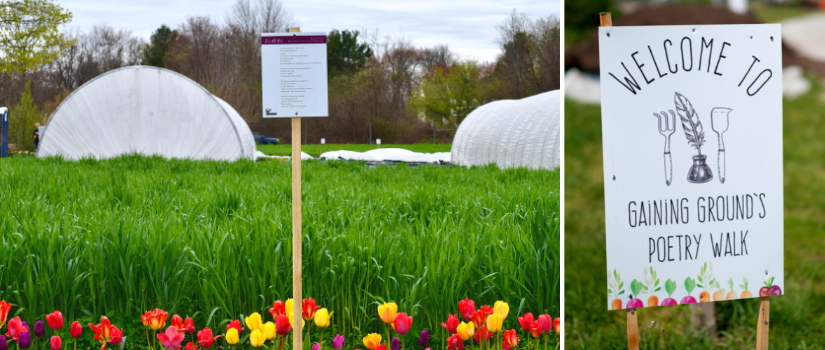 To take part, please submit your poem to poems@gainingground.org no later than April 3. (To submit an audio file of your poem along with the text version, you can use the Voice Memo app on an iOS device or the Recorder app on an Android device and email the file to us as an .mp3, .m4a, .ogg, or .wav file. Please ensure files are no larger than 5MB.)
By submitting a poem for Poetry on the Farm, you give permission for Gaining Ground to include the poem on our website and on the farm. Gaining Ground aims to feature all submissions in the farm installation. If, due to an abundance of submissions, we are unable to do so, all poems will be featured in the virtual version of the exhibit.
Thank you!
Poetry