Our Thanksgiving Distribution Brings Winter Food Insecurity into Focus
November 21, 2022 • Christine Savage, Communications Manager

On Saturday, we held our annual pre-Thanksgiving distribution of fresh, organic produce in Concord. In coordination with Concord and Carlisle's Councils on Aging and Community Services, we use this final Food for Families market to give away hefty amounts of nutritious greens and storage crops to more than 100 households experiencing food insecurity.
At this year's distribution, we donated 1,018 pounds of food, which included spinach, parsley, lettuce, and winter storage vegetables—including butternut squash, cabbage, carrots, parsnips, radishes, onions, and garlic. We also made sure to include maple syrup from our sugaring back in the spring.
As of September, an estimated 21.5 percent of households with children are facing food insecurity, which is largely attributed to rising costs of food, housing, and transportation. Increases in food costs—due to inflation and other causes—can be especially difficult for households on fixed incomes, such as the elderly, people with disabilities, and those relying on food and housing assistance. Recently, the Washington Post reported that "roughly a quarter of grandparent-headed households experienced food insecurity between 2019 and 2020. That's more than twice the national rate."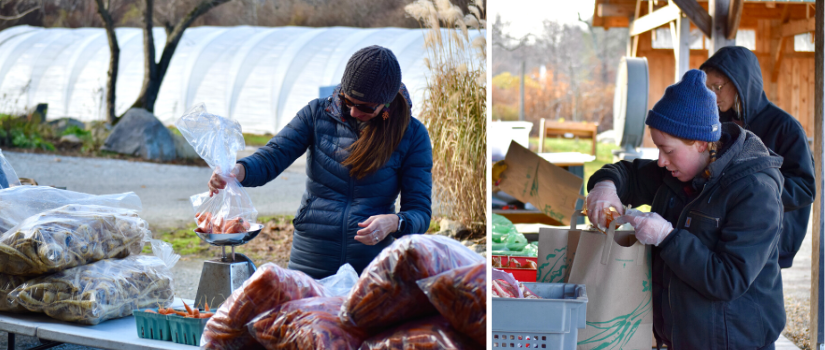 In New England, heating costs always rise in the winter—forcing people with limited resources to make tradeoffs between warming their homes and meeting their other basic needs. And now, as the cold months approach and fuel and housing costs continue to rise, we know that even more families will be forced to choose between warmth and having enough food to eat.
On the farm, favorable weather conditions have combined with our farmers' incredible dedication, craft, and insight to great effect. We've had a very strong fall harvest, which matters to us not only because we know how much demand there is for our produce all season long, but because we understand we're bringing in substantial, long-lasting crops—loaded with vitamins and minerals—right when they're needed most by our neighbors.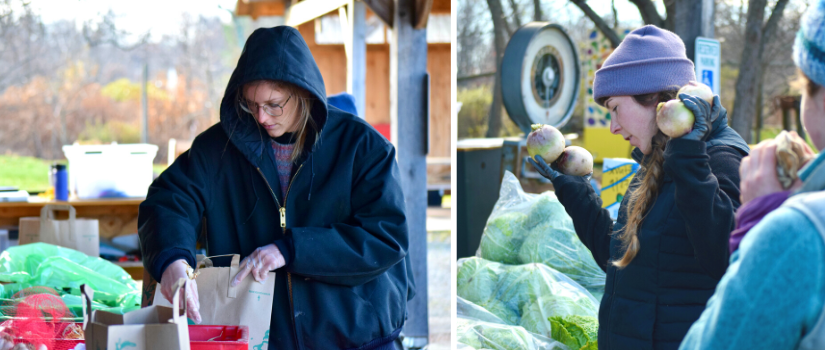 Stories of the connection between nutrition and health have been high on our minds as we've watched rates of food insecurity climb this year. The twin crises of food insecurity and diet-related diseases such as diabetes, obesity, heart disease, and some types of cancer remind us of why it is imperative that everyone in our community be nourished with healthy, nutrient-dense foods.

For us, winter storage crops affect food access during the cold months in many of the same ways that our winter growing does using hoop houses and row cover: It extends the season of access to fresh, delicious, locally-grown produce. Our Food for Families distribution last week reminded us of how needed this food is right now, and of how important the support of our community is in making this work happen.

Fall, Hunger Relief, Recipients, Tales From the Farm