Volunteer Spotlight: Laurie Gleason
September 29, 2022 • Christine Savage, Communications Manager

There are many reasons why we love that Concord is a town flush with cyclists, but chief among them may be that a bicycle is what first brought volunteer Laurie Gleason to Gaining Ground's fields.
"I biked in many years ago. When we stopped there was one person working in the fields, and there was just the old pavilion here and a collection of old bathtubs," said Laurie. "That's how it got on our radar—and that led to us staying in contact with the farm, becoming donors, and then starting to volunteer."
The farm has come a long way since then. In the intervening years, we've grown our team of farmers and the harvests they yield, converted to no-till practices, built our barn and a new pavilion, and retired the old clawfoot bathtubs from their second careers as raised-bed planters. It is our great fortune that throughout this period of change, supporters like Laurie have grown alongside us. "This is the first year that I've been able to make the commitment to a regular weekly schedule of volunteering," said Laurie. "I've wanted to before, but I couldn't because of other commitments. So this year I just decided I'm doing this. I signed up for the Community Farm Team, and it has not failed to delight and amaze me—it's been a great year."
The Community Farm Team is a group of regular, highly-dedicated volunteers who take on additional responsibility in the fields in support of our farmers.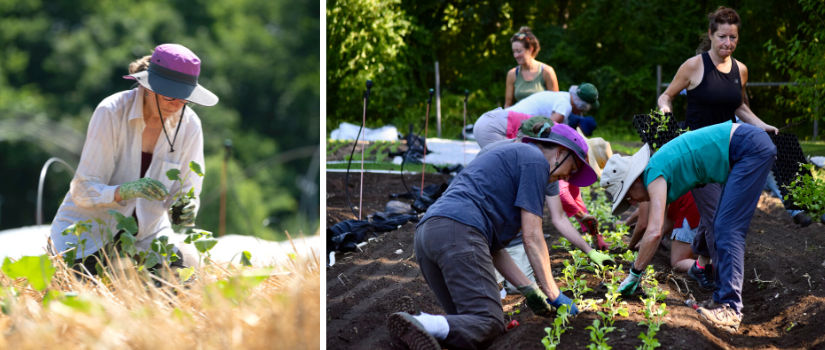 Arriving on her pedal-assist e-bike, Laurie joins us nearly every week from nearby Bedford. She credits her love of the natural world and growing food to the summers she spent on a farm with her family as she was growing up in Minnesota. She finds her time at Gaining Ground to be similarly inspiring. "Coming here, it's just so rewarding for all of your senses—whether it's the birds, the vegetables, or even the vibrant colors in the wash station," she said. "I always tell my grandchildren: 'Find something amazing every day.' Because there's always something. And I come here and it is just amazing to me."

We are immensely grateful not only for the extra help that Laurie and other volunteers like her have contributed this season, but for the insight and care she brings with her and shares with all of us on the farm. "When you come back here on a regular basis, you see that bigger piece of what the mission is," she said. "We are in some interesting and in many ways dire times and I am grateful to be able to make a volunteer contribution like this—which is really kind of small to me in the sense that I am gaining so much at the same time—providing healthier, better foods that part of the population just doesn't have access to."

"It is such a privilege to be able to go to the grocery store and not have to think about how much something costs and fill up my grocery bags," said Laurie. "I think about this every time I wait in the checkout. So to be able to play a small part in bringing healthy, fresh food to others who don't have that luxury is important to me."

We couldn't be more thankful that Laurie makes a place in her life for supporting Gaining Ground and our hunger-relief efforts. The past few years have been tumultuous ones—especially for those among us who struggle to put food on the table—and volunteers like Laurie bring a steady hand and kind heart to our fields.

Hunger Relief, Tales From the Farm, Volunteers