2022 Board and Staff Updates
April 14, 2022

Last year, we bid a fond farewell to board members Penny Austen, Elisabeth Elden, John Canally, and Gretchen Nelson. We are incredibly grateful to each of them for the dedication, enthusiasm, and thoughtfulness they contributed to Gaining Ground over the years.
This season, we are thrilled to welcome four new terrific members to our board of directors—Laurie Engdahl, Ashley Perssico, Guillermo Ruiz-Rico, and Kristen Van Damm. Polly Vanasse, a long-time supporter, has signed on as board president.
Polly, who lives in Concord and recently retired from the Fenn School after spending the majority of her teaching career at Nashoba Brooks School, has served on Gaining Ground's board of directors since 2017. Every year since its founding, Polly brought her students to participate in the farm's hunger-relief work. After 20 years of volunteering, she joined the board. We are thrilled that she has now stepped into the role of board president.
Laurie lives in Concord and has been a labor attorney for more than 30 years. In 2016, she began to change her focus from law to art and community, and completed a master's degree in teaching and visual arts. Laurie brings her expertise with legal and human resources issues to Gaining Ground, as well as her enthusiasm for community engagement.
Ashley, who calls Wilmington home, works at Boston-based Toast, where she creates content to help restaurant owners choose technology solutions to thrive in a challenging industry. She brings her marketing expertise—and zest for helping out in the fields with the farmers—to Gaining Ground's communications and volunteering committees.
Guillermo, who lives in Waltham, works as a product manager at S&P Global. Originally from Spain, he moved to the U.S. eight years ago. As a member of Gaining Ground's board, Guillermo contributes his experience to the farm's finance committee.
For the last 18 years, Kristen has worked in various positions within the field of human resources, and is currently a director of HR at PricewaterhouseCoopers. Kristen, who resides in Jamaica Plain, brings to Gaining Ground a wealth of experience in the areas of professional development, talent management, coaching, and change management.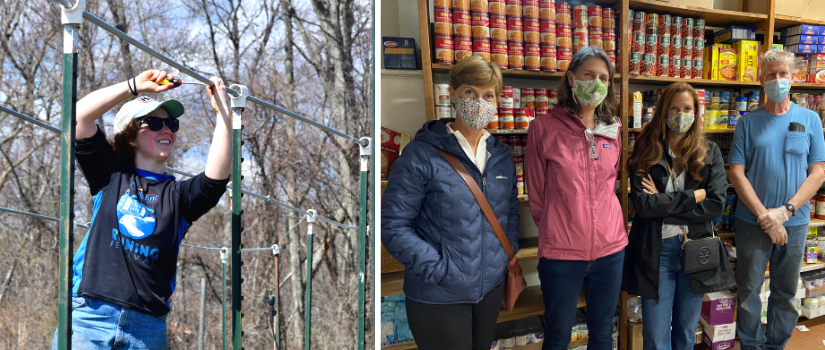 Our 2022 Staff:

After four seasons with us, we said goodbye to Kim Schmidt, who moved on to her next adventure in Iowa. We were sad to see her go, but the whole team is grateful for the innumerable contributions she made to Gaining Ground these past years. And we are fortunate to have so many familiar faces on the farm crew again in 2022.

Rae Axner – Assistant Grower

Coming back for a second season with us, Rae has returned to full-time field work after several years in program management, spent with the amazing youth of Groundwork Somerville and The Food Project in Lynn. Rae has also grown food at Waltham Fields Community Farm. A lifelong resident of Somerville, she has a bachelor's of arts degree in community health and American studies from Tufts University. Rae is passionate about youth power, food and climate justice, and building solidarity to care for each other and the land. She enjoys biking, swimming, laughing, and eating, especially chocolate and anything with too much garlic.

Kari Bender – Assistant Grower

Kari is thrilled to be returning to the Gaining Ground team this year for her fourth season farming. She loves working in the soil and with plants in all their forms. Kari is also a sewer and a crafter and is currently learning more about native plants and their personalities. At Gaining Ground this year, she hopes to learn how to more ethically care for the soil and environment. She's looking forward to being a part of the crew and meeting volunteers.

Chrissie Edgeworth – Assistant Grower 

Chrissie, whose roots are in Chicago, is returning for a second season. Previous jobs have taken her through various wilderness areas in New Hampshire, Montana, and Idaho. She was lucky to call Yellowstone National Park her classroom while leading high school science education courses. The Peace Corps allowed her to work and learn alongside farmers and agropreneurs in Guinea, West Africa. Chrissie enjoys learning about the intersections of food, ecology, community, justice, and creativity. When she isn't on the farm, she's crafting and running her jewelry business Ramblejoy Jewelry Co., hiking, writing, or enjoying the company of friends.

Erin Espinosa – Assistant Farm Manager

Erin is grateful for a career that connects her and others to the gifts of working with the land and sharing nutritious foods. Her eight-year career as a vegetable and flower farmer is complemented by her interest in food justice, farm land access, and farmworker rights. Off of the farm, Erin enjoys hiking, salsa dancing, and eating really good food. On her day off, Erin teaches horticulture classes at a local prison and fundraises with The New Garden Society.

Allison Goodwin – Program Manager 

Allison joined Gaining Ground in 2017. Ever since a farm field trip in third grade, she has been passionate about sustainable agriculture, connecting to the land, and increasing equitable access to fresh, healthy food. She currently coordinates our recipient partnerships and produce distribution, manages volunteer scheduling, and handles our office operations. Allison worked previously at Chelsea Green Publishing, and at several non-profits and organic farms. She earned a bachelor's degree in environmental studies from Marlboro College in Vermont. In her free time, Allison enjoys gardening, hiking, and spending time with family and friends.

Jennifer Johnson – Executive Director

Jennifer is passionate about equitable access to healthy food and the healing power of nature. She's found her dream job at Gaining Ground and loves working with Gaining Ground's staff, board, volunteers, and partners to grow food and grow community. She earned a degree in communications from Boston University and completed the in-residence Business for Impact program at Georgetown University. Outside of work you'll most likely find her making soup, sharing her love of Dolly Parton, or sitting around a campfire with friends and family. She lives with her family in Concord and enjoys reading, running, hiking, gardening, and kayaking.

Anna Kelchlin – Farm Manager

Anna believes in connecting people to the land through growing food. She is honored to be a part of the process of healing land and community with a reciprocal and regenerative mindset. She spent seven seasons farming at Waltham Fields Community Farm and is now entering her fourth season at Gaining Ground. She holds a masters degree in education with a focus on multicultural community education. Anna is a heart transplant recipient, a certified Iyengar yoga teacher, and enjoys speaking Spanish and traveling to places near the sea. She is pumped to plant more cover crops, spread mulch piles, and discover diverse life forms above and below the soil!

Sarah Lichtman – Field Crew Member

An electrical engineer with a passion for sustainable agriculture, Sarah is excited to be spending a season working outdoors, learning, and giving back at Gaining Ground. She has been an enthusiastic volunteer at Waltham Fields Community Farm from 2016 to 2019 and at Gaining Ground in 2021. Off the farm, she enjoys reading an unconscionable number of books, hiking, knitting, and weaving.

Ava Lublin – Field Crew Member 

Ava began volunteering at Gaining Ground in April 2017 and has been in love with farming ever since. This is her second season on the farm crew. Ava is a sophomore at the University of Vermont, studying political ecology and agroecology, which she has found a passion for through working at Gaining Ground. She is eager to learn more about how we can build more sustainable, reciprocative relationships with the land to promote health and justice for both people and the environment. In her free time, Ava loves to dance, hike, read, write, and spend time with her dog and two cats.

Christine Savage – Communications Manager

Christine joined the team in 2021. After working in book publishing for several years, she changed gears and has been involved with hunger relief, access to the outdoors, and food issues ever since. She has worked at the Somerville Community Growing Center, Food For Free in Cambridge, and interned at the Higher Ground Rooftop Farm at Boston Medical Center. At Gaining Ground, Christine coordinates the farm's communications efforts.

Board of Directors, Staff and Farm Crew