A Farm Raised by a Village
September 15, 2015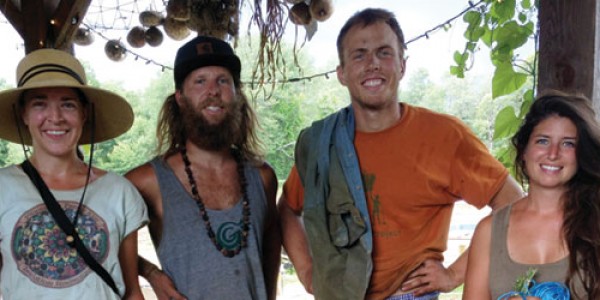 Hi! My name is Ryan Devlin, and I was one of the apprentices at Gaining Ground for the 2015 growing season. I am from Framingham and have been working on small organic farms for the past seven years. Despite my previous experience, Gaining Ground was the first full-sized farm where I worked for the entire growing season, and it was a wonderful place to do so!
I joined the farm team in early April, spending three brisk days planting our tiny allium (onion family) transplants into beds, and the work never seemed to let up from that point. Farm Managers Kayleigh and Doug wasted no time integrating our apprentice crew of two into the daily routine, while also making sure to introduce us to the more complex work of designing the farm's sustainable systems. If one day was spent learning the careful and efficient operation of the farm's tractor, the next would be spent brainstorming a plan for the fall cover cropping regime. We were always treated with the respect of peers who had valuable ideas to offer.
In addition to the excellent mentorship, I also found Gaining Ground to be unique in its committed base of volunteers. An unexpected aspect of my work with the farm was the joy of building relationships with our diverse legion of volunteers. Gaining Ground is truly a farm raised by a village.
My season at Gaining Ground ended with the garlic planting in late October, but I'll look back on my time here with a smile.
"We went to the farm to help the gardeners. I had to pull out weeds. Then I was putting out the hay. Then I wanted to take the cart to help Ryan. I had a lot of fun with Ryan."
—Janir, 2nd grade volunteer from Codman Academy in Dorchester
---
Above (L to R): Gaining Ground farm crew members Piper Mount, Apprentice; Doug Wolcik, Farm Coordinator; Ryan Devlin, Apprentice; and Kayleigh Boyle, Farm Coordinator.