August New Board Member Spotlights
August 29, 2022 • Gaining Ground

We are thrilled to welcome several new members to our board of directors this year who bring with them a wealth of creativity, passion, and meaningful insight. This August, we're going to take the opportunity to learn a bit more about two of these new members of the Gaining Ground team, Yvette Philip and Sigmund Correa.
---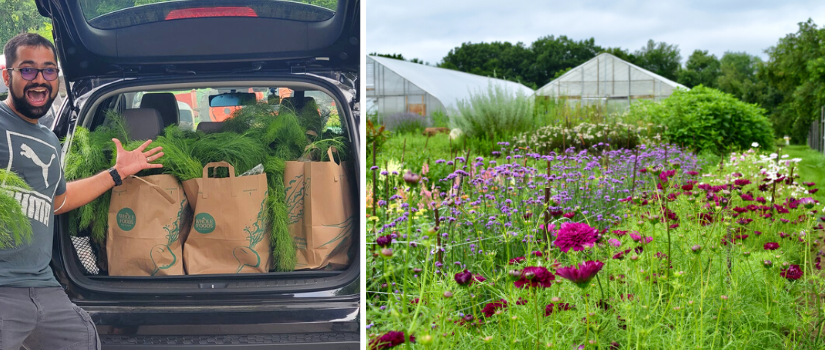 Sigmund Correa
How did you first learn about Gaining Ground and what made you want to get involved in what the farm does?
I first learned about Gaining Ground through my colleague Guillermo Ruiz-Rico, who is a former board member and is very passionate about the Gaining Ground mission. At the time, Guillermo was relocating to New York state and was looking for someone to take over his board responsibilities. When he mentioned Gaining Ground to me, I thought getting involved would help me find a meaningful way to give back to the community. After my initial meeting with Board Members Polly Vanasse and Amy Capofreddi and Executive Director Jennifer Johnson, I was even more excited and impressed by the sustainable farm activities and the impact the Gaining Ground mission has on its local community.
Are there particular facets of Gaining Ground's work—hunger relief, regenerative farming, or working with volunteers—with which you're particularly looking forward to engaging?
I am particularly interested in solving problems for the community around hunger relief and nutrition—and Gaining Ground focuses on donating healthy and nutritious produce. I am also excited by volunteering activities that involve engaging with local communities—partners as well as recipients—and would love to actively take part in Food for Family drives and encourage my family and friends to join me.
Outside of your work on Gaining Ground's board of directors, where have your interests and experiences taken you?
I always wished to devote more time to volunteering but did not find a proper channel. In the past, I actively took part in social clubs and was part of a fraternity during my undergrad years, where I was involved in several community building projects around the Boston University campus. I love to travel and experience different cultures and cuisines and have been fortunate to travel a bit pre- and post-COVID.
Where do you call home and what do you enjoy doing with your free time?
My home away from home is Arlington, Mass. I am originally from Goa, India, and my family currently resides there. I moved to the States for my studies and have since lived only in the Boston area. During my free time, I love to spend time with my wife and her family (sister-in-law, her husband, and my almost one-year-old nephew). I love to exercise (jog), travel, read nerdy stuff, program little side projects, and most of all I am a huge foodie.
What is a favorite food or dish you like to make or to eat?
I enjoy Italian food the most, Bolognese and pastas (the more carbs the merrier) are my favorite. Growing up in India I am prone to cooking and eating Indian food on a more frequent basis and would say Indian is my second favorite cuisine because, if cooked right, it does not need to be rich and heavy and can indeed be very wholesome. My wife and her family are much better cooks than I am, so I do enjoy their cooking a lot.
---
Yvette Philip
How did you first learn about Gaining Ground and what made you want to get involved in what the farm does?

I learned about Gaining Ground from my friend, who is a former coworker of Executive Director Jennifer Johnson. He knew about my interest in gardening and Gaining Ground was seeking members for its investment committee. When I visited the farm for the first time, I was blown away by how beautiful and peaceful it was. I got involved because of the organization's mission. I value that 100 percent of what grows on the farm is given away to hunger-relief efforts. When I first volunteered, I appreciated the indigenous land acknowledgement delivered by one of the farmers and learning more about the healthy farm practices adopted by the organization.

Outside of your work on Gaining Ground's board of directors, where have your interests and experiences taken you?

My background in accounting and finance has led me to work, currently at a nonprofit foundation, and formerly at a charter school network and large corporate organizations. I have also used my technical knowledge in support of organizations through my volunteering on boards or committees where I am able to get involved in efforts that I care about.

Where do you call home and what do you enjoy doing with your free time?

I was born and raised in Boston, and still live in the city. In my free time I run with community running groups, play tennis with a local association, practice yoga, ride my bicycle, and of course tend my Garden of Yve, which is filled with vegetables, herbs, and fruits.

What is a favorite food or dish you like to make or to eat?

My favorite snack to make and eat is guacamole with mango chunks scooped up by plantain chips. When I can, I use cilantro that I grow in my garden.

Board of Directors, Farm Update, Hunger Relief