Stronger Together: La Colaborativa
August 29, 2023

Up-tempo music and conversations among neighbors were the soundtrack on a recent afternoon for the open-air food pantry that convenes twice a week in Chelsea, at a Route 1 underpass, coordinated by the Latina-led nonprofit La Colaborativa.
In the shade, community members chose from vegetables, fruits, grains, flours, dairy, eggs, proteins, and canned goods.
"All the foods necessary for someone to have a balanced meal," said Juan Camilo Saavedra, Director of the Food and Nutrition Department at La Colaborativa.
As of 2023, through a new partnership between Gaining Ground and La Colaborativa, pantry visitors also take home fresh, organic produce that we grow in Concord and donate within 24 hours of harvest.
"Right now we're receiving almost a whole pallet from Gaining Ground per week and it's been really beautiful to see volunteers and visitors react to the quality, the freshness, the taste," Juan Camilo said. "It's a very important relationship for us. We understand that food systems have to be shorter, not longer. That farmers are key players in hunger relief."
The ultimate goal is for 30 to 40% of pantry items to be locally-grown crops, Juan Camilo said.
In 2023 La Colaborativa expects to serve about 110,000 people through its Food and Nutrition initiatives, including pantry distribution on Wednesday and Fridays, free delivery on Mondays to homebound residents, and overflow donations to four other emergency food programs.
Juan Camilo said the pantry is helping households save up to $200 a week—money that can now go toward expenses such as rent, education, transportation, and health care. Its "open concept" philosophy also means that no ID, documentation, or proof of income is required to receive assistance. In this way, the approach taps into the very principles of solidarity, reciprocity, and mutual aid that are so central to Latin American culture, the pulse of Chelsea.
La Colaborativa has been serving Chelsea for more than 35 years, with a mission to "empower Latinx immigrants to enhance the social and economic health of the community and its people; and to hold institutional decision-makers accountable to the community."
To that end, La Colaborativa addresses housing, youth engagement, workforce development, and policy reform—including a current effort with State Rep. Judith Garcia and State Sen. Sal N. DiDomenico to expand SNAP eligibility. The Food and Nutrition Department emerged three years ago, when COVID-19 sent shockwaves through the working-class riverside city.
Prior to 2020, one in five Chelsea residents reported an income below the federal poverty level, and healthy food was already hard to come by. The virus and its prolonged fallout made matters worse as Chelsea saw one of the highest infection rates in the nation (7,000+ cases per 100,000 residents) and families became further isolated from food access points.
Faced with this grim reality, Gladys Vega, executive director of La Colaborativa, took action: she collected food and distributed it from her front porch. The line grew as long as ten blocks, or 7,000 people—all through word of mouth. Soon Gladys and her team realized they needed to adapt, formalizing hunger relief as a pillar of their work.
Today basic survival needs, like fresh, healthy food, remain urgent in Chelsea. Yet Juan Camilo noted that he's not just seeing longtime Chelsea residents at the pantry, or members of the Latinx community.
"Food is slowly becoming a luxury even for people with one or two jobs, or who earn a living wage," he said. "Many pantry visitors drive in or take the bus from Lynn, Revere, Malden, Everett, Saugus, and East Boston."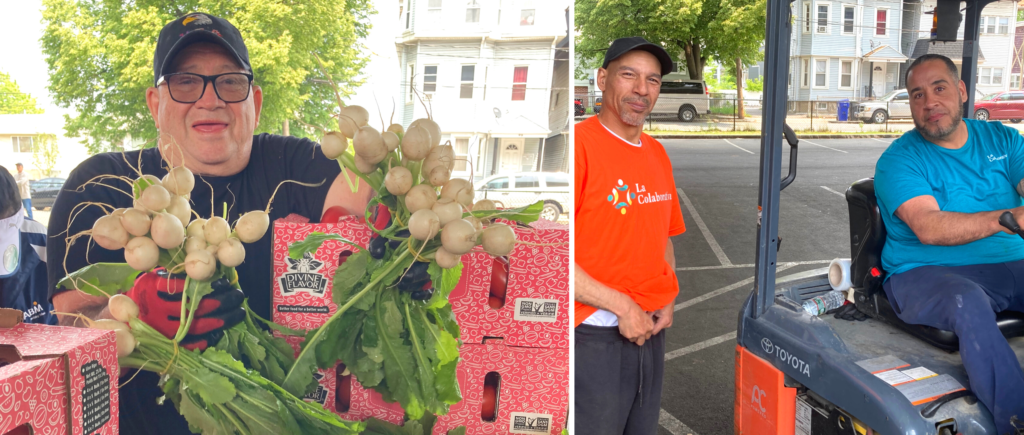 Now La Colaborativa is poised to adapt again, on the precipice of an expansion with food at its core.

Later this year, the nonprofit plans to open a spacious and stunning Survival Center at 63 Sixth Street, right across from the Route 1 overpass where bi-weekly food distribution takes place.

The new site will include a commercial kitchen where Chelsea residents can incubate food businesses and achieve greater economic self-determination; and a teaching kitchen, where families and individuals can receive nutrition education services that empower them to make healthier food choices. The site also has two large walk-in refrigerators where La Colaborativa can store larger quantities of food for hunger relief.

Appropriately, the name La Colaborativa translates into English as "The Collaborative," with roots in "work" and "together." That's what the nonprofit and its city embody.

"We can talk about the gloom and doom, but there is so much strength, so much initiative, so much desire, and so much vision here," Juan Camilo said. "The community is really strong, even though it's going through hard times. And that makes sense—the cultural values of a lot of Latin American people are based on collective well-being."

Farm Update, Hunger Relief, Partner Spotlight