Celebrating Art and Shedding Light on Food Insecurity
May 27, 2022 • Christine Savage, Communications Manager

Pulitzer Prize and National Book Award winning poet Mary Oliver once wrote, "I could not be a poet without the natural world." And it is in this spirit that we are bringing a celebration of art to the farm this year.
Throughout our fields this spring, we have set up a self-guided farm tour of poems submitted by Gaining Ground partners, recipients, and other poets from the community. After receiving nearly 100 submissions (all of which can be read here), our team installed as many poems—and fact sheets about local food insecurity—as would fit along the farm's pathways.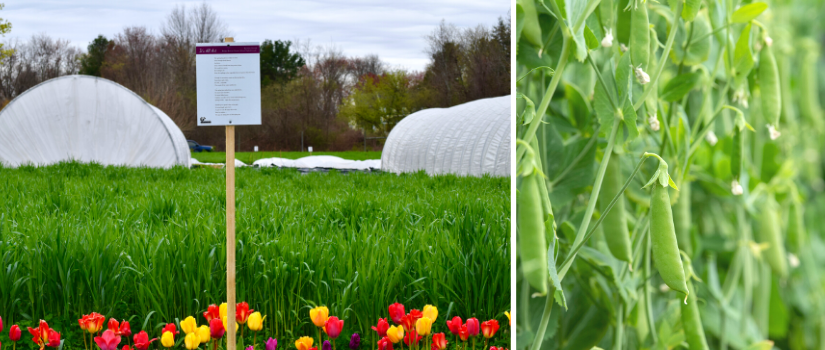 This year's Poetry Walk, which will remain up and open to the public through June 17, invites everyone who takes part to not only celebrate art and nature, but to further engage with questions of farming and food access. At a moment when so many folks among us are experiencing food insecurity—a staggering 16.4 percent of households in Massachusetts—it is more important than ever to cultivate stronger ties within our hunger-relief community. 
And we're thrilled that our efforts to bring more art and creativity to the farm won't end when our Poetry Walk wraps up next month.
In June, we will install a new mural on the farm through a collaboration with Birches School and Artists for Humanity, a South Boston-based nonprofit that provides teens from under-resourced communities with career training through paid employment in art and design. Then, in September, we will be holding our first-ever Art Walk at Gaining Ground. Again with the help of our partners and other artists from the area, we will solicit and install drawings, paintings, and photographs on the farm that find inspiration in food, farming, and the living world around us.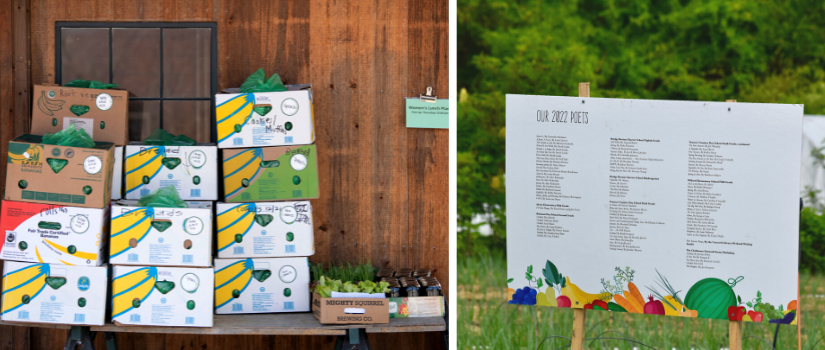 We are grateful and terrifically excited to work with so many generous and insightful people to bring these creations to the farm—and to share them with everyone who visits our fields.
We hope that you will join us to explore art at Gaining Ground this year. And, above all, we welcome you to engage with us in continually thinking and learning about the natural world, hunger-relief, and the need for a just, equitable food system.
---
In addition to the many local poets who submitted their works for this year's Poetry Walk, we also received submissions from students at Alcott Elementary, Belmont Day School, Bridge Boston Charter School, Tenacre Country Day School, Willard Elementary School, the Concord Free Public Library Weekend Writing Studio, and participants in the Clubhouse Network Poetry Workshop. Thank you to everyone who took part.

The event is made possible by funding from the Concord Cultural Council and the Nellie Leaman Taft Foundation.

Events, Farm Update, Hunger Relief