Countdown to Volunteers!
April 14, 2021 • Christine Savage, Communications Manager

In a year marked by so much change, the past months have served as a powerful reminder for everyone at Gaining Ground of the essential role that connection and community plays in our lives.
And we know that our volunteers share this understanding with us. As one volunteer who started joining us on the farm in 2019 told us at a recent board meeting: "My experience at Gaining Ground gave me a strong sense of being connected to the whole process of how food is grown—where it comes from, where it goes, and being a small part of a team dedicated to this."
"Once I had spent some time at the farm," he said, "I started thinking about how it just seemed self-evident that everyone should have enough to eat. Food is about as fundamental as it gets."
Today marks one week until the return of volunteers to Gaining Ground, who haven't been able to join us at the farm since fall 2019 due to the pandemic. Our time without them confirmed for us just how fundamental our volunteers are; how much they connect us to our community, support all aspects of our work, and infuse the farm with excitement, curiosity, and fun. It fills us with gratitude and joy to know that all of us will soon be coming back together to work toward the common purpose of relieving hunger in our community.
"For our family, Gaining Ground has provided a very easy and fun way to work together on the farm while being part of a larger contribution," volunteer Prashanthi Sylada recently wrote to us. "This year, especially during Covid, Gaining Ground provides a great way to stay outdoors, work together, and have so much fun—all while making a difference to our community. We are very eager to get back to the farm."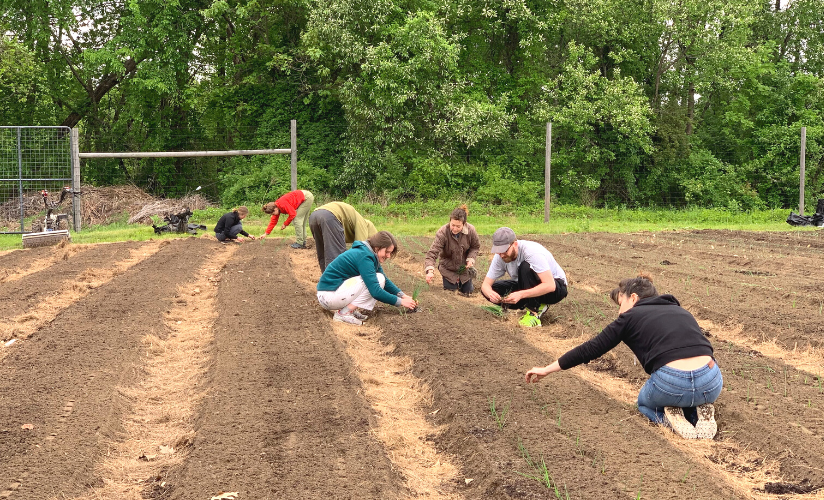 And we are eager to get folks like Prashanthi—and so many others—back growing and harvesting with us in the fields as well! In a normal season, 2,500 volunteers help to grow over 125,000 pounds of nutritious vegetables at Gaining Ground. The organic no-till farming practices that we use produce food without pesticides or chemical fertilizers and prioritize the health and safety of our farmers, volunteers, produce recipients, and the environment. These techniques, however, are more labor-intensive than conventional, tractor-based methods of growing. As a result, the farm's efforts are the work of many hands—and this includes a lot of volunteer hands.

We are continually inspired by the kindness and generosity of our volunteers. The work they do is meaningful both for us and for the people in our community without enough to eat who receive the food we grow on the farm. It means so much to hear from volunteers who are eager to get back in the fields with us and who share our enthusiasm for this important work.

"For me, I hadn't realized just how much not being able to volunteer was affecting me," volunteer Ashley Perssico recently shared on LinkedIn. "I made donations last year to several organizations and tried to give back in any way I could, but the physical act of volunteering was something I missed more than I knew.

"Then today I got [the volunteer sign-up] email from Gaining Ground, a nonprofit organic farm in Concord, MA where I spent a lot of my summer in 2019, and I started tearing up. They're opening again for volunteers this April!"

On April 21, the big day will finally arrive and our volunteers will return for the season. To say we're thrilled would be an understatement!

Thank you, to all of our volunteers past and present, for your patience and your support. We can't wait to all be together again out on the farm with our hands in the soil and the sun warm on our backs!

Spring, Volunteers