Farmer Spotlight: Catching up with Ava Lublin
August 29, 2022 • Gaining Ground

After two years on our high school Farm Team and another season with us as a farmer, Field Crew Member Ava Lublin returned to Gaining Ground again this season. And we're so thankful she did.
Ava, what did you get up to in the farming off-season from Sept. through May?
I attended my first year of college at the University of Vermont! I'm studying agroecology, which, as a field, is very rooted in the kinds of agricultural habits we have at Gaining Ground. Our focus at the farm is on soil health, biodiversity, reciprocity with the land, and supporting the natural connections between crop plants and other parts of the ecosystem—pollinators, mycorrhizal fungi, pest-eating insects, and so on. These are all also part of the practice of agroecology.  
I took an incredible political ecology class as well, and did a research project on Indigenous perspectives on mental health and healing through connection to land.
I credit all of these interests and pursuits to my experience working at Gaining Ground and with my amazing fellow farmers. We talk about these topics all the time. These farmers inspire me every day.
I also took an African dance class, which was the most fun thing I've done in a while (aside from farming, or course). I trained in classical ballet up until I graduated high school, so learning how to move my body in a very different, but similar way, was really special.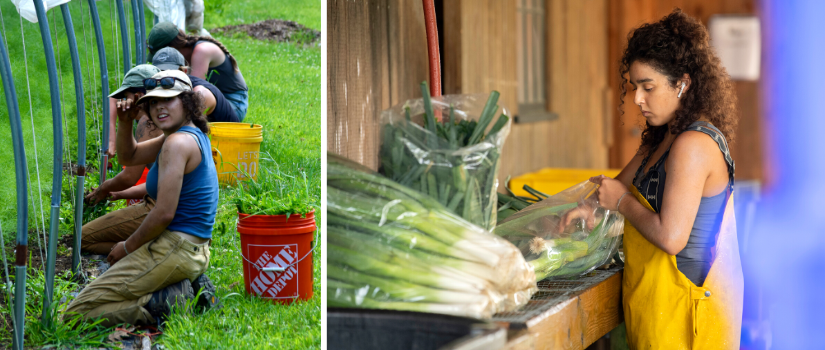 What has it been like to jump in for your second season with so much more familiarity—both with the team and the farm itself?

Coming back this year felt like picking up right where I left off. Everything I learned last summer was still with me, and since I had already been trained and practiced in most of the farm work, it felt good to jump back in with some basic reminders and an eagerness to build on my knowledge and skill.

This year, I feel more trusted to just go and do a task, with the confidence that I can do it well. I'm also getting more exposure to other parts of the farm as a whole—I've learned how to work the irrigation system, and every week I spend a day in the wash station, getting our produce ready for distribution.

I'm also working with volunteers on a regular basis this year, so I have a small education and management role. Not only is it great professional experience, but it means that I get to pass on all the things I'm learning. People ask me questions about the farm and I can answer them in detail, which feels really good.

On more personal terms, I really could not hope to have better people to work with. I receive so much joy and wisdom from my fellow farmers every day, and I have a deep sense of purpose and belonging with them. I feel connected to everyone on the crew as individuals and as a collective community. I've had some of the best conversations in my life with my coworkers; I can be comfortable sharing things and asking questions about pretty much anything.

We work so hard, but we also have a lot of fun. We've given each other multiple farm-related nicknames, and developed elaborate inside jokes that we reference all the time. And, since I'm the youngest on the crew, I've been keeping everyone informed on the most recent Gen Z lingo, and we laugh a lot about that, too.

With the perspective on an entire season at Gaining Ground behind you, what are you looking forward to on the farm in the future?

Everything. Every day I wake up for work and come home happy and fulfilled. No day on the farm is the same, though there are definitely patterns to the work. What we seed, plant, and harvest changes throughout the season, and I love to see how it all flows together.

I enjoy seeing all of our hard work—our care for the land and the crops—manifesting as the plants grow and produce food that is better than anything I've ever bought in a store. I get to look at a field of lettuce or beets and think: "We planted that. We cultivated that. And now we're harvesting it and people are going to get to eat it." We get to experience the literal fruits of our labor all the time and it's one of my greatest joys in life. 

That being said, if I had to point out only one special thing this year, it would be the cover crop. Cover cropping is such an important part of regenerative agriculture and we've been seeding more and more of it this year around the farm.

We planted broccoli, cabbage, and butternut squash directly into last year's killed cover crop, which has been one of my favorite farm tasks so far. Not only does the cover crop add so many important nutrients and build organic matter within the soil, but its straw-like remnants cover the entire field so we don't have to spend the time and labor mulching. All of us on the crew are super enthusiastic about it.

Photo credit: Tony Rinaldo Photography LLC (images 1 and 3)

Farm Update, Staff and Farm Crew