Farmer Spotlight: Catching up with Avery Indermaur
August 29, 2022 • Gaining Ground

For the second year in a row, we've had the good fortune to welcome Field Crew Member Avery Indermaur back to the farm. We are grateful to have Avery's thoughtfulness, enthusiasm, and warmth on the crew again, and are thrilled to catch up with her this August.
What did you get up to in the farming off-season from October through May?
At the end of October 2021, I moved to Hawaii to try out a new job working for a land development company as their sustainability coordinator. I spent two months in Maui training and working on the farm at one of their more established sites and then moved to Kauai in January 2022 to help with the development of a newer project there.
Long story short, it was not for me. I saw early on that the organization was not aligned with my values or supportive of the work I wanted to do there, so I reached out to Farm Manager Anna Kelchlin to see about the possibility of returning to Gaining Ground. When she told me there was an opening for another farmer, I squealed, might have shed some happy tears, and then organized myself to get back as quickly as possible. I left Hawaii on May 20 and started at the farm on June 1, which, if you know anything about my timeline last year, is very much like me.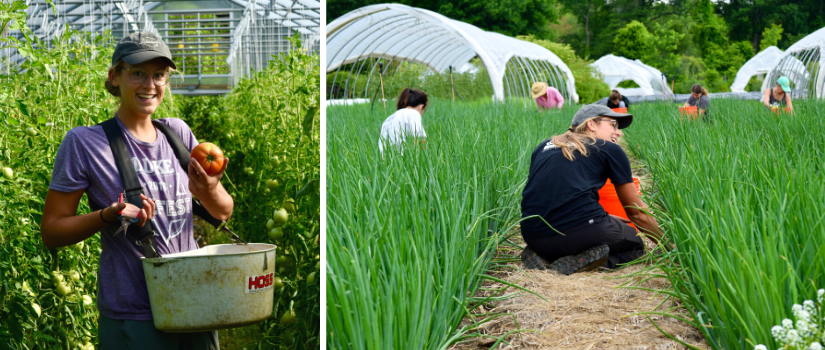 What has it been like to jump in for your second season with so much more familiarity—both with the team and the farm itself?

When I started last year I was the least experienced farmer on the team. I struggled a lot at the beginning of the season with feeling that I was holding the crew back as I learned so many new skills, processes, and adjusted to a totally new lifestyle. I was self-conscious about being slower and always needing more instruction than everyone else.

Coming into this season with some knowledge under my belt and feeling like I can flow into tasks more easily is incredible. When Anna asks if I can help "fish and plant the kale and chard in C3," I know what she means and what tools we need to complete the job. While I still have so much to learn, I am extremely grateful to the crew for being patient with me last season and for teaching me everything I needed to know to jump into this season at such a busy time. Also, having already developed personal relationships with the crew makes everyone feel less like coworkers and more like my family (farmily, if you will).

With the perspective on an entire season at Gaining Ground behind you, what have you been looking forward to on the farm?

I was very excited for the ramping up of our summer crops! I love seeing the tomatoes ripen and the watermelon grow, and—as a sun-loving plant myself—farming on hot sunny days brings me so much joy.

Looking into the future, I am also excited to be staying on at the farm further into the fall so that I can be part of preparing the fields for the winter—so much to learn! 

Photo credit: Tony Rinaldo Photography LLC (image 1)

Farm Update, Staff and Farm Crew