Farmer Spotlight: Catching up with Chrissie Edgeworth
June 29, 2022

This year, we have the great fortune of retaining most of the farmers from our 2021 crew for a new season of growing at Gaining Ground.
One such returning farmer is Assistant Grower Chrissie Edgeworth. We are thrilled to have Chrissie back with us in the fields, and wanted to take the opportunity to catch up with her as the season heats up.
What did you get up to in the farming off-season from November through mid-February?
It started with a lot of holiday craft fairs. I make and sell jewelry so it was a fun dive into the local art market scene! A shameless plug to check out my heart's joyful pastime when I'm not farming: https://www.ramblejoyjewelryco.com/. I also spent this winter working at Trader Joe's alongside some really wonderful people—though my paycheck obviously went straight back to the company each week as my shelves filled up with dark chocolate peanut butter cups and frozen dumplings. I was also fortunate to spend a few weeks at home in Chicago with family and friends over the holidays. And I was extra excited to kick off the farming seasoning with our maple sugaring production.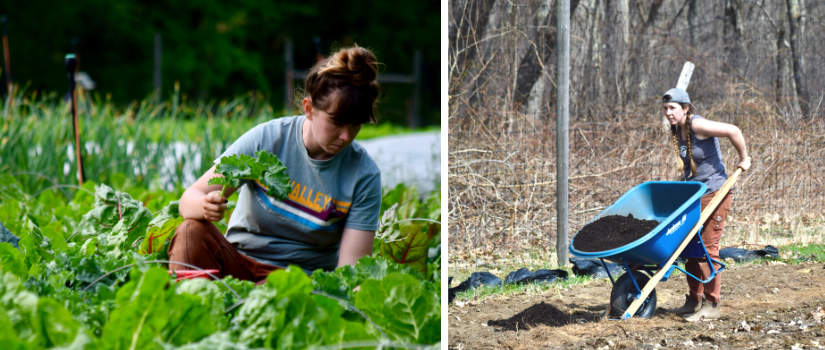 What has it been like to jump in for your second season with so much more familiarity—both with the team and the farm itself?
I wish I could put into words how good it feels to be back for a second season with this crew, so I hope that the smile on my face every morning does that for me. I have a tendency to follow my curiosities from one state to the next, year after year, so being a returning crew member is new to me. A big part of why I wanted to come back is that it is a true joy to work alongside these farmers and this staff. I feel supported, trusted, challenged, and appreciated in this space. And from day one this season I've been grateful for the ease at which we're able to jump back into things with a flow and cadence as a team. It also feels good to take on more responsibility and independence with different tasks, such as seeding most of our direct-seeded crops in the fields. That's all to say that I continue to learn something new every day and it's exciting to hone in my observations and sense of place here.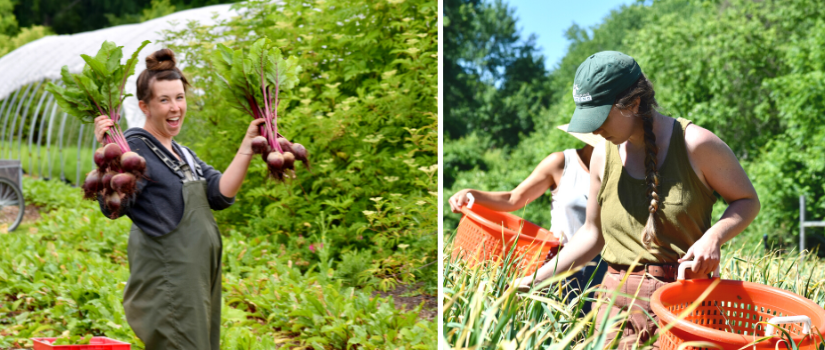 With the perspective on an entire season at Gaining Ground behind you, what are you looking forward to on the farm in the months ahead?

I'm really looking forward to paying more attention to small details this year. My first season here felt like I was freshly taking it all in every week since the seasonality of farming means that everything is in a constant state of flux. I'm eager to take the broad brushstrokes that I absorbed last year and hone in on different areas, such as cover crop methods, timelines of maturity from seed to planting to harvest of crops, achieving good direct-seeding germination rates, and successfully leading elementary school volunteer groups through their experiences here. I'm looking forward to our fields filling up and harvest bins overflowing. I'm looking forward to cooking delicious meals with farm veg. I'm looking forward to accomplishing lots with our farm crew. And I'm looking forward to being in a place every day that delights me and sparks constant curiosity and to share that with those who visit and volunteer.

Farm Update, Staff and Farm Crew, Tales From the Farm