Farmer Spotlight: Kari Bender
May 27, 2022 • Gaining Ground

The 2022 growing season is officially gearing up, which means it's time to share our first farmer spotlight of the year.
Our May newsletter offers us a great opportunity to reintroduce Assistant Grower Kari Bender, who already has a couple months with us under her belt this spring. Kari first farmed with the Gaining Ground team in 2020 and we're grateful to have her back on the farm again this year.
Kari, where is home? How did you find your way to Gaining Ground?
I grew up in Rhode Island and went to college in Massachusetts, so southern New England is certainly home to me. I first found my way to Gaining Ground through a CRAFT (Collaborative Regional Alliance for Farmer Training) visit in 2019 and knew I wanted to apply to work here. I'm so grateful that I was given the opportunity the following season.
Where did your interest in farming come from?
I've always been interested in plants and growing food. I pursued the interest in a few roundabout ways—like research and working at a small hydroponics company—before I finally dove in head-first in 2019.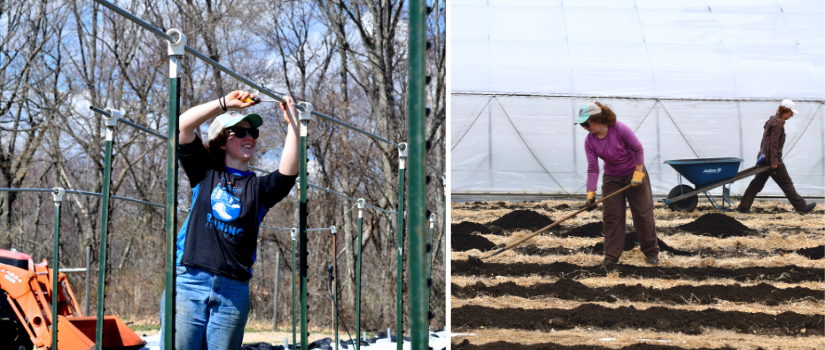 What is a favorite dish or recipe of yours?
I feel like I should have a more farmy vegetable-related answer, but I love desserts. Chocolate chip cookies are my favorite and I make them quite frequently.
What is the strangest farm job you've ever had to do?
When I was working as an intern at a research farm, sample processing was certainly odd. I sifted through buckets of dried soil, separating it into granules of different sizes to understand the soil structure. I also spent days at a time picking dead bugs out of samples of oats that were going to be analyzed for their nutrient value.
Do you have a favorite farm duty? What do you like about it?
Springtime tasks are the most fun to me. Especially greenhouse seeding and potting up. You get the opportunity to see and care for individual baby plants that you know in a couple months are going to be unrecognizable by comparison. I also like broad forking because it's a great ergonomic workout. And field planting because over the course of a few hours, you can see bare field plots transform from seemingly empty to green, organized, and full of potential.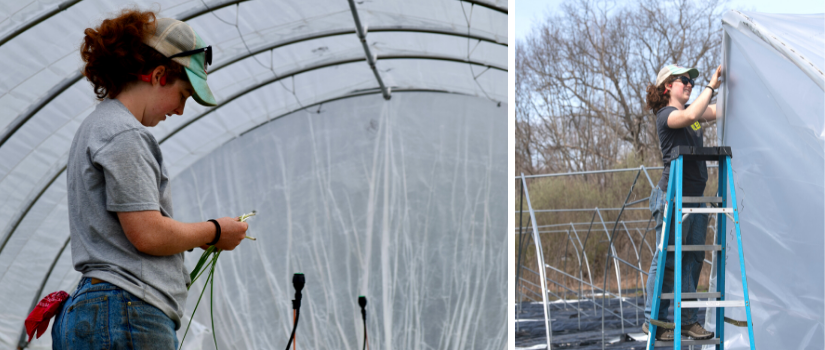 Do you have any favorite farmers or other folks doing work that motivates or inspires you?

As a crafter and seamstress, I'm so intrigued by the Fibershed movement which is greatly championed by Rebecca Burgess. We tend to forget that our clothes—and curtains, towels, pillows, rugs, yarns, and other textiles—are largely grown on the land, too. The local, organic, and slow food movement has become a fairly mainstream idea. It'd be cool if we also started thinking more critically about the fibers around us in this way.

Any hobbies or interests outside of work that you'd care to share?

I sew! I like to make my own clothes. I also am really interested in learning more about native plants and herbal medicine. I love making a nice herbal salve, which is great for sore and dry farming hands at the end of the day.

Farm Update, Staff and Farm Crew