Gaining Ground is Ready for a Barn
March 27, 2015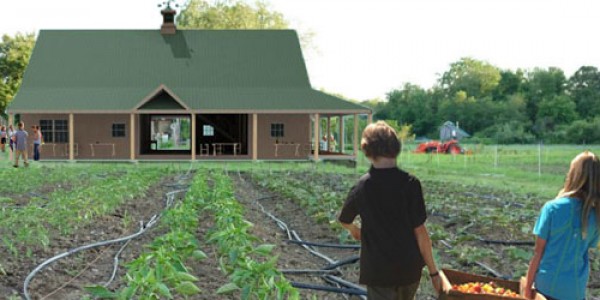 Even the old Greeks knew, "It will not always be summer; build barns." (Hesiod)
Over the years, volunteers, generous supporters, Board members, and staff have provided time and capital to help us "dig deeper" at the Virginia Road farm. Our goals have been to make our land more productive and to take good care of our centuries-old fields. Digging deeper has meant investing in a tractor, a new truck, a high tunnel greenhouse, a deer fence, soil fertility, and a well. Our 2014 harvest of 57,000 pounds of organic produce, twice the 2012 harvest, was a clear sign that our plan is working. And more volunteers than ever — 2,200 —worked alongside our farmers.
With all this growth, it's time to dig a deeper foundation and build a barn. A barn will advance all aspects of our mission and will be the center of life at the farm. A barn will protect our equipment and supplies — the essentials for growing more food. It will provide produce storage areas, enabling us to harvest vegetables at their peak and to keep them fresher longer so we can distribute more food. It will provide shelter for our ever-growing number of volunteers, allowing them to gather and work in all kinds of weather. Besides, what's a New England farm without a barn?
In the weeks and months ahead, we will be raising money beyond our annual operating budget to fund our barn raising. We are halfway to our $380,000 target. We plan on inviting you —our dedicated community of volunteers and supporters — when we are ready to hoist the barn's posts and beams. Gaining Ground has been building community for over twenty years; now, it's time for a building for our community.
---
Barn Highlights
· Protected storage space for equipment & supplies
· Walk-in cooler for produce storage
· Sheltered work areas
· Meeting space
· Workshop to maintain tools
· Farm staff areas
· Delivery & pick-up areas
---
Above: This composite image uses an architectural rendering to show where the barn might be situated at the farm. Image created by Jeff Young. 

Farm Update, Fundraising