In Full Bloom: A Closer Look at Gaining Ground's Flowers
October 25, 2021 • Christine Savage, Communications Manager

Through the hot, dry days of June, soggy gray days of July, and all the way into October, the flowers at Gaining Ground were a feast of color and light. Heaps of zinnias fluttered in the breeze, waving intense blooms of purples, golden yellows, and stunning coral reds. Tall stands of verbena, with bright green stems and intense, tight bundles of tiny purple flowers rocked gently alongside them. Strawflowers, with their sharp, blade-like petals, in white, blush rose, and tones of rusty orange bobbed next to low bundles of lavender-colored gomphrena. And elsewhere, dahlias—grown from seed this year—loomed in bursts of proud pinks, oranges, and reds. Butterflies, hoverflies, and bees—including hummingbird bees—zipped endlessly between the blossoms and other areas of the farm.
Gaining Ground grows an amazing variety of food crops, and the same can be said for our flowers. In addition to the dahlias, strawflowers, gomphrena, and Queen, Oklahoma, and Benery's series zinnias, this year's plantings included Hot Biscuits and Red Spike amaranth, Pink Champagne, Supercrest, and Pink Flamingo celosia, Frosted Explosion and Green Drops grasses, Costa Apricot snapdragons, Aromatto, Cinnamon, and Mrs. Burn's lemon basil, ageratum, sunflowers, rudbeckia, cosmos, dusty miller, and ammi.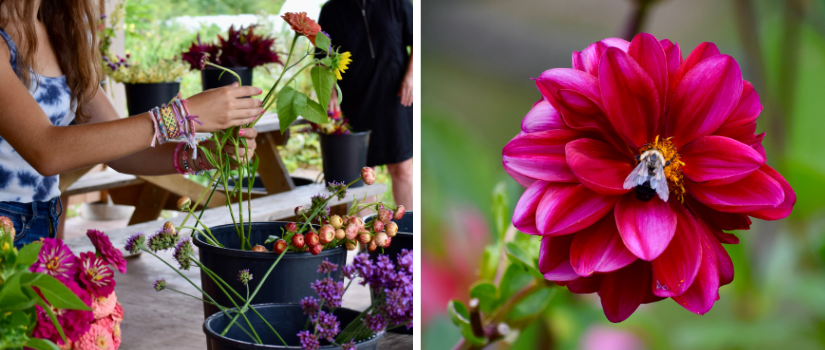 Growing flowers demands attention, care, and planning. This year, Greenhouse Manager Kim Schmidt oversaw our flower-growing operations, working closely with the rest of the crew and many volunteers to keep them healthy and prolific. Most of the flowers can take 60 to 100 days to reach maturity, which means they are seeded in the greenhouse as early as March. Once they were transplanted into beds, the team kept them weeded, encouraging them to develop into broad, healthy plants without becoming leggy or diseased. They also kept fresh blooms picked and old blooms dead-headed to encourage plants to flower all season long.
This will be Kim's last season with us at Gaining Ground, and we'd be remiss if we didn't express our immense gratitude not just for her wonderful work with the flowers, but also for the incredible dedication, insight, and generosity of spirit she has brought to the farm these past seasons.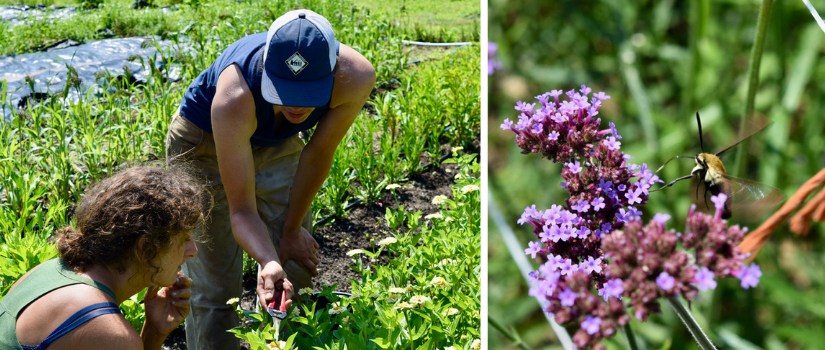 "Kim has done an incredible job with her flower plots this year; walking through the flowers you can feel her expression of love for the design, the growth, the pollinators, and for the people who bring them home," said Farm Manager Anna Kelchlin. "I am so appreciative of Kim's detailed, focused, and thoughtful approach to all the earth work she does here at Gaining Ground. She will be deeply missed by us and the land that she has cared for the past four years."
There is an expression that what you pay attention to grows, and we know that this is the case here.
Every week from July until October, the farmers and volunteers harvested the flowers and assembled them into bouquets that we included in the bags of fresh vegetables and fruit we put together as a part of our Food for Families markets.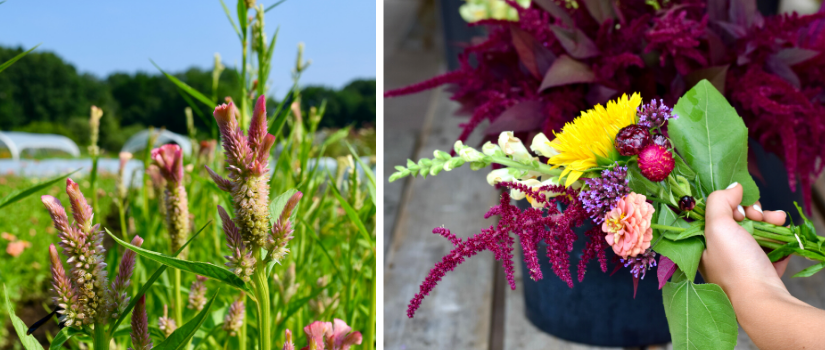 Food for Families is a free farmer's market that we hold every Saturday during the summer, which serves around 100 households and is coordinated through Concord and Carlisle's Councils on Aging and Community Services. Founded in 2003, it is the only program we directly distribute ourselves, and has been shepherded with great care and dedication by board member emeritus Lucy Rosborough. Volunteers, board members, staff, and farmers pack bags of freshly harvested produce, craft the bouquets from our flowers, and run the market itself.
This year, through Food for Families we provided 7,757 pounds of organic produce and 1,520 bouquets of mixed organic flowers to households without access to enough to eat in Concord and Carlisle.
It's no accident that we include flower bouquets along with our fresh vegetables and fruit. To be sure, there are many practical reasons for growing flowers on a hunger-relief farm. Even with limited growing space, flowers can be worthwhile for the benefits they provide to the soil, the biodiversity they contribute, and—especially—for providing bees and other pollinators with habitat and food. And not just for honey bees. Native bees, flies, and butterflies are also important crop pollinators, which rely on flowers for pollen and nectar.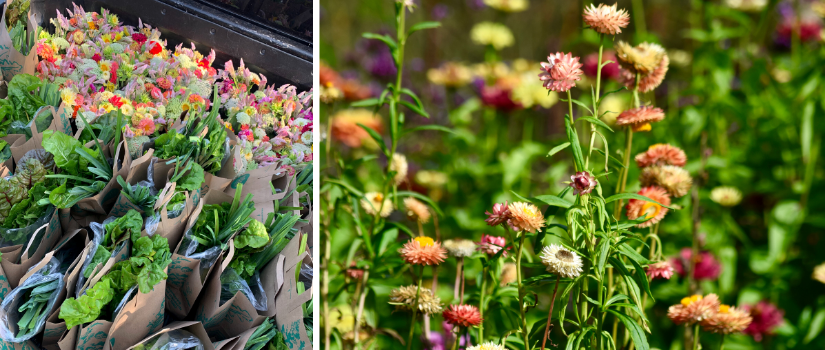 But the reason we grow and donate flowers at Gaining Ground goes beyond practical. They are the one thing we give away simply to share something beautiful. Among our most fragile and perishable products, we grow them for the joy they can inspire.

In our everyday lives, we often think of flowers—the giving of flowers—as a gift. A gesture of warmth and open-heartedness.

The food we give away is a necessity; to have enough to eat is a critical need and it is a right. Our flowers, though, are not needed in the same way. The bouquets we include in our distributions to Food for Families are simply an effort to share a little bit of beauty, a little bit of fun. Two things—like the food we grow and give away—that we want everyone to have enough of.

Farm Update, Recipients, Staff and Farm Crew