Meet This Year's Farm Team: Avery Indermaur
July 27, 2021 • Gaining Ground

Our 2021 farm crew is flush with knowledgeable, talented, and overall delightful human beings. At Gaining Ground, we believe good things are meant to be shared, so we want to take the opportunity to introduce you to this year's team, one member at a time.
Let's get started with Field Crew Member Avery Indermaur.
Avery, where is home? Tell us how you found your way to Gaining Ground.
I am originally from Oak Ridge, North Carolina. In early May, I graduated from Duke University in Durham. After college, I knew I wanted to leave North Carolina and seek a position that was outside, hands-on, and connected to my passions for wellness, sustainability, and food systems. I happened upon the Gaining Ground field crew job posting on an agriculture job email list, and after about five minutes of research, knew it was the place I wanted to be. I applied the same day, and the rest is history!
Have you always had a knack for farming and growing things? Where did your interest in farming come from?
While my dad had a garden every year when I was growing up, my personal interest in farming didn't blossom until college. I came to Duke with passions for sustainability, wellness, and all things food, and a strong leaning away from any career path that would put me behind a desk. I soon realized that farming is the perfect way to blend that all together and got involved working at a few small gardens and the Duke Campus Farm, which cemented my desire to continue growing food.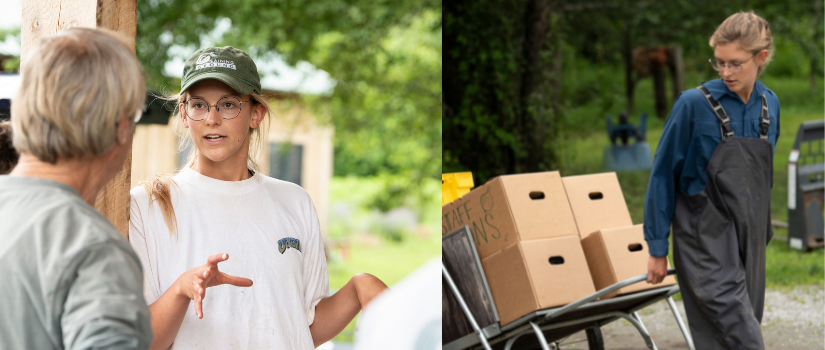 Are there any lessons that you've learned this season on the farm that you'd like to share?
This farm season has taught me a lot about how important it is to take care of myself and my body. I am normally a person who pushes myself to do a lot (socially, physically, mentally, etc.) every day, and I have to constantly remind myself that it is okay to slow down and truly rest, especially when I am farming for eight hours every day.
What is the strangest, most unexpected farm task that you've done this year?
I once led a volunteer group that was set to "abolish the flea beetles." I soon learned that "abolish" was just a clever way of saying "scoop them off the eggplant leaves and smash them with your hands."
Is there a quote or a phrase that is really speaking to you right now?
Last week, Anna and I were moving a tarp and discovered a new strategy we are now calling, roughly, the "clockwise counter-clockwise pancake reverse pancake clockwise flip." Not the most efficient, but it works every time.
What has been your favorite day of the growing season so far?
I am sitting here really struggling to single out a favorite, so I'll say that my favorite days are when I get to help at the wash station with Erin or trellis cukes and tomatoes!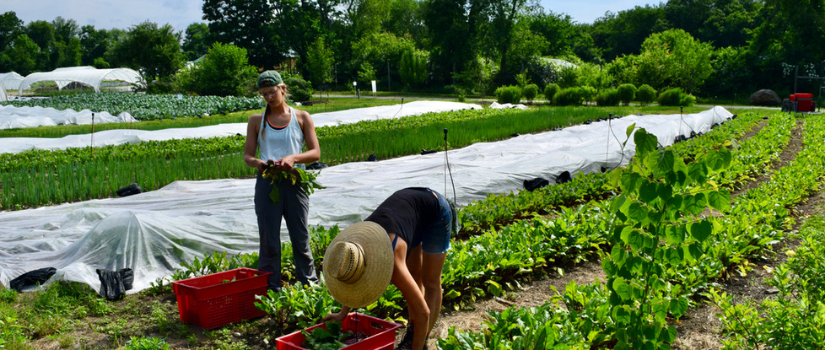 What is a favorite dish or recipe that you like to make?

I am more of a baker than a chef, and I generally just love baking whatever those around me want to eat. Picking a personal favorite is tough, but it is probably my Oma's lemon anise breakfast bread (Oma Bread to us!). Kneading and braiding the loaf is so soothing, and baking it always makes me feel connected to my family.

Any hobbies or interests outside of work that you'd care to share?

I love baking, cooking, yoga, running/walking, reading, and exploring the city since it is all so new to me!

Photo Credit: Tony Rinaldo Photography LLC, first three images

Farm Update, Staff and Farm Crew, Summer