Meet This Year's Farm Team: Chrissie Edgeworth
August 27, 2021 • Gaining Ground

Our 2021 farm crew is flush with knowledgeable, talented, and overall delightful human beings. At Gaining Ground, we believe good things are meant to be shared, so we want to take the opportunity to introduce you to this year's team, one member at a time.
Let's get to know Assistant Grower Chrissie Edgeworth.
Where is home? How did you find your way to Gaining Ground?
Home is Chicago. I found my way to Gaining Ground through subscribing to the Tufts comfood listserv—an email listserv with postings about community food systems. Gaining Ground caught my eye in particular because it combines food access, regenerative agriculture, and environmental education and connection.
Have you always had a knack for farming and growing things? Where did your interest in farming come from?
I definitely have not always had a knack for growing things and it wasn't until about three years ago that I got super excited about the idea of it. Protecting the environment and conserving the land was always something I advocated for, but I had never put my hands in the soil much until after college. Out of college, I worked for a few different wilderness trail crews and taught field ecology courses in Yellowstone National Park. My interest in farming came from falling in love with the land, wanting to share that love with others, and wanting to learn more about how our species can sustainably support and feed ourselves while giving back to the soil and each other. People across the world gather together around food and around tables and it's an incredible community-builder and sustainer; so farming made sense to me as the next step in learning more about what our communities need to do to heal and thrive.  
What is a favorite dish or recipe that you like to make?
My favorite is a summer zucchini corn chowder. Here's the recipe! I also love bringing home bruised tomatoes and making batches of salsa—that's probably half of what I consume in the summer.
What's a lesson you've learned this season on the farm?
I've learned (and re-learned again and again) that growth takes time and patience. Soil health is something that builds up and enriches over time. No matter where our heart and energy are on any given day, we have to trust the long-term picture and goal of whole ecosystem health and the time that it will take to build that. I've also learned that farming workshops and get-togethers are incredibly fun and a great way to poke at new curiosities, see our own farms in new lights, and learn in community; we're stronger as a whole when we're sharing our resources, lessons, hardships, successes, and questions.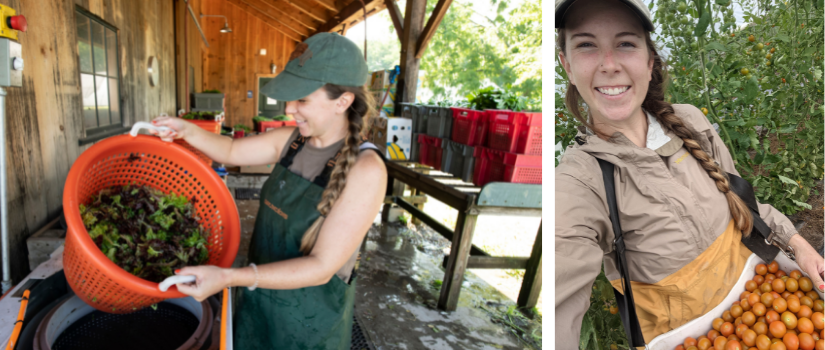 What is the weirdest farm job you've ever had to do?

We had a tomato horn worm problem at the farm where I worked in Illinois last year and they can blend in super well and be pretty hard to spot amongst the foliage. So a fellow farmer and I went through the tomato tunnels one night with blacklights to try and spot them. Horn worms glow neon green under blacklight, so we were able to find a bunch and get 'em out of there!

Is there a quote or a phrase that is really speaking to you right now?

A phrase that is really sticking with me this season is one from Robin Wall Kimmerer. In her essay, "The Serviceberry: An Economy of Abundance," she writes: "All flourishing is mutual." It reminds me of our interdependence as humans and as beings on this planet amongst so much other life.

What has been your favorite day of the growing season so far?

This is tough! I've had so many favorite days. Some of my favorite moments are when I get to stop still in my tracks and look around and take in just how much the farm changes from week to week. Thinking back to spring when the garlic was getting bigger and bigger, up until its harvest in July, and now that field is quickly filling up with beautiful heads of lettuce. So much happens here and it's easy to get wrapped up in ever-growing to-do lists; so I enjoy the moments of pause to look around and appreciate all the vibrant plants just doing their thang.

Any hobbies or interests outside of work that you'd care to share?

When not farming, I spend most of my waking hours making jewelry. I sell it online and in a little shop called Sign of the Dove in Cambridge. Shameless plug: https://www.ramblejoyjewelryco.com/

I also love hiking, camping, writing, and spending time with friends.

What are some farms or organizations you follow?

My favorite organization to keep up with is in my hometown of Chicago. It's called the Urban Growers Collective. From their website: "Urban Growers Collective is a Black- and women-led non-profit farm in Chicago, Illinois working to build a more just and equitable local food system. We aim to address the inequities and structural racism that exist in the food system and in communities of color. Rooted in growing food, our mission is to cultivate nourishing environments which support health, economic development, healing, and creativity through urban agriculture. We provide hands-on job training and create economic opportunity for youth, beginner BIPOC farmers, and men who are at high risk for gun violence. Our aim is to provide jobs while working to mitigate food insecurity and limited access to affordable, culturally-affirming, and nutritionally-dense food. Our team cultivates eight urban farms on 11 acres of land, predominantly located on Chicago's South Side. These farms are production-oriented but also offer opportunities for staff-led education, training, and leadership development. Our produce is available at farmers' markets, in our Collective Supported Agriculture program, and at the Fresh Moves Mobile Market."

They're doing incredible work and are who I look to for hope and leadership in building sustainable local food systems and healthy, equitable communities.

Farm Update, Staff and Farm Crew, Summer