Meet This Year's Farm Team: Erin Espinosa
October 25, 2021 • Gaining Ground

Our 2021 farm season is quieting down, which means it's time to share our final farmer spotlight of the season. It's a great moment to get to know Education Manager Erin Espinosa a little bit better—especially since she'll be joining us again on the farm next season!
Where is home? How did you find your way to Gaining Ground?
I was born and raised in Eastern Massachusetts and now reside in Boston. I attended workshops at Gaining Ground during my time working at other farms in the area for the past several years. Gaining Ground had a good reputation in the local farm community for treating their farmers well and offered learning opportunities in no-till farm practices and food access—so when the opportunity arose to work here, I leaped at the chance.
Have you always had a knack for farming and growing things?
I have always had a knack for using my hands and getting dirty, especially as a child and teenager. I enjoyed hands-on volunteer opportunities like construction, lawn clean-up, and trail maintenance. My interest in farming was sparked through a volunteer session at my hometown's community farm when I was 16 years old. I shovelled manure for a couple hours, and after that I was hooked! While working with my hands inspired my farming, it is my connection with the land and surrounding ecosystem that sustains me.
What's a lesson you've learned this season on the farm?
The past couple years I have been learning how to find a work-life balance and practice letting go. Farming is incredibly demanding. There is always something on the to-do list, and if it doesn't get done it may create a domino effect of negative outcomes. To find a work life balance, I have to prioritize and be willing to let some things go.
What is the weirdest farm job or task you've ever had to do?
Search for and catch a missing goat in the woods!
Do you have any favorite farmers or other folks doing work that motivates/inspires you?
Yes! Our local farm community is full of inspiring women farmers that are both starting families and running farm businesses at the same time. I am endlessly impressed by these women including Elena Coleman at Small Farm in Stowe, Mass., and Brittany Overshiner at Upswing Farm in Pepperell, Mass.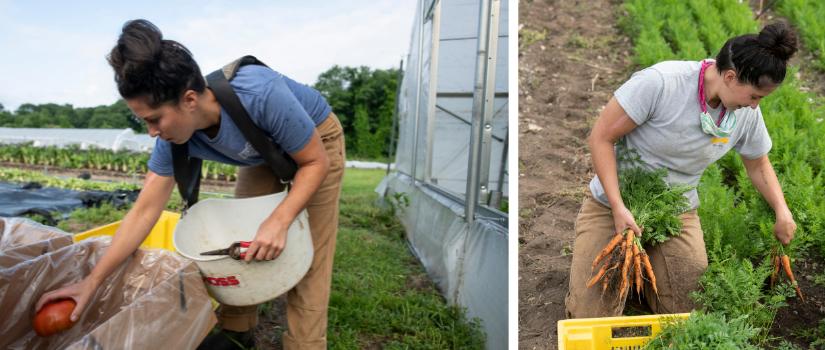 What has been your favorite day of the growing season so far?

My favorite day was the first Wednesday in May, working with The Guild School. I led their volunteer group in a hand-weeding project. The students were so engaged, sharing their excitement for the wildlife and asking many questions about the farm. In a time when I was stressed, they grounded me and reminded me why I love farming and working with volunteers.

What is a favorite dish or recipe that you like to make?  

I love to make a Southwestern corn chowder using local corn and veggies from the farm like carrots, potatoes, poblanos, sweet pepper, cilantro, onion, and garlic. My favorite corn chowder recipe is by Cookie and Kate.

Any hobbies or interests outside of work that you'd care to share? 

On Mondays, I teach horticulture at a prison in Greater Boston through an organization called The New Garden Society. I love to spread my passion for farming to those who are incarcerated. The students are such inspiring, curious, and hardworking people who benefit from the healing powers of growing food, while gaining job skills. Also in my free time I love to dance, watch medical drama television, and ride my bike.

Photo credit: Tony Rinaldo Photography, LLC.

Farm Update, Staff and Farm Crew, Summer