Meet This Year's Farm Team: Kim Schmidt
September 27, 2021 • Gaining Ground

Our 2021 farm crew is flush with knowledgeable, talented, and overall delightful human beings. At Gaining Ground, we believe good things are meant to be shared, so we want to take the opportunity to introduce you to this year's team, one member at a time.
Let's get to know Greenhouse Manager Kim Schmidt.
Where are you from originally? How did you find your way to Gaining Ground?
I grew up in St. Louis, Missouri, and Wichita, Kansas, and still call Kansas home. Before Gaining Ground, I had been farming for roughly six years around the Midwest when my partner, Joel, and I decided to move to New England so he could pursue a doctorate. It took a little while before I found Gaining Ground, but once I did I felt so lucky.
I have been so grateful to continue to grow and learn as a farmer during my four years at Gaining Ground and I am going to be quite sad to officially leave at the end of the season for another adventure. I am moving back to the midwest (Illinois) and hope to find a farm equally as special and intentional as Gaining Ground, but I suspect it will take a little time. I will thoroughly miss all the farmers and staff, board members, volunteers, and the land and plants that I have spent so much time with and learned so much from during my time here.
How do you feel your strengths and interests in farming and hunger relief have evolved over your years as a farmer?
I came to farming with an interest in food access issues and curiosity about addressing food apartheid areas of our cities. But, as it happened, market and CSA farms were the places that were hiring at the time in my area and so I got swept into those worlds at the beginning of my career. Despite this, I have appreciated the for-profit farms I have worked for that continued to stay in conversation with these issues and continued to explore the ways they could be a part of the solution to food access problems in their areas.
So much has changed in the conversation over the years, and I've changed with it. I think, though, that where my interests and understanding have grown the most has been in grasping the nuance of some of these issues and the breadth of concerns these topics should address.
Over the years, I have come to believe that as we grow in meeting the food needs of individuals in our communities, we should make sure it is not at the expense of the wellbeing of farmers by offering them fair wages, opportunities for healthcare coverage, sick leave, and more.
Also, as we look forward to how we can increase our impact in what we share with our community we should make sure that we are bringing with us not just those who have the funding for our visions, but those who come from and are grounded in the communities we hope to serve.
And lastly, I believe growth as a farmer, as a farm, or as a hunger-relief organization can come in all sorts of ways and does not have to follow the model that capitalism has offered us. We can grow in how we engage in policy around hunger relief so that our efforts are not just band-aid measures. We can grow to limit our waste and use of plastic within our growing methods. We can grow in how we engage and learn from and support the indigenous populations that once called our farms home. We can grow in our offering of nutrient-rich, culturally appropriate foods to our recipients. We can grow in our understanding of seed and food sovereignty issues and work to be intentional in our seed buying, lessen our dependence on hybrid seed, and support indigenous seed sovereignty efforts. And so on, and so on.
I welcome continued conversation and understanding on these subjects, so come out to the farm and we can chat in the fields!
What's a lesson you've learned this season on the farm?
Each year I am humbled (and terrified) by our changing climate and our need to do more to address our impact on the world, while simultaneously finding ways to be resilient in the face of changing weather factors. Within this, I am reminded again and again to find the good, listen to what the land is telling us, and adapt accordingly. This is not to dismiss the tragic events that are affecting our farms, but in order to keep going, we must look to the things that are working.
This year I have seen more flooding at Gaining Ground than I have seen the previous three years. It is hard to not get bogged down by it. But I can't imagine what it would be like if the farm had not shifted to no-till methods and started putting the health of the soil first. Our plants have been remarkably resilient and I'm constantly in awe of what we are pulling from the fields despite a very wet and humid season of growing. There is much more listening and adapting to do, but I believe we are on the right track.
Another lesson, though not completely unrelated, is to invest in good rain gear. This was probably the first year of my farming career that I had a well-crafted rain gear set-up and holy cow, did it make the biggest difference. 🙂
What is your favorite and least favorite farm wildlife?
One of my absolute favorite wildlife happenings on the farm is the return of the hummingbird moth. Late in the spring in the mid to late afternoon you can find several of them hovering about the verbena with their lobster-like tails and uncanny resemblance to an actual hummingbird, unfurling their long tongues into the trumpet-shaped flowers. They are truly mesmerizing.
Another favorite wildlife occurrence is finding a parasitized tomato hornworm, with eggs growing out of its back thanks to a parasitic wasp. Sadly, I haven't seen one of these yet this year, but there is still time.
My least favorite wildlife spotting has been mice in the greenhouse. They love squash, cucumber and sunflower seeds, and will spend their nights digging them up from freshly planted seedling trays. We have found ways to deter them, but still, it can be a challenge.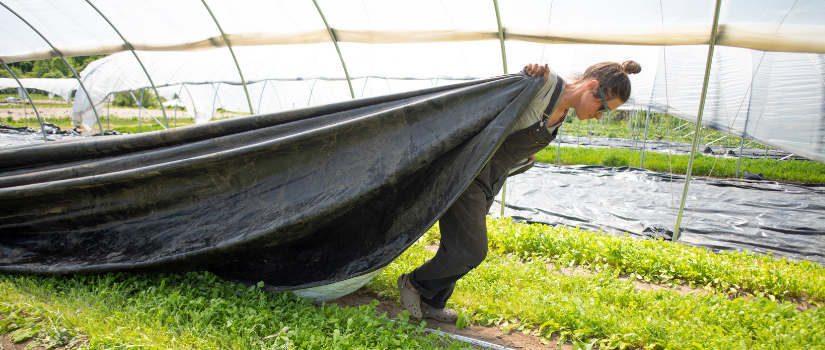 Is there a quote or a phrase that is really speaking to you right now?

I'm not really a person that leans on quotes, however there is a saying my mom has said to me my whole life that has been a theme for me this year. The phrase is: Don't borrow tomorrow's worry. Naturally, as someone with anxious tendencies, this phrase has helped to ground me.

This year has brought so much transition, in my own life as I plan a move, on the farm with new farmers and ever-evolving systems for tending the land, with our changing climate and how we respond to it, and with this pandemic as we adjust to updated safety measures and our emotions that are so tied to them and the people we long to connect with. We can only do what we can with each moment that is right in front of us, and try to let go of the things we can't control. Or at least we can try! Staying present is hard!

What has been your favorite day of the growing season so far?

As I'm sure any farmer will tell you, it is hard to pick just one! I did really love mulching the flowers this spring with Anna's partner, Ben. I love a project where there is an epic before and after, and everything just looked so tidy and I knew that the field was set up to produce some awesome results—and so it has!

But there have been so many other amazing moments: Where the whole crew is working on a project kicking butt collectively, seeding days in the greenhouse with Rae while listening to the Dolly Parton's America podcast, doing yoga on the farm before the day's work, quiet, solo harvests in the flower fields, seeing cartfuls of the bouquets volunteers have lovingly arranged, and my yearly favorite activity of harvesting the butternut. And the season's not over!

Any hobbies or interests outside of work that you'd care to share? A current favorite TV show?

Probably not a popular opinion, but I love mending and fixing old things, be they clothes or just things around the house (I'm currently working on repairing and reweaving a rattan chair). I am known to dabble in a variety of fiber projects in the winter, be they knitting, weaving or punch needle. I love when I have the space and access to do ceramic work, though those opportunities are few and far between these days. And like many veg farmers, I love to cook and bake when I have the energy to do so.

As for my current favorite media, I can't stop talking about the show Ted Lasso, just ask the crew.

Photo credit (first, fourth, and fifth images): Tony Rinaldo Photography LLC

Farm Update, Staff and Farm Crew, Summer