Meet This Year's Farm Team: Rae Axner
September 27, 2021 • Gaining Ground

Our 2021 farm crew is flush with knowledgeable, talented, and overall delightful human beings. At Gaining Ground, we believe good things are meant to be shared, so we want to take the opportunity to introduce you to this year's team, one member at a time.
Let's get to know Assistant Grower Rae Axner.
How did you make your way to Gaining Ground and where did your interest in farming come from?
Somerville is and has always been home for me. I grew up picking tomatoes and cucumbers barefoot in my dad's front yard garden. Our home was a jungle of house plants. But I was never interested in helping in the garden—other than my personal instant harvests—until after I first worked on a farm. My first farming experience was the summer and fall after graduating from college. I loved being outside, growing and eating fresh food, and getting stronger. But I also wanted to experience other types of work after having spent so many years in school. I worked as a housing advocate for a bit over a year, trying to prevent evictions in Somerville—a city that is facing a displacement crisis. It was important, difficult, and heartbreaking work. I decided that I needed a job where I could be part of creating joyful experiences, rather than just trying to stem the flow of the horrible injustices my community was facing on a daily basis.
This brought me back to work on farms (of many shapes and sizes) and with young people. I have loved working with teens, learning how to grow food together and learning from each other about food and environmental justice. I came to Gaining Ground this spring after deciding last year that I wanted to deepen my knowledge of production-based farming. Living in such unstable and uncertain times—seeing the results of human exploitation of people and planet play out as climate disaster, living through a pandemic—made me want to develop a skill that will help my communities survive through whatever is to come. I believe deeply that the work of producing that which is necessary for human survival is some of the most skilled and important work to be done, and I have endless respect for my coworkers and other farmers who have been doing it for decades. As a new farmer, I hope to soak up some of that wisdom, and learn how to respond to the new challenges we are and will continue to face in producing food for the growing world in a changing climate. I am particularly grateful to be doing so at a farm that gives away all of the food we grow, and one that embraces principles of reciprocity and regeneration of the land.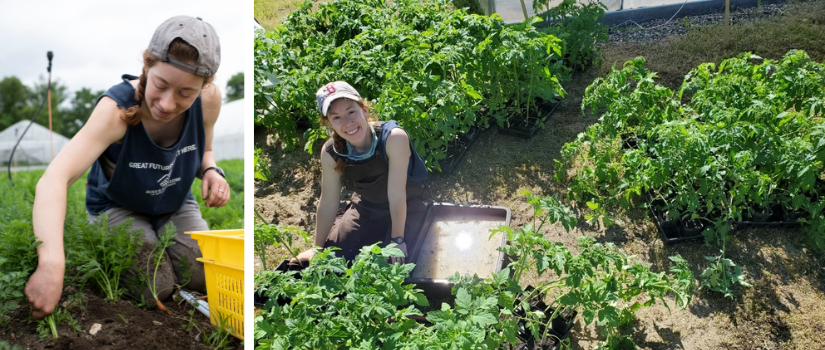 What is a favorite dish or recipe that you like to make?
I usually keep it pretty simple when I cook. Cast iron pan, olive oil, garlic, more garlic, fresh farm veggies, spices. Put that over a grain and some protein and call it a day! Every once in a while I'll break out a recipe and measuring spoons. But mostly I like to just see what's good on the farm that week and take it from there.
What's a lesson you've learned this season on the farm?
I've been learning about the importance of careful observation this season. To be a good farmer you need to be able to tell how your crops are changing day to day, how they are similar to or different from the last succession or the last season, what pests they may be vulnerable to now and in the future, what they need and when they need it, when they are ready to harvest and when it's time to move on and let the soil nurture something new. As someone whose attention often wanders, it's been a challenge for me to notice these details and to remember them enough to make good use of the information. I think it's a good growing edge for me, and a skill that I will use in many areas of my life.
What is your favorite and least favorite farm wildlife?
I love earthworms—they remind me constantly that I am lucky to be digging my hands into healthy, living soil. I also love seeing the many different insects and spiders that the Gaining Ground land is home to. There's such a diversity of wildlife on this farm—more than I've experienced in other places.
I'm not a fan of potato beetles—if you know, you know.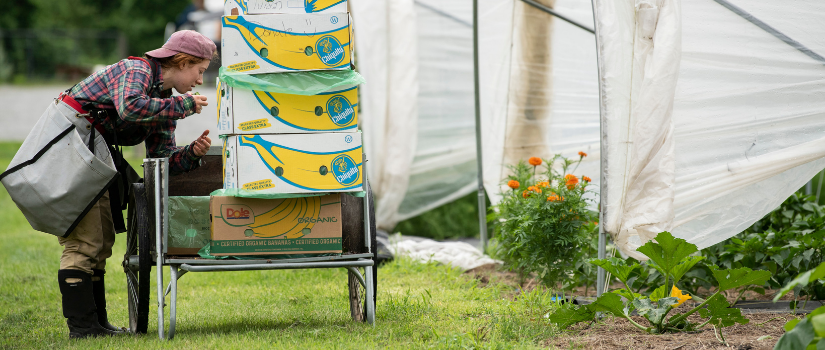 Do you have a favorite farm project or tool to use?

My favorite thing about working at Gaining Ground is that we get to do such a variety of farm tasks every day and every week. Having that kind of constant change and diversity keeps me engaged and excited about coming to work. I of course love harvesting and planting our seedlings in the ground. But I also get so much satisfaction from the step-by-step process of preparing a plot to be planted—broadforking, adding compost, fertilizer, mineral amendments, tilthing (mixing and smoothing the top layer of soil)—and knowing how much goes into each row of food we grow.

Do you have any favorite farmers or other folks doing work that inspires you?

Anna, Kim, and Erin (the Gaining Ground managers). Their dedication to the craft of growing food and the hard work they have put into it season after season is inspiring.

I am also grateful for and motivated by growers who are tapping into their personal heritages and ancestral ways of caring for the land and connecting to the work of farming. Personally, relating to the farming season alongside the Jewish calendar is one way that I find meaning and rhythm in the work I do.

Lastly, I have great appreciation for anyone growing food in areas where it's hard to grow food. That's a lot of places. But specifically places that have been harmed by the legacies of segregation and environmental racism, and where healthy food is structurally withheld from entire neighborhoods.

Some farms and organizations I follow and am inspired by are Linke Fligl, Soul Fire Farm, Rock Steady Farm, Groundwork Somerville, Sweet Freedom Farm, Rooted In Community, Uprooted & Rising, among many, many more that I know and don't know.

Any hobbies or interests outside of work that you'd care to share?

Outside of work I bike around Somerville and Boston, swim in any lakes I can find, and play (very beginner) guitar. I spend as much time as I can with friends and family, sometimes finding laughter and joy wherever we can in a world full of grief and uncertainty, and sometimes thinking and talking and taking action to change those conditions.

Photo credit: Tony Rinaldo Photography LLC

Farm Update, Staff and Farm Crew, Summer