New Faces at the Farm
March 14, 2017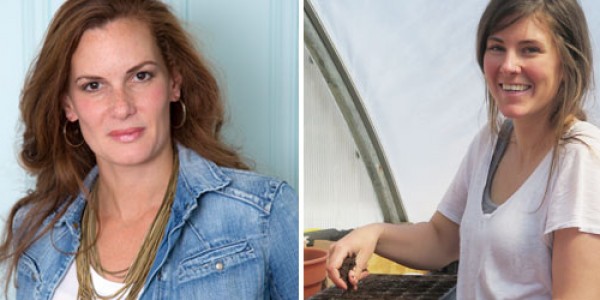 Join us in welcoming new staff and board members.
---
Hannah Lawson (above, right) joined Gaining Ground as our assistant farm manager at the start of sugaring season in February. Formerly employed as farmer and greenhouse manager at Appleton Farms and as program director for an environment education non-profit, she brings experience in both farming and education.
While working in education, Hannah continually saw a lack of access to local healthy foods and a disconnect between students and their food. This inspired her to get her hands dirty and begin farming as a way to better understand our food system.
Hannah is enthusiastic to join Gaining Ground to learn more about the power of farming and the benefits it provides to our surrounding communities.
---
Lisanne Wheeler (above, left) was first introduced to Gaining Ground in 2009 by former board member Hilary Boynton, who asked her to test recipes for our cookbook, The Gaining Ground Table. Years later, after attending our barn raising in December 2015, Lisanne was inspired to take a more active role in Gaining Ground and joined the board this March.

Since moving to Concord eight years ago, Lisanne has been busy with her work in marketing and advertising and most recently as a founding partner of Tribe Design + Events, a full-service event design and planning company. She has also played an active role supporting community organizations: She served as a board member of the Milldam Nursery School, where she chaired the fundraising committee; she has co-chaired many fundraising events for the Concord Museum; and she is co-chairing the Emerson Auxiliary's annual gala fundraiser in support of the Emergency Department.

Lisanne is excited to bring her marketing, event management, and fundraising talents to Gaining Ground to help make a positive impact in Concord and throughout the communities we serve.

Board of Directors, Staff and Farm Crew