Partner Spotlight: Daniel's Table Provides More Than Meals in Framingham
June 23, 2021 • Christine Savage, Communications Manager
Our newest recipient partner is Daniel's Table, which provides food and nutritional education to folks struggling with food insecurity in Framingham. Gaining Ground's communications manager, Christine Savage, recently interviewed Daniel's Table's co-founder, Alicia Blais, about the organization's mission, programming, and what they're getting up to this busy summer.
Alicia, could you please give us an overview of the mission and work of Daniel's Table? Please tell us a bit about why you do what you do.
Our mission at Daniel's Table is to create total food security in the city of Framingham. Or to end food insecurity—I just prefer the idea of creating something. We hope to serve as a model for other cities to follow.
We do this because no one should be without nutritious food on a regular basis. Not just enough pounds of food, but delicious, nutrition-dense food. We—my husband and I—do this work to honor our son Daniel, who died at birth.
Thank you so much for sharing that with us. 
Can you let us know a bit more about where and how you distribute your meals and who you reach?
We distribute groceries and prepared food through a bi-weekly food market at our building on Pearl Street, weekly at Woodrow Wilson Elementary School, and by delivery to seniors in partnership with Jewish Family Services. We serve frozen, prepared meals at 21 locations throughout Framingham with our freezer program (presently, this number is 12 because of COVID closings), and by delivery or pick-up to families in our Womb to Five program.
We serve families in need with children under 18 years of age, and those 60 and older. We are presently serving approximately 300 families a week with groceries and a varying number with prepared meals. Some freezer locations get refilled weekly, others monthly. Freezers are located in schools, medical centers, YMCAs, senior centers, and housing complexes, and so are used more or less frequently relative to need.
All of our clients will have the opportunity to taste the beautiful produce from Gaining Ground as it will be first offered to families coming to our market, then used in our prepared foods, and lastly anything trimmed or wilted will go to a local farm for their animals. Poor things won't get much with the enthusiasm of our clients so far.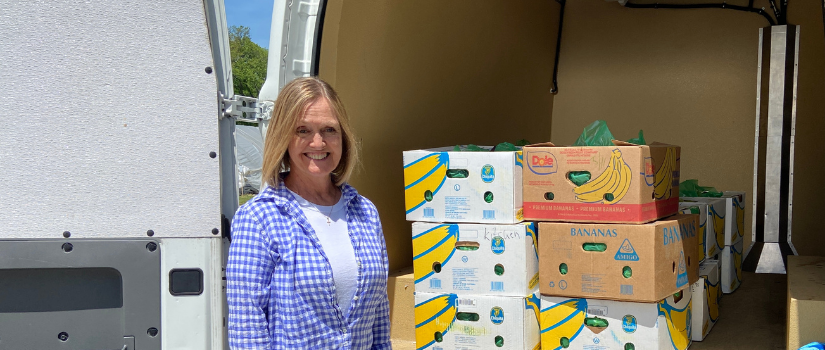 What are some foods that are particularly popular or needed by your clients?
Some popular foods so far have been cucumbers, lettuce, carrots—items that are more familiar. But we are all about education and exposing folks to new foods. This past week, with a tasting opportunity we held, basil and kohlrabi were big winners!
How has the COVID-19 pandemic affected your work, clients, and community in Framingham?
COVID had—and is having—a great effect on us. We went from serving 50 or 60 families each week to 300 to 400. It went even as high as 600 at one point. But, at the same time, many of our freezers are in public schools, so they were closed. We had to serve clients outside the building and could only allow a few volunteers inside to pack. It's been interesting, but we have learned to adjust to the present situation, or as we say, "step and pivot."
Please tell us a bit more about the programs you offer and any exciting upcoming plans or projects you might have.
We are presently made up of five programs. Briefly, they are:
The Food Market: This is set up as a free farmers market. People shop for their families' particular needs in a casual, friendly space. Fresh produce, dairy, meats, and dry goods are available. We think education should go hand-in-hand with distribution, so starting in July there will be a monthly children's food exploration table. There will also be cooking demos with samples. Past lessons included making smoothies using kale and spinach with fruit and yogurt, cooking spaghetti squash and lamb meatballs with many sauces, and preparing a healthier meatloaf.
The Freezer Program: Healthy, nutritionally balanced meals are prepared, packed, and frozen for either a family of four or as individual meals. We partner with nurses, social workers, and teachers to distribute to people where they are. Meals can be picked up at school, at a doctor's appointment, and so on.
Womb to Five: A fairly new program for women who are pregnant or have a child under one year of age who want to take part in a five-year study of nutrition and its effects on children entering kindergarten. We provide access to a licensed nutritionist, any food they are not able to provide, along with education for the whole family.
Blooming Citi: This program just started in collaboration with Transition Framingham and members of Earth Day. We are planting fruit trees and blueberry bushes all over Framingham to beautify the area, educate children about food and how it grows, and be a casual food source.
OneCiti: Probably our most ambitious endeavor. We are using an app and a huge amount of volunteers in an effort to ask every household in Framingham a simple question: Are you ok? Are you challenged to feed your family with healthy foods or are you feeling lonely or isolated? We can only help if we are aware of their challenges.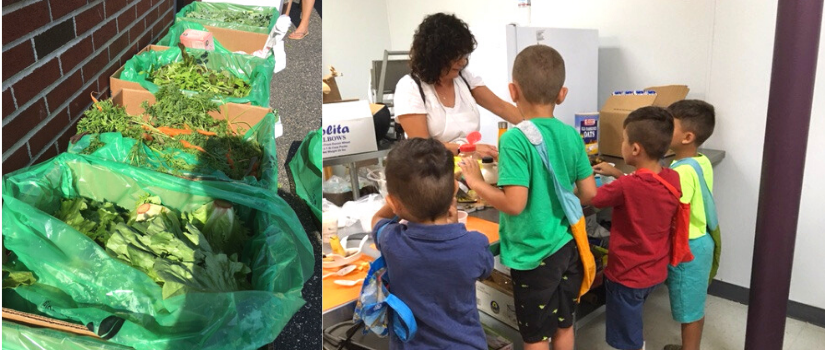 So that's Daniel's Table in a nutshell.
We are so grateful to be partnering with the folks at Gaining Ground. The produce is so fabulous, organic, and interesting. You obviously have a passion for what you do. We do our best to serve it well and offer education, as well. I served samples of raw and roasted kohlrabi this week and everyone loved it. I asked my pescatarian daughter to come up with something interesting for the carrots, so now I will be serving roasted carrots dipped in carrot top chimichurri—a puree of carrot greens, cilantro, olive oil, garlic salt, and pepper.
Congratulations on your successes so far, Alicia and the whole Daniel's Table team, and thank you for all that you do to help folks get enough food to eat! We are thrilled to be partnering with you to bring fresh, organic produce from Gaining Ground to folks in the Framingham community who need it.
Recipients