Partner Spotlight: House of Hope
November 30, 2021 • Gaining Ground

For November, we're taking the opportunity to catch up with our recipient partner House of Hope, which runs programs and permanent housing services with the goal of ending homelessness in Lowell. They do this through a commitment to transitioning families experiencing homelessness into greater social and economic stability.
As a part of their work, they provide services that include emergency food, shelter, and clothing for 58 families at several shelter sites, case management, on-site behavioral and physical health support, children and family support services, and an employment-readiness program with internship positions and job coaching.
We spoke with Chef Paul Dubuque—who manages the kitchen at House of Hope and provides job training for clients—about the organization's mission, programming, and what they're getting up to this busy season.
Thank you so much for taking the time to chat with us, Paul. Could you give us a bit of an introduction to the work and programming at House of Hope?
We offer our services as a shelter program—specifically a family shelter, so it's parents and kids who come and stay with us. We have three homes that we run as shelters. The one I work at is the biggest house, which serves around 35 families. The original "House of Hope" has 15 families, and we have one smaller house that serves around seven to ten families.
Through my work as the kitchen manager, I'm in charge of producing the food for the three houses. We also have an internship program where we teach residents various culinary job skills—we also make sure they get ServSafe and allergen certified with us, which is helpful if they look for jobs in the industry later. For some, they can then leave and go into food- or cooking-related work, and for others it's just a good opportunity to learn how to cook balanced meals for their families. It works both ways.
As a part of our culinary skills internship, I teach folks job skills and together we make the food that feeds all three houses at the same time.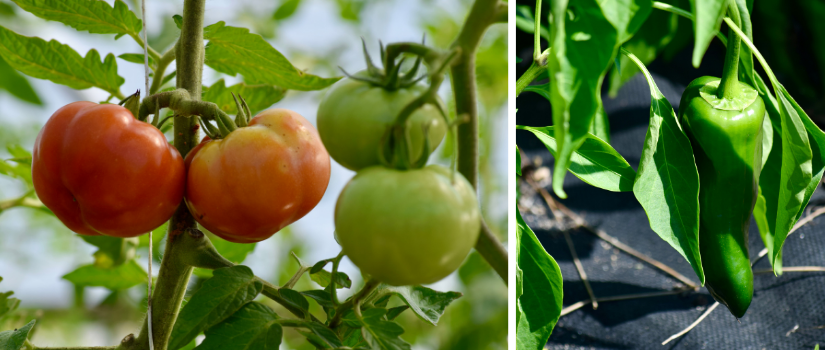 We know you are the best person to speak to about food and its importance at House of Hope. Tell us a bit about what goes into making the food for the families staying with you.
I've been a chef for 30 years, so even though it's not a restaurant setting, we still put a lot of heart and soul into the food. It's almost all fresh, from-scratch food.
I try to keep diversity in the menu and change things up so it doesn't get boring for people staying with us. Some people can be here for quite a while, so I have to keep it interesting: Anything from lasagna to stuffed chicken breast to roasted pork loin. We do all of it, and so many types and cuisines: Asian-style food to Italian to American to you-name-it.
Today we made a Mexican casserole, which is almost like an enchilada casserole. Because of Gaining Ground, we have a lot of farm fresh food. We have the tomatillos from the farm and I ground them all up and used them as part of the sauce as well as the jalapeños we get from the farm and the cilantro and tomatoes.
I'll take a lot of that produce and prepare it and freeze it in batches so that I can use it later. I can't use 20 pounds of basil all at once, but I can make a pesto and freeze bags of it and pull them out in a few weeks!
The only farm we work with is Gaining Ground and I love the partnership. I look forward to it every year. And with the farm's hoop houses, the growing season is getting longer every year. I'm excited about that, too.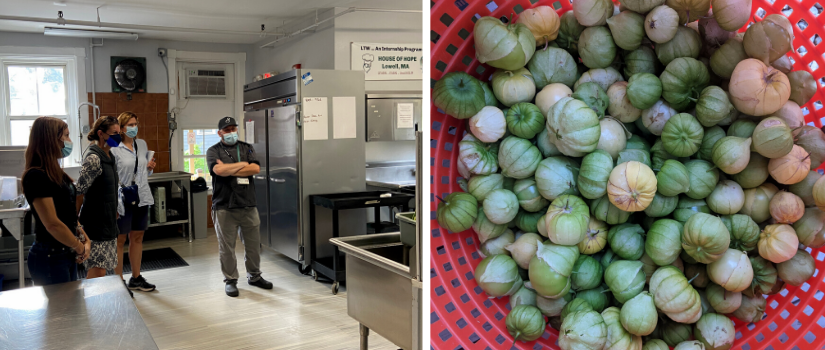 How has the pandemic affected your work making meals and getting food to the folks you serve?

Our clients don't have private kitchens in their rooms, so they don't have the opportunity to cook for themselves. We prepare and serve three meals a day, seven days a week and we have a really nice dining area where everyone eats. Because of the pandemic, we went from one hour meals, to a longer meal period but with folks dining in shifts so we can keep everyone socially distanced—we now only allow 10 people in at a time.

We used to serve all the meals, and now with COVID it's mostly pre-portioned and plated. At dinnertime, the support staff will still serve the meals. But as far as breakfast or lunch, if it's pizza for example, we make the pizza, cut the pieces, put them on plates, wrap them, and then people can just grab their own. Condiments are all portioned individually. All that fun stuff!

Tell us about how you made your way to House of Hope, and what you enjoy about your work as a chef.

I started in the industry when I was 14, and I never really stopped. I became the executive chef for a hotel and conference center in Arizona at 23. Years later, I moved to the front of the house and became a managing partner for a restaurant company, but when I moved back to New England in 2007, I took another executive chef position. From there, I went to the Andover Inn, which is on Phillips Academy in Andover, and was their executive chef for five years.

But, I'm also a musician so I wanted to have a different balance between work and the rest of my life. I learned about the position with House of Hope—I've done all types of cuisine, all types of positions, and this role is very different from my previous ones. The pace is completely different and not nearly as stressful. It's a lot more laid back and casual, especially because I'm teaching. You don't want to be teaching—or learning as a resident who maybe has existing challenges they're dealing with—in a high stress environment. Having worked in kitchens my whole life, I can make it work in a lot of different ways or styles, and it's just been a good fit at House of Hope.

Thank you so much for taking the time to speak with us, Paul, and for all that you do to help improve access to healthy, delicious food for the folks you serve at House of Hope. We're grateful for the important work you do and are thrilled to be partnering with you to bring fresh, organic produce from Gaining Ground to people in the Lowell community who need it.

Hunger Relief, Recipients