Putting Choice Front and Center: Loaves & Fishes
July 27, 2023

Food is a common thread that connects us to one another and to our larger community. At Gaining Ground, we believe that consistent access to nutritious, ethically-grown, and culturally-relevant food is a necessity and a right. It is critical to us that the fruits and vegetables that we grow reach the members of our community who need them most, and that we farm in a way that respects the health and dignity of everyone who eats the food we grow.
The hunger-relief partners we work with play a major role in helping to ensure that this happens.
Loaves & Fishes Food Pantry, a longstanding partner of Gaining Ground, embodies this not only through their commitment to providing food for people experiencing food insecurity across multiple towns in the area—seven in total, including Ayer, Devens, Dunstable, Groton, Harvard, Littleton, and Shirley—but by offering options and diversity in the foods they provide and how people can access them.
"You gain an appreciation for food and how important it is to everyone—it is fuel, but it's more than that," said Tara Hanley, food coordinator at Loaves & Fishes in Devens. "At the pantry, all of our shirts say 'food equals hope.' And it really does; it is a way for people to get together; it brings families together. And when you're providing people with good, healthy, beautiful food, you see the effect it has."
Every household that Loaves & Fishes serves gets an average of six to eight bags of food each week. "And it is very good quality stuff," said Tara. "We have open pantry at least twice a week and we try to vary the hours. We're also working on an online program so that our clients have more control over what they're receiving, which has been great. We all like getting to have more say in what we eat."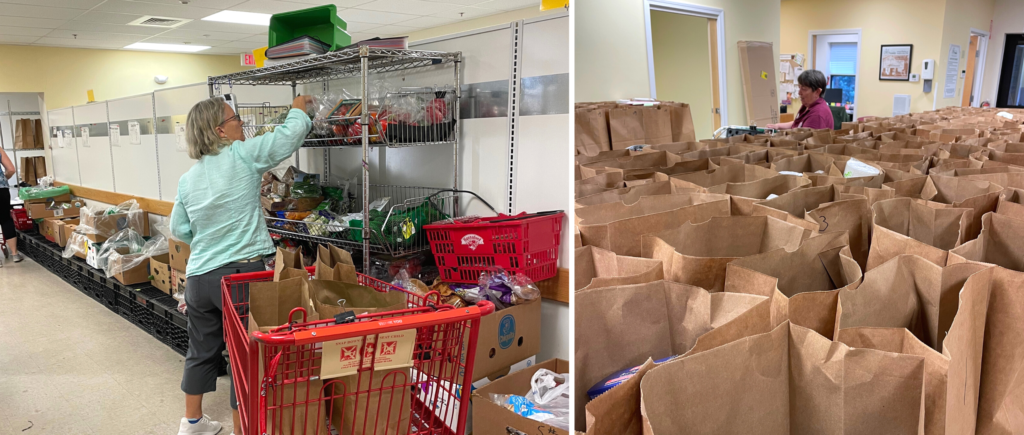 Last year, Loaves & Fishes provided groceries and personal care items to 576 families. They also partner with the councils on aging in all of the towns they work with. "There are some people who cannot get to the pantry, so we'll load a vehicle with food for anyone who is disabled or doesn't drive and drop off their groceries for them," said Tara. "We're constantly thinking about ways we can reach more people."
When the COVID-19 pandemic struck, Loaves & Fishes transitioned to a drive-thru model, which has been popular among their clients. But as the pantry's operations return to normal, they are also taking steps to return to some indoor services for their clients. "It is part of the next phase of opening back up fully," said Tara. "We work with around 300 volunteers and they are really looking forward to that—it provides a social component that otherwise is no longer present in the same way."
It's hard to overstate the importance of accessibility and choice when it comes to food security. At Loaves & Fishes, they take this understanding well beyond site logistics or food pick-up and delivery options. The pantry provides a wide variety of foods and different grocery offerings based on dietary preferences and needs, including gluten-free and vegan or vegetarian options.
"We like to provide a balance to people, and the produce from Gaining Ground is really helpful," said Tara. "When you're offering good, healthy, beautiful food—fresh fruit, fresh vegetables, and recipes since some of the foods might be new or unfamiliar to people—those are the things that are most appreciated."
At Gaining Ground, we are grateful for the outstanding work that Loaves & Fishes does and are thrilled to partner with them to bring fresh, organic produce from Gaining Ground to our neighbors experiencing food insecurity in Ayer, Devens, Dunstable, Groton, Harvard, Littleton, and Shirley.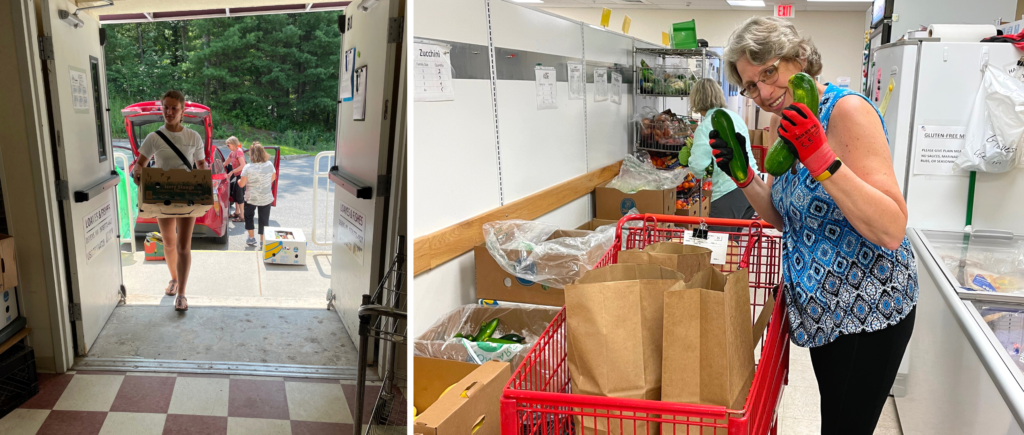 Hunger Relief, Recipients