Persistence, Planning, and Teamwork Pay Off in a Season of Drought
August 29, 2022 • Allison Goodwin, Program Manager

Last August we wished desperately for dry, sunny days to soak up the standing rainwater in the fields, help our heat-loving summer crops grow, and alleviate the disease and pest pressure caused by days of unending rain. This year, our hopes shift instead to more rain (please, more rain!) as all of Massachusetts weathers an intense drought. Farming from season to season requires flexibility and a willingness to work with nature's increasingly unpredictable patterns in this age of climate crisis.
With roughly half of the growing season still to come, we have harvested over 63,000 pounds of organic produce to date in 2022. This means that over 252,000 individual servings of fruits and vegetables have reached those experiencing food insecurity across Boston, Lowell, and the Metrowest area. Beyond this impressive volume, the freshness, vitality, and high quality of Gaining Ground's produce demonstrate the reverence we have for our neighbors experiencing food insecurity.
"A guest came up and said that she is so appreciative of our food and how fresh it is. When she said that it tasted like it just came out of the ground, I said, 'It did!'…Thank you so much for your support."

—Sherry Hughes, Women's Lunch Place, Boston
Thanks to this summer's long stretches of hot, sunny days, many crops are producing well above their 2021 levels. We have distributed 3,522 pounds of onions (a whopping 377 percent more than at this point in 2021), 6,084 pounds of summer squash (55 percent more than in 2021), and 8,629 pounds of lettuce (50 percent more than in 2021). Based on feedback from our partner organizations, the farmers are growing more culturally relevant crops such as jiló (a Brazilian eggplant), okra, collard greens, and several new varieties of hot pepper. Additionally, we're harvesting larger quantities of nutrient-dense vegetables like swiss chard, spinach, bok choy, broccoli, and snap peas, which can be harder for food pantries to source.
"Clients love Gaining Ground produce and we're delighted to be able to give it to them. Thank you! Our client volume is up 28 percent over last year, and 68 percent over pre-pandemic…Your work and generosity are more important than ever."

—Chris Goff, Sudbury Community Food Pantry
The 2022 season marked the start of a new, exciting initiative within our volunteer program. We invited a dozen loyal volunteers to join the inaugural Community Farm Team, which offers participants longer weekly volunteering sessions, agricultural education, and community-building opportunities. These dedicated team members have been a tremendous help to our eight farmers, assisting with harvesting, weeding, mulching, and all manner of other seasonal tasks. We express heartfelt thanks to the following Community Farm Team volunteers for their extraordinary commitment to Gaining Ground's mission: Allison Aley, Poulod Borojerdi, Christine Lundblad, Elif Tosun, Barb Sommers, LeeAnn Suen, Tegan Morton, Laurie Gleason, Martha Hamilton, Hans Heilman, Nancy Shepard, Vivian Howell, Rachel Orchard, Polly Vanasse, Catherine O'Keefe, Diane Sinski, Janey Tallarida, Liz Vandermark, and Robert Webber.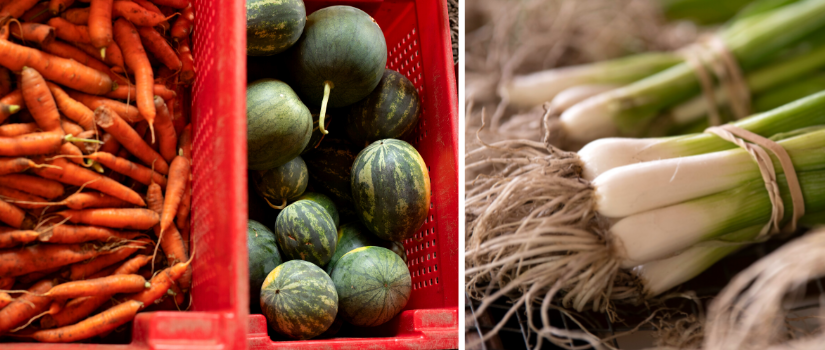 As a whole, our 2022 volunteer program has garnered unprecedented interest, both from individuals and groups. More than 1,600 people and 48 groups have lent a hand in our fields to date this year, working alongside the farmers in high heat, bright sun, and the occasional cooling rainstorm. A particular area of growth in 2022 has been corporate teams, which have tripled in number over last year.
"Gaining Ground represents what's best about the human race—the ability and desire to do the right thing selflessly, with your best effort. Being in the midst of soil, lettuce, happy kids and hubby, and the good souls of the Gaining Ground farmers, while doing a tiny bit for the local community, makes for a rewarding experience… every time."

—Jyotsna Mulgund, volunteer
We are grateful for the thousands of helping hands that have enabled this productive season so far. Since Gaining Ground's inception 28 years ago, volunteers have been integral to our mission. Please join us in the fields as we grow food and grow community together.

Photo credit: Tony Rinaldo Photography LLC (images 1, 4-6)

Farm Update, Recipients, Summer