Quickly Sign Up to Volunteer
April 20, 2016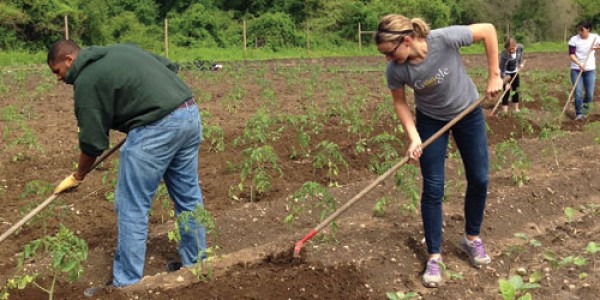 For farms, winter means more time to plan, and this year's focus has been to streamline our volunteer sign-up process. We want our volunteers to spend less time in their planning and more enjoyable time in the planting and harvesting.
Our website now offers real-time calendars so volunteers see what dates and times are likely to be available. Individuals may sign up directly for sessions, while groups make requests for specific dates of their choice. We have also shortened the sessions for groups with children or individuals with special needs to two hours, so everyone has just enough activity and not too much. These shorter sessions start later to allow more time for transport and more concentrated time for the farmers to be working alongside these volunteers.
Last year Kayleigh coordinated over 2,800 volunteers through 500 different sign-ups. Half of those sessions were for individuals, who can now sign up directly for dates. Could that mean less time scheduling this year for our farmers? We hope so! They love being in the fields, too.
Check out the revised volunteer guidelines and then sign up to Volunteer! Gaining Ground relies on the energy of community members like you, and we welcome volunteers of all ages, abilities, and backgrounds.
Organize a corporate volunteer day or alumni group service event
Learn about sustainable farming
Check out the 50 produce varieties and connect with the soil and wildlife
Contribute to local hunger relief
Lend a hand in the office
Volunteers