Recipient Spotlight: East Boston Community Soup Kitchen
October 29, 2020 • Allison Goodwin, Program Manager
Our newest recipient partner is the East Boston Community Soup Kitchen, which provides meals and groceries to those struggling with food insecurity, homelessness, and other challenges in East Boston. Our program manager, Allison Goodwin, recently interviewed the Kitchen's founder and executive director, Sandra Niijjar, about her mission to feed her community. Sandra is second from the left in the photo.
Allison: Thank you for taking time out of your incredibly busy schedule to speak with us, Sandra. Will you give us an overview of your organization's mission and work?
Sandra: The mission of the East Boston Community Soup Kitchen is to provide, in the compassion and love of all humanity, nourishing meals and supportive services in an atmosphere of acceptance, inclusiveness, empathy, respect, compassion, dignity and caring for those in need. Our mission is to feed, shelter, and to assist with recovery and self-care for the hungry and homeless in our community.
Where do you distribute your meals? Please tell us about how many households receive Gaining Ground's produce each week.
The soup kitchen gathers each Tuesday at Our Saviour's Lutheran Church in East Boston to feed between 150 and 200 meals to hungry neighbors, along with providing over 200 bags of groceries and boxes of fresh produce. Our guests express gratitude by thanking us repeatedly and they say that this food is a blessing to them; and they cannot thank us enough for helping them out during these very difficult times. Folks stand in line for up to four hours each Tuesday to receive a hot meal, a bag of groceries, and a box of fresh produce.
In partnering with you over just the past month, I can see how engaged you are in actively supporting folks in East Boston. Thank you! How has the COVID-19 pandemic affected your work, clientele, and community?
Along with the rest of the Commonwealth, the soup kitchen shifted course in March. Suddenly our weekly gatherings, where for years guests and volunteers had shared the preparation and enjoyment of nutritious meals in a supportive setting, were no longer safe. We had to re-think how to support a growing population of food-insecure individuals, many of whom were considered high-risk for COVID-19 complications. Throughout this challenging response, requests for assistance far exceeded available resources. Whenever possible we directed resources to guests experiencing the most need, including those experiencing homelessness and those who were newly unemployed or severely under-employed, yet ineligible for public benefits.
Where do you see your organization going in the future? Do you have any exciting upcoming plans?
On September 14 we [celebrated] five years of operation; and last February we became a 501(c)3 nonprofit organization. This is extremely exciting for us, and we are now looking to get a building that we can call our own so that we can be open seven days a week to serve our most vulnerable. Our biggest wish is to have our very own permanent space where we can be open every day, where we can offer a healthy hot meal, a place to shower, a place to sleep, a place to be connected to resources that will help folks get rehabilitated and get permanent housing and a job. We don't lose faith that this wish will come true, and this is why we don't stop working toward this dream. Due to the pandemic we can't easily fundraise on our anniversary like we did each year, so we will fundraise by asking our supporters directly for donations and asking to please share our PayPal link with their networks.
Congratulations on your successes so far, and thank you for all that you do to support struggling folks, Sandra! We are thrilled to be partnering with you to bring fresh, organic produce from Gaining Ground to your guests.
My board of directors and I are deeply grateful to your organization for sharing your crops with our soup kitchen's clients. Our guests come each Tuesday and stand in line for bags of groceries because they know that the quality of the produce and fruits are fresh and healthy. Thank you wholeheartedly for including us in your list of recipients. You can learn more about Sandra and her organization's vitally important work at her website, ebkitchen.org/.
Photos provided by East Boston Community Soup Kitchen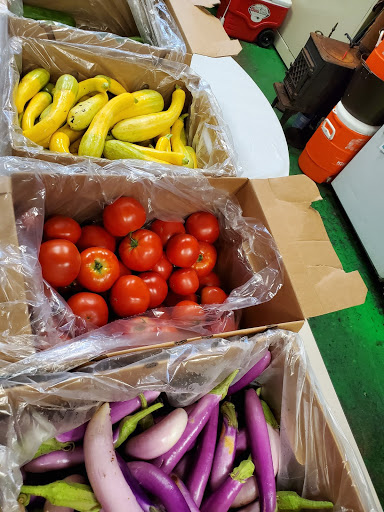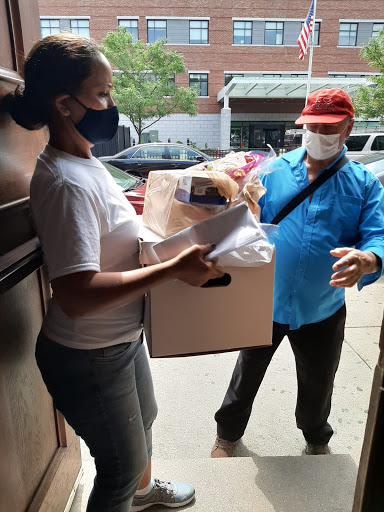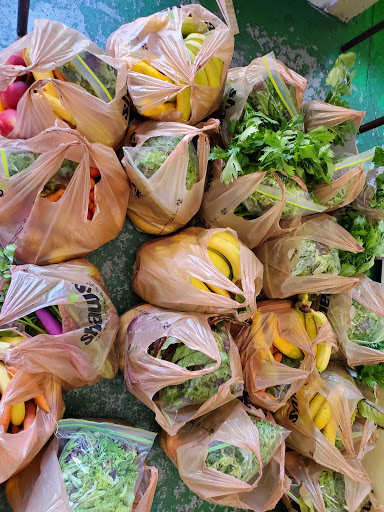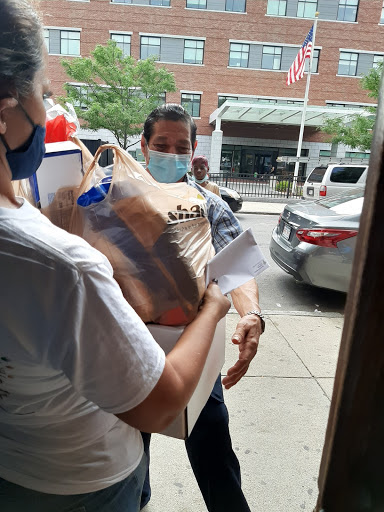 Hunger Relief, Recipients