Scout Projects Benefit Our Volunteers and Recipients
September 20, 2015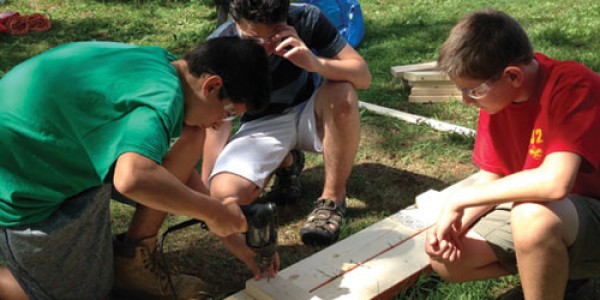 With so many volunteers, Gaining Ground has needed an additional picnic table and benches. This spring, high school student Santiago Benoit of Concord's Troop 132 took on the challenge as his Eagle Scout project. In August, he and a team of Scouts spent the day putting together the many components just in time for September's Harvest Fest. Numerous volunteers have appreciated the additional resting space.
This summer, Caroline Davis of Sudbury completed her Girl Scout Gold Award project with our long-time recipient organization Open Table, a food pantry and community dinner in both Maynard and Concord.
Coordinating with Kayleigh about timing of crops, Caroline created a nutrition program, handing out health tips and recipes at the pantry to encourage guests to use the fresh produce donated by Gaining Ground. At the end of the summer, she arranged for Kim Prendergast, dietician and executive director of MetroWest Free Medical Program, to come speak to guests about nutrition and answer any questions they had. The guests responded well to the project, and we were delighted to have another testament to the amazing flavor and nutrition of our produce.
---
Above: Boy Scout Troop 132 working on our new picnic tables. 
Volunteers