Sowing Seeds of Change with the 2023 Farm Bill
September 27, 2023

You've probably heard the term "Farm Bill" a lot this year, as the current legislation—passed in 2018—is set to expire on Sept. 30. So what is the bill? What's at stake, and how can we get involved with intention?
We've been asking the same questions at Gaining Ground, so we can help to shape laws that promote our values, mission, and vision: a future where everyone has equitable access to healthy, sustainably-grown produce.
Although the five-year bill expires on Sept. 30, legislators have a long way to go before they agree upon a new set of laws. There is also a potential government shutdown to consider. The National Sustainable Agriculture Coalition says the shutdown could adversely impact farmers and ranchers by interfering with the operations of local USDA offices. It could also postpone a new Farm Bill by several months.
In the meantime, we can do more than wait. We can learn, speak up, and make a difference!
What is the Farm Bill?
The Farm Bill is the country's most comprehensive set of federal laws for food and farming, reauthorized about every five years. In the words of Michael Happ at the Institute for Agriculture and Trade Policy, the bill "influences what goes on our plates, how much we pay for it, and how much the farmers who grow and raise the food receive for the work they put in."
For perspective, the 2018-2023 Farm Bill cost about $428 billion.
America saw its first Farm Bill enacted in 1933, as part of the New Deal. It focused on commodity pricing and relief for farmers—topics that are still covered by the Farm Bill today. Over time the omnibus legislation has expanded to include 12 issues (or titles) altogether, such as crop insurance, conservation, research, forestry, and energy.
Yet the vast majority of the bill—about 76% of its funding—is devoted to food access through initiatives such as the Supplemental Nutrition Assistance Program (SNAP) and GusNIP. In this sense, the Farm Bill is really a nutrition bill, with tremendous implications for the millions of Americans who lack equitable access to healthy, fresh food. This is especially significant as COVID-era SNAP benefits have ended, grocery prices remain elevated, and a growing number of people face food insecurity.
In reality, the bill has implications for us all. As Wendell Berry wrote, "Eating is an agricultural act." It's also a political act, especially with elevated rates of food insecurity that disproportionately impact people based on race and class; and as climate change threatens our collective resilience.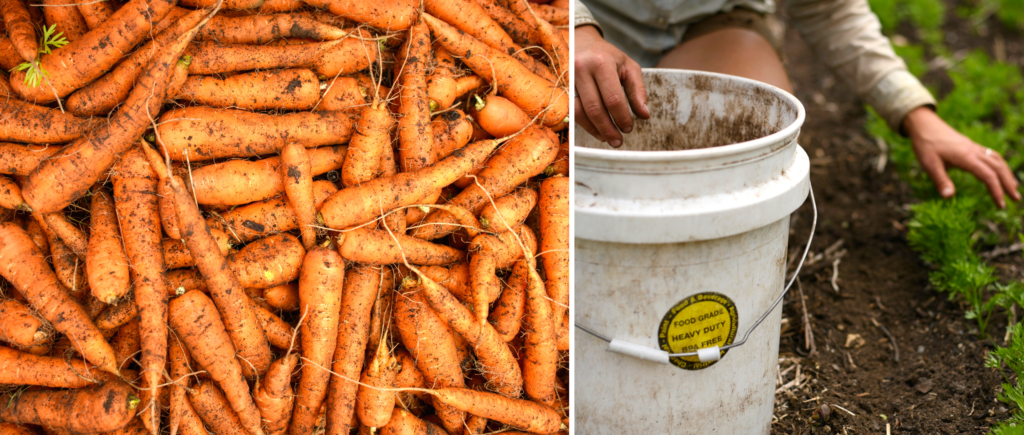 What's at stake?

The Farm Bill covers a lot of ground, and each person or organization must determine what issues mean the most to them. Thankfully there are advocates in the agriculture and food justice space helping their peers make sense of the fine details.

In our August newsletter, we shared two key pieces of legislation championed by the National Young Farmers Coalition, to support land access among BIPOC and beginning farmers, and to support farmer-to-farmer conservation education.

During a workshop offered by the National Sustainable Agriculture Coalition (NSAC), we also learned how to support the Agricultural Resilience Act, which calls on Congress to invest in sustainable farming practices to help achieve net-zero emissions in agriculture by 2040.

Fruit and Vegetable Incentives has put forth a letter of support to strengthen and expand the Gus Schumacher Nutrition Incentive Program, which grew out of the Healthy Incentives Pilot in 2008 and has "proven to successfully expand access to and increase the consumption of fruits and vegetables."

These are just a few matters at stake in the Farm Bill. To learn more, consider exploring campaigns from NOFA VT, Farm Action, and Food Solutions New England.

How to get involved

During the free NSAC workshop we attended, we learned that it really makes a difference to sign onto letters and petitions, and to contact our representatives directly. That's because lawmakers have staffers paid to sort through all those emails and calls, organize them, and pass along the issues with the greatest public support.

Notably, Massachusetts has a lawmaker involved on the front-end of shaping the next Farm Bill: U.S. Rep. Jim McGovern, who sits on the House Agriculture Committee.

The best way to get involved is to jot down your story and share it—by email or by phone—with your representative. Click here to find senators, and click here to find representatives!

Farm Bill 2023, Get Involved, Hunger Relief