Sugaring Season Brings Abundance and Community Back to the Farm
March 3, 2022 • Christine Savage, Communications Manager

A common refrain on the farm these past weeks has been how quickly the winter is passing.
The cold season in New England can seem to stagger on without end. But with bustling harvests taking place on the farm through November—and continuing at a reduced pace all winter long—even the grizzliest weeks of snow and ice zip by.
Each day now brings hints of the transition between seasons and the earliest glimpses of spring. The nights tend to be freezing and the days relatively mild, which means the sap of the sugar maples has begun to flow and sugaring season—with its long regional history—is upon us.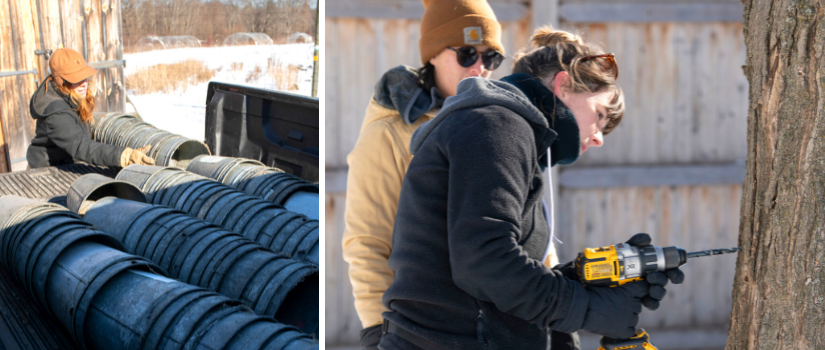 By mid-February, the farm was already waking up from its brief period of rest. Farmers Chrissie and Rae returned for the season, working with Anna and Erin to tap trees, collect sap, manage the evaporator, and bottle up fresh syrup. Before the month was over, work had started in the greenhouse as the farmers seeded trays of spinach, scallions, and flowers.
With the arrival of the farmers and the start of the sugaring season, we're reminded of the generosity of the land and our community. It saddened us last year that we were unable to hold our annual Maple Sugaring Open House because of the pandemic. But, this year, we were grateful for the chance to hold it again and for the opportunity to come together to celebrate winter's gifts with our supporters, friends, and families at the farm.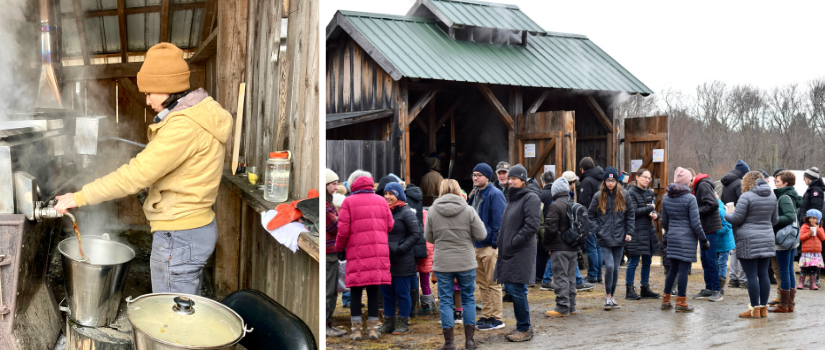 We consider it a privilege that our neighbors, and the sugar maples themselves, allow us to collect sap from more than 100 trees on private households in Concord. And it fills us with gratitude to be able to share this abundance in the form of syrup—roughly 30 gallons boiled down from more than 1,500 gallons of sap.
As sugaring season leads us into a new growing season, we recognize that the past year has brought another period of difficulty and hardship for so many among us. Food insecurity rates remain far higher than they were before the pandemic and rising food prices are making it harder for folks to afford fresh, nutritious fruits and vegetables.
This early-season reminder of nature's abundance confirms for us anew our responsibility to tend and care for one another—both by growing food with our community and by sharing the generosity of the land we partner with.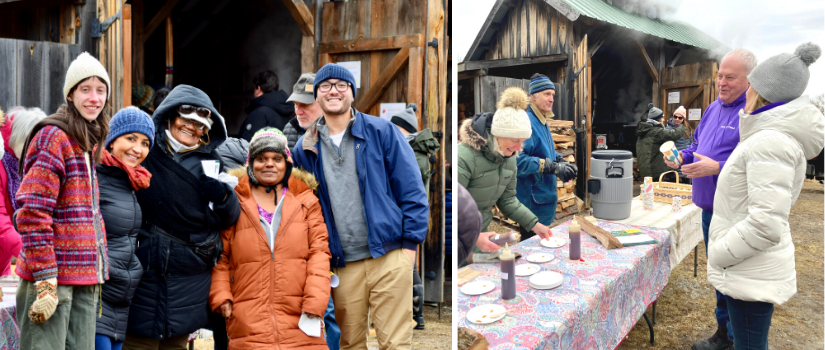 Photo credit (images 1-4): Tony Rinaldo Photography LLC

Farm Update, Maple Sugaring, Winter