Summer Inspiration from The Gaining Ground Table
July 29, 2020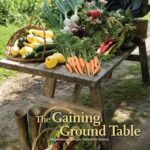 Several years ago we updated the images and farm information in our cookbook, The Gaining Ground Table. With inspirational recipes season by season, its summer section includes a bounty of fresh produce in mouth-watering appetizers, soups, salads, main dishes, side dishes and desserts. Email us at office@gainingground.org if you are interested in purchasing a copy.
Below are several recipes that feature zucchini, a versatile summer vegetable that can be incorporated into many delicious foods.
---
Penne with Zucchini and Toasted Bread Crumbs
Valerie Kolligian Thayer
Serves 4–6. This dish is an easy weeknight meal made with pantry ingredients and some fresh zucchini. The panko bread crumbs add texture to the dish and a depth of flavor. Seasoned bread crumbs can be substituted if desired.
2 pounds zucchini, or a mixture of zucchini and summer squash
3 Tablespoons plus 1/2 cup extra virgin olive oil, separated
1 medium shallot, chopped
1/2 teaspoon Kosher salt
1/4 teaspoon freshly ground black pepper
2/3 cup plain panko bread crumbs
1 pound dried penne or other tube shaped pasta
3/4 cup freshly grated Parmesan cheese
2 tablespoon chopped flat leaf parsley
Slice zucchini lengthwise and then into 1/2-inch slices. In a large sauté pan, heat 2 tablespoons of the olive oil over medium heat. Add the shallot and sauté for two minutes until it begins to soften. Add the zucchini and season with the salt and freshly ground black pepper. Sauté zucchini for approximately 10 to 15 minutes until it begins to slightly brown and is cooked through.
In a small sauté pan, heat 1 tablespoon of olive oil over medium heat. Add panko crumbs and stir constantly until golden brown, about 3 minutes. Remove pan from heat and set bread crumbs aside.
In the meanwhile, bring a large pot of salted water to a boil. Add the penne and cook, stirring occasionally, until al dente, about 11 minutes. Drain pasta, reserving 1/3 cup of the cooking water.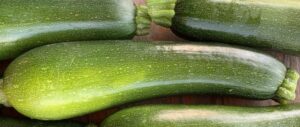 Add pasta to sauté pan with zucchini and stir over medium heat to combine, adding the cooking water to moisten. Remove pan from heat and add bread crumbs, Parmesan cheese, parsley and remaining 1/2 cup olive oil and stir mixture until well combined. Season to taste with additional salt and pepper if desired.
---
Zucchini and Mint Frittata
Terry Golson, Author of The Farmstead Egg Cookbook
Serves 6. This recipe works well as an appetizer, cut into small wedges and served at room temperature. (Delicious as a fast, warm supper, too.)
3 tablespoons olive oil, divided
1/2 cup sliced onion
1 red bell pepper, sliced julienne
1 pound zucchini (three small), sliced
8 large eggs
1/4 cup (4 tablespoons) grated Parmesan cheese, divided
1/4 cup chopped fresh mint
1/2 teaspoon Kosher salt
1/4 teaspoon freshly ground pepper
Heat 2 tablespoons of the olive oil in a 10-inch heavy skillet. Sauté the onion and bell pepper until soft and golden. Take your time on this step to fully develop the sweet flavors of these vegetables. Stir in the zucchini and continue to cook over low heat until the edges begin to brown. Set aside in a bowl.
In another bowl, whisk the eggs, 3 tablespoons of the Parmesan, mint, salt, and pepper. Heat the remaining tablespoon of olive oil in the skillet. Pour in the eggs and then distribute the vegetables on top. Cover and cook over medium-low heat, about 15 minutes, until the eggs are set but not yet firm on top. Several times while the eggs are cooking, take a flexible spatula and run it along the edge and under the frittata to make sure the eggs are not sticking to the pan.
Take the skillet off the heat. Put a dinner plate over it and flip the frittata onto the plate. Then slip the frittata back into the pan, now with the bottom side up. Top with the remaining tablespoon of Parmesan. Cook a few minutes more, until done.
---
Deep Dark Chocolate Zucchini Cupcakes
Francine Royce
Yields approximately 20 cupcakes. These dense, dark, intensely chocolate cupcakes are the perfect way to use up extra zucchini from your garden or the farmers' market. Frosting is optional but a dusting of confectioner's sugar just before serving looks lovely. These cupcakes are even better the next day and are a wonderful not-too-sweet treat with an afternoon cup of tea.
1 1/2 cups brown sugar
1/4 cup melted butter
3/4 cup vegetable oil
3 large eggs
2 teaspoons vanilla
1/2 cup buttermilk
2 cups grated zucchini
1 cup dark chocolate chips
(such as Ghirardelli 60% cacao)
2 cups whole-wheat pastry flour
(or unbleached white flour)
2 teaspoons baking soda
1 cup unsweetened cocoa powder, sifted
1/2 teaspoon sea salt
Preheat oven to 350 degrees. Lightly grease muffin pans and line with paper muffin cups.
In a medium bowl mix together the sugar, butter, and oil. Beat in the eggs, one at a time until well incorporated. Stir in vanilla, buttermilk, zucchini and chocolate chips.
In a separate bowl, whisk together flour, baking soda, cocoa powder and salt. Add the liquid ingredients and mix until well combined. Spoon batter into muffin pans. Bake in the center of the oven for about 20 minutes or until just done, being careful not to overbake.
---
Recipes