Support Our Ride for Food Team This Month
September 1, 2016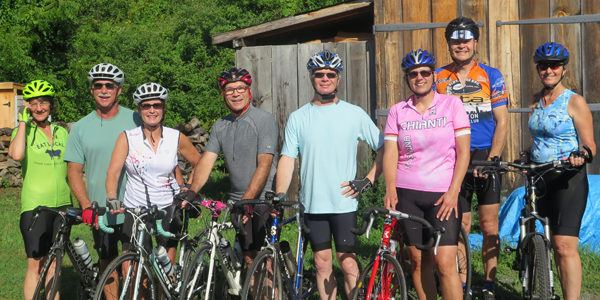 Gaining Ground has a strong team of 16 riders participating in its first year of the Three Squares New England Ride for Food, a bike ride on Sunday, September 25 that raises funds to eliminate hunger in New England. The team has pledged to raise at least $10,000 with a portion benefitting Gaining Ground directly.
In July, team captain Sue Mildrum led a feisty training ride to Carlisle and back to rally the team for the September 25 event. The sweaty workout ended with a watermelon social and hopes for another rally with teammates.
In August, several team members attended the Three Squares New England benefit dinner at Les Zygomates in Boston. Seven culinary teams created a fancy tasting menu from "rescue" food to illustrate the correlation between food waste and food insecurity. The delicious dishes weren't exactly a training diet, but they sure offered a nice venue to meet other supporters of the Ride for Food.
---
Ready to Help?

Events, Fall, Fundraising