Swapping Homework for Farm Work and Helping to Feed a Community
September 27, 2021 • Gaining Ground
Every year, the farm welcomes an amazing team of local high school students who devote themselves—during their precious summer vacation months—to volunteering with us in the fields.
They help our farmers—in the searing heat and the pounding rain—with soil preparation, planting, weeding, harvesting, and so much more. These weekly efforts of the high school farm team are critical to Gaining Ground's success each summer: We simply couldn't do it without them.
Before they wrapped up for the season at the end of August, we asked two members of this year's team, Concord-Carlisle High School students Kendall Colleran and Mila Kocic, to share with us some of their experiences from this season.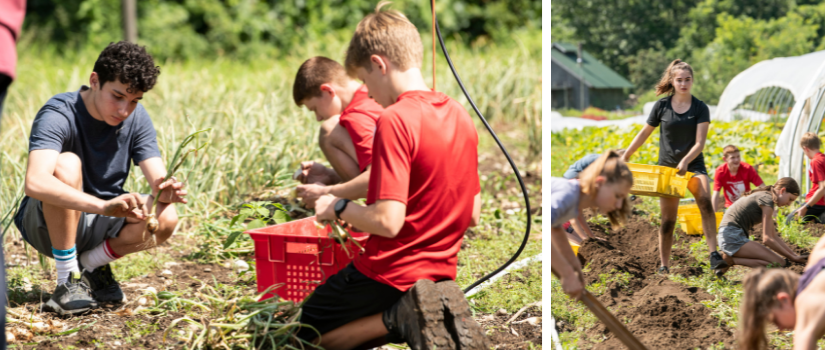 How and why they came to Gaining Ground
"Gaining Ground's mission of providing families in need with fresh and healthy food really resonated with me, and I became curious about volunteering here. When I learned about the farm team, I thought doing hands-on volunteer work with other high schoolers would be a really meaningful way to spend part of the summer, and it's certainly been as incredible of an experience as I'd hoped.

"I always love coming to the farm; it's such a beautiful place and you're surrounded by warm people who are genuinely dedicated to helping the community. The farmers have been amazing role models and I'm very grateful that they've shared their passion and knowledge of farming with all of us. Volunteering at Gaining Ground is different every time; each session we're outside in various weather conditions completing new tasks, while getting to know one another and learning more about the environment and growing food sustainably.

"It's so evident how much effort and care that everyone on the high school farm team put in this summer. After the two hour session, when we're all caked in dirt, it's incredibly rewarding to see just how many neatly packed crates of produce we were able to harvest as a group, and to know that that food is helping feed people who would otherwise struggle with hunger."

—Kendall

"Last summer, I spent a lot of time looking for virtual community service opportunities—especially food-related ones, because I knew that the pandemic meant a lot of people had lost their jobs and were struggling to get food on the table, and I wanted to do something to help but was ultimately unsuccessful. This summer, while continuing that search—this time for community service I could do in person—I found the high school farm team posted on Concord-Carlisle High School's Student News mailing list. It ended up being exactly what I was looking for: Outside, food-related, and in my own community."

—Mila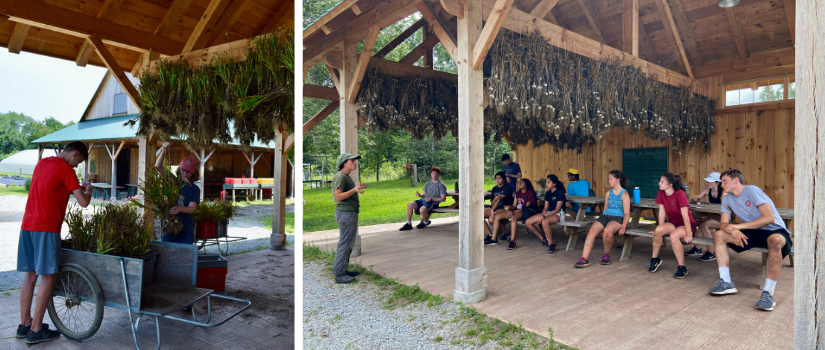 What they enjoyed during a summer of farming
"I've really enjoyed how communal farming at Gaining Ground is—whether you're harvesting vegetables, taking care of the beds, or planting, everything you do makes it easier for the farmers to do their jobs or for someone to put food on the table, which is great for motivation. It's also a great community—everyone at the farm and on the team has been super friendly and welcoming. I'll miss it."

—Mila

"Getting into a rhythm of the task, whether it's thinning turnips or weeding leek beds, is always really centering. The physicality of farming gives me a real appreciation and mindfulness of the importance of Gaining Ground's work."

—Kendall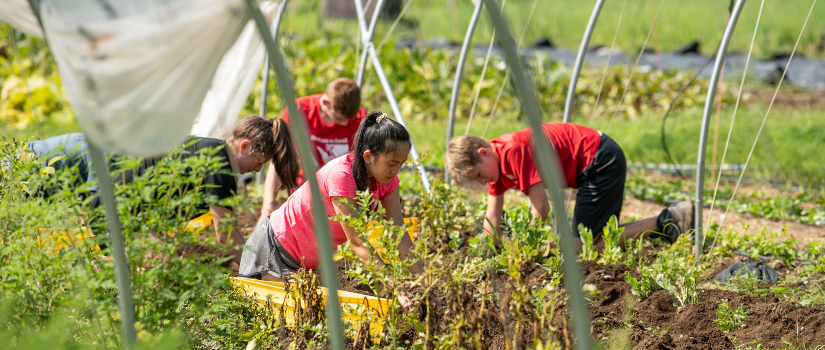 Some favorite projects on the farm
"My favorite day on the farm was harvesting carrots. Other fun projects were clearing the squash fields (mainly because we got to push around the wheelbarrows) and taking down the pea plants by carrying the vines as a group. As messy as it was, I also really enjoyed digging for potatoes."

—Kendall

"I think my favorite project was harvesting garlic. I remember walking up to the garlic plot and thinking there was no way we could get all the beds harvested and bunched in two hours, but I was wrong! It's always fun when you manage to exceed your own expectations. Hand-weeding is also very satisfying, if a bit time-consuming, and farming in the rain was just all-around cool, despite the fact that we were all freezing cold and soaked by the end of it."

—Mila
We're fortunate to have a community of volunteers at Gaining Ground—people of all ages, abilities, interests, and backgrounds—who continually share their time, effort, and hearts with us. Our high school farm team not only contributed immensely to the labor that makes it possible for our farm to feed people who don't have enough to eat, but they also brought with them their enthusiasm and curiosity. Things a farm can never have too much of.

We are grateful to each member of this year's farm team. Food insecurity remains at crisis levels, and the support of this group of students helps to make our critical hunger-relief work possible.

Photo credit: Tony Rinaldo Photography, LLC

Farm Update, Summer, Volunteers