Taking a Closer Look: Crop Pest and Disease Surveillance with Manan Arora
October 28, 2022 • Christine Savage, Communications Manager

There was an extra set of eyes looking over the crops at Gaining Ground this season. Moving meticulously down the pathways and through the beds, Manan Arora crouched with his clipboard in hand, peeking under eggplants, turning over cabbage leaves, and inspecting cucumber plants.
This summer, Manan worked as a crop disease and pest scout for the University of Massachusetts Extension Vegetable Program, which provides both research and educational programming related to vegetable production for Massachusetts growers.
As a part of its work, the Vegetable Program organizes a pest scouting network. Every week during the growing season, scouts like Manan travel to farms across the state to trap and monitor vegetable crop diseases and insect pests. The information they collect is both shared with the farms they visit and published each week as "Pest Alerts" in their Vegetable Notes newsletter.
The scouting network allows the Vegetable Program to monitor and understand vegetable pest and disease trends in real-time as well as from season to season—while also getting critical information to the state's growers who are making decisions to manage the health of their crops.
"It's a lot of fun going to different farms, getting to know the crews, seeing how the farms are set up and function, and seeing the progression of pests and diseases over the course of the season," said Manan. "This summer was definitely quite hot and dry, making for both later disease emergence, and fewer diseases than we were expecting."
And Manan was on the hunt for a lot of diseases and pests. He scouted for leaf miners, thrips, cucumber beetles, potato beetles, imported cabbage worms, diamondback moths, flea beetles, squash bugs, corn borers, leafhoppers, and bean beetles. And diseases like both downy and powdery mildew, bacterial wilt, tomato late blight, and cercospora leaf spot.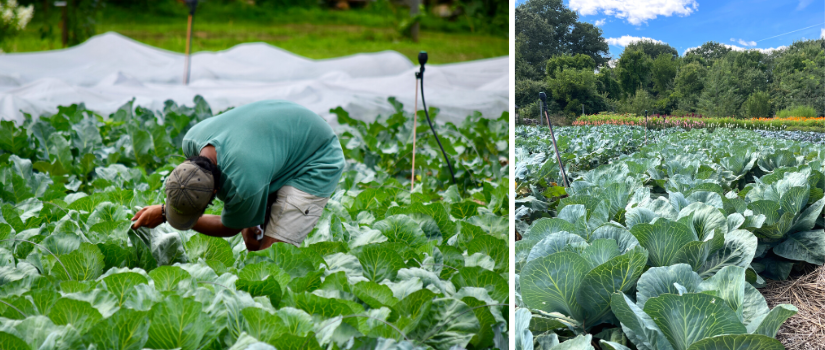 Every farm faces these challenges. At Gaining Ground, we grow without using herbicides or pesticides, meaning we rely on holistic land management practices to help keep our crops healthy and resilient during times of disease and pest pressure.

"All the farms I went to this summer had about the same experience with pests and diseases, with some variations here and there," said Manan. "While Gaining Ground may have had some problems with potato beetles all over the eggplants, another farm was having their cucumbers decimated by downy mildew."

"Cultural methods of disease management—no-till, drip irrigation, intercropping, hedgerows, crop rotation, and more—are all very important means of crop management," he said. "And Gaining Ground actively does all these things, and more, in order to maintain a healthy and strong farm ecosystem."

We're grateful for the support provided by the UMass Vegetable Program to our farm and others, keeping us well-informed and able to adapt to changing conditions throughout the season. We're also thrilled to work with scouts like Manan, who followed his interest and studies in plant pathology into work that directly serves a broad community of food growers in the state.

"It was a lot of fun having Gaining Ground on my scouting route," he told us. "Up until five years ago, I lived a few minutes up the road, and would occasionally volunteer at the farm with my brothers. So, it was cool to come back and see how things had changed, and it was even cooler to get to know everyone there because I'm definitely going to try to come by again soon!"

Farm Update, Farming, Tales From the Farm