Team Spotlight: Geoff Nelson
September 29, 2022

If you've visited the farm this season, you've likely noticed that the structures look fastidiously cared for and the areas of lawn are immaculate. We have Groundskeeper Geoff Nelson to thank for this.
Since starting on the farm in the spring, Geoff has worked diligently to keep the farm looking beautiful and functioning smoothly so that our farmers can devote themselves entirely to the task of growing food for hunger relief.
Where is home, Geoff? How did you find your way to Gaining Ground?
I grew up in the area and live nearby. I found out about Gaining Ground through a NOFA (Northeast Organic Farming Association) workshop on no-till farming and I was immediately struck by what a special place this is. The people who work and volunteer here were so welcoming that I knew I wanted to be involved with the farm!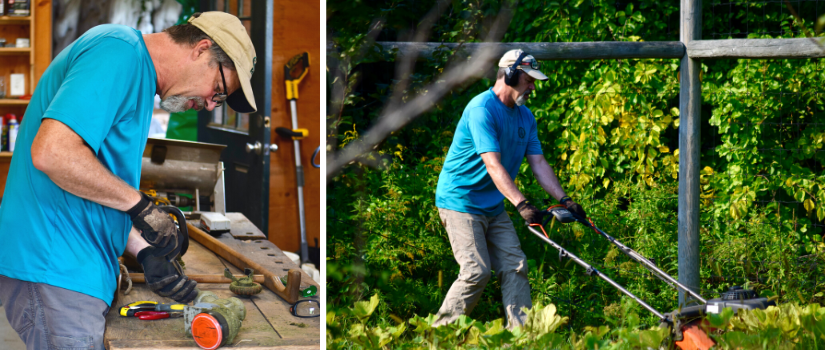 Have you always had a knack for working in the outdoors? Where did your interest in tending and managing the landscape come from?
I love being outside and grew up in a neighborhood where everyone was outside all the time, year-round, skiing, sledding, building things, swimming, biking, and playing sports. I went to college in Vermont and discovered other interests like hiking and mountain biking. Then I moved to Cape Cod and discovered surfing.
All of these things led me to change careers and go into environmental education, which opened up other doors for me. I worked for The Discovery Museums in Acton, designing, building, and maintaining exhibits and the grounds.
I also like tasks that have a measurable result. At the end of the day, you can see the results of the work done on something built, a weeded area, pruned trees, or trimmed garden areas—and it looks great.
I am usually at the farm late in the day, so I see some really cool things involving the quality of light on the plants, or the way the reemay-covered crops look like waves as the wind blows over them.
What's a lesson you've learned this season on the farm?

Crabgrass loves the heat and grows like crazy. And there will never be enough time to get everything done, so just keep doing the best you can!

What is a favorite dish or recipe that you enjoy?

Oh, so many. I make pretty good mac and cheese. And parmesan chicken. I just started making paella outside on the fire pit, which has been fun. Oh, and flourless chocolate cake and chocolate pudding cake!

Any hobbies or interests outside of work that you'd care to share?

I love the ocean, water sports, especially bodyboarding! Also biking, hiking, and photography. And I always have some song running through my head!

Farm Update, Staff and Farm Crew