Three Times Honored
March 23, 2015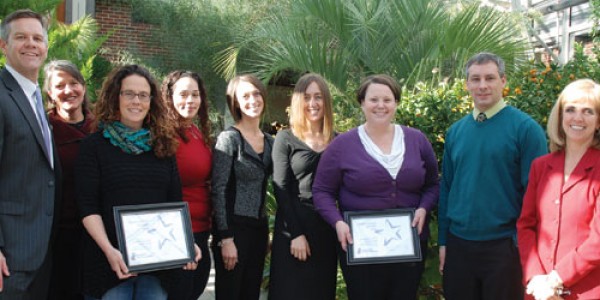 Gaining Ground has recently received recognition for our work by three organizations. We are honored and inspired!
In November, Food Tank and the James Beard Foundation launched the first annual Good Food Org Guide. Gaining Ground was identified as one of five groups in Massachusetts and one in 500 in the US who are cultivating a better food system.
In December, Concord Carlisle Human Rights Council awarded us the Climate for Freedom Award, recognizing our advancing of human rights at the local level.
In January, Massachusetts Head Start Association gave Gaining Ground and Head Start Lowell the Innovation Award for our joint program offering a free farmer's market and chef-led cooking education at Children's Village at the Mill in Lowell.
---
Above: Gaining Ground and Head Start Lowell representatives are commended by Tom Webber (L), Massachusetts Early Education and Care Commissioner, for their Innovation Award. Photo by Julia Ripa.