Visionaries in Hunger Relief
April 7, 2015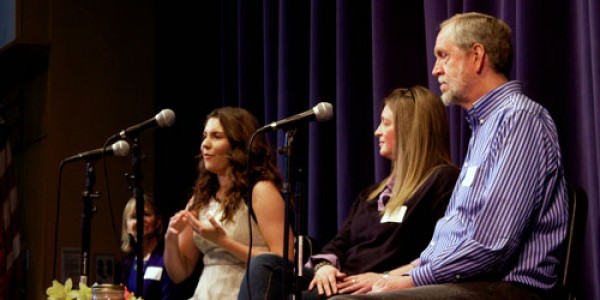 At the end of March at The Fenn School, Gaining Ground hosted a multi-generational panel focused on the issue of hunger relief. In a community like ours, hunger might not be obvious, but here are the numbers:
49 million Americans are hungry, and yet 40% of food in the US is thrown away during the growing, distribution, and eating process.
Nationally, one out of five children struggles with hunger.
800,000 Massachusetts residents do not know where their next meal will come from, an increase of 71% in the last decade.
Our panel included:
Katie Stagliano, founder, Katie's Krops; high school student; winner of Clinton Global Citizenship Award
Ashley Stanley, founder of Lovin' Spoonfuls; one of Boston's most innovative leaders under 40 (Boston Business Journal); TEDx speaker
Doug Rauch, founder, Daily Table; former president of Trader Joe's
As impressive as the panelists' backgrounds were, few predicted just how inspired we'd be by the passion, clarity, and efficacy of each panelist's actions to turn hunger awareness into hunger action. Like Gaining Ground, each of our panelists started an organization with a simple question.
For Katie, it was how many people could she feed with her backyard garden? Now, Katie has launched a soup kitchen and sparked 80 Katie's Krops gardens in 29 states.
For Ashley, the question was, what can be done with the wasted food from supermarkets? From there she began a food rescue mission, transporting over 2 million pounds of food between markets and soup kitchens.
For Doug, it was, how can busy, less affluent and time-pressed individuals access affordable, nutritious, prepared foods? This question was the seed for his new venture, The Daily Table.
Ashley and Doug particularly have discovered that there is enough food in the US, but almost half is wasted.
When asked what kind of action the audience could take, the responses included:
Be informed: Get the facts about hunger in your area. Learn about local food donation and food rescue programs. Know how long food can stay in the refrigerator. Know the policies that influence distributing nutritious food to those in need, e.g., the Emerson Good Samaritan Food Donation Act.
Raise your voice for those without one.
Seek mentors: If you want to be part of the solution, find mentors who provide perspective, guidance, inspiration, and knowledge.
After the panel, moderated by Gaining Ground Board members Elizabeth Awalt and Linda Booth Sweeney, Board President Joe Rigali encouraged the audience to volunteer at Gaining Ground to learn more about the issues and engage in local solutions to hunger relief. If not you, who? If not now, when?
---
Above (L to R): Katie Stagliano, Ashley Stanley, and Doug Rauch. Photo by Mia Royce. 

Events, Hunger Relief