Volunteer Chris Lundblad Brings Heart and Know-How to the Fields and Behind the Scenes
May 27, 2022 • Gaining Ground

Having lived in Concord for 19 years before moving to Lincoln in 2012, Chris Lundblad has known about Gaining Ground for years. But she didn't become involved until 2020, when she started helping her friend, Polly Vanasse—now Gaining Ground board president—deliver produce to one of the farm's partner organizations in Sudbury. By 2021, Chris was volunteering regularly; the pandemic was at its height, and working in the fields at Gaining Ground provided Chris with a safe and meaningful way of giving back.
A gardener since 2006, Chris grows her own vegetables at the Hugh Cargill Community Garden in Concord. Among the many reasons she has enjoyed volunteering on the farm is the chance to work with Gaining Ground's team of farmers, learning about the sustainable no-till farming practices they use.
"I learn something new each time I volunteer, including bed preparation, companion planting practices, and methods for building soil health," she said. "I've adopted Gaining Ground's practice of using liberal amounts of composted cow manure and other soil amendments when preparing beds for planting. Last year, having started to use what I learned at Gaining Ground in my own garden, my pepper plants produced so many peppers, I was giving them away!"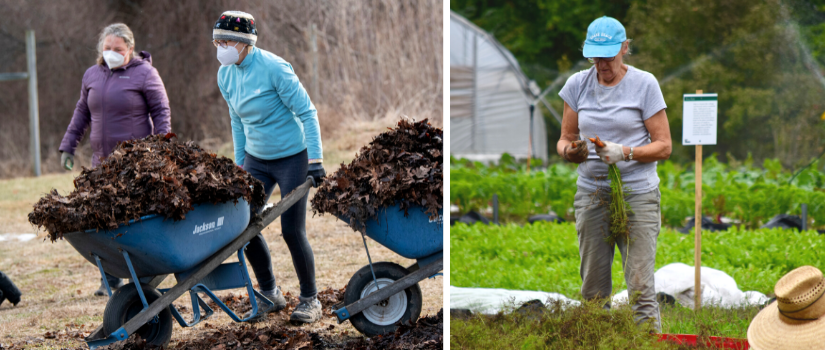 Chris has found a wonderful community in her fellow volunteers, who also came regularly to Gaining Ground last year. The group was formalized into the Community Farm Team this season, and members often work independently when helping out in the fields.
"I feel my contributions as a volunteer on the farm make a difference for the farmers, performing work independently that increases the productivity of the farm," she said. "The Community Farm Team members enjoy working together and contributing to the mission of Gaining Ground through our labor. And we have fun—we enjoy having potluck lunches on the farm occasionally."
As someone who has recently retired, Chris has found that volunteering at Gaining Ground meets multiple needs in this new phase of her life. One of her goals in retirement is to stay physically fit and volunteering at the farm provides ample and regular opportunities for strenuous exercise. One of her mottos for working on the farm is Better Than the Gym! When she's not volunteering on the farm, Chris also practices yoga and enjoys morning walks on the Minute Man Trail in Lincoln, near where she now lives.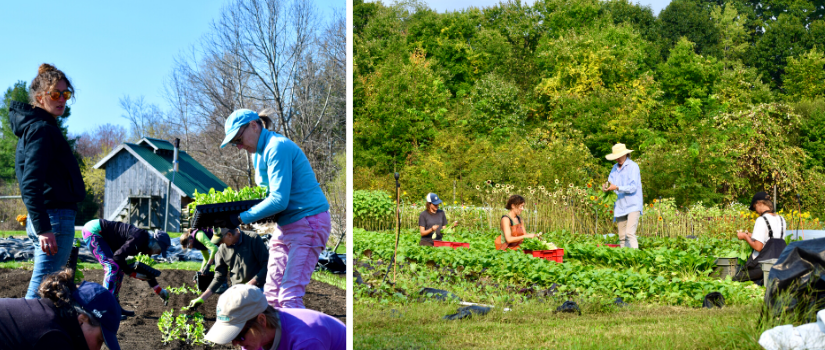 After spending 22 years as an information systems consultant for three large computer manufacturers, Chris spent the last 12 years of her working life in the not-for-profit world at organizations in Lincoln and Boston, providing executive and fundraising support. In addition to volunteering on the farm, Chris is happy to lend her experience to Gaining Ground's Development and Events Committees. 
"While it doesn't involve getting my hands dirty, participating on these committees is another way of contributing to Gaining Ground's mission—helping it to grow as an organization. I can't think of a better way to spend my time. Volunteering at Gaining Ground checks all of my boxes regarding how to live a meaningful life in one's later years."
---
Interested in learning more about the Community Farm Team? Please contact volunteer@gainingground.org.

Farm Update, Volunteers