Volunteer Q&A: Rob Webber
July 27, 2023

Gaining Ground's hunger-relief work is made possible by a community of generous volunteers dedicated to holistic, sustainable farming practices and helping to improve access to fresh, nutritious produce for our neighbors struggling to put food on the table.
A remarkable member of this team is Rob Webber. We recently caught up with Rob to learn more about what brought him to Gaining Ground as well as the fantastic work he does on our Community Farm Team.
Rob, how did you first learn about Gaining Ground and what made you want to get involved in what the farm does?
I live a quarter mile from Gaining Ground, and when I moved in three years ago it immediately caught my interest. As soon as I learned about the mission, I wanted to get involved—but I had to wait a year to volunteer because there were no volunteers on the farm in 2020 (and I think we're all familiar with the global pandemic that caused that).
Are there facets of Gaining Ground's work—hunger relief, regenerative farming, working with the farmers and other volunteers—that have been particularly meaningful or important to you?
Hunger relief is a passion of mine. Food seems like something every person should have, regardless of their situation, and yet, despite our ability as a country to produce a huge amount of food, hunger is still a large problem here. It's heartbreaking to me to think there are people—especially children—who go to bed hungry. When I see Gaining Ground produce well over 100,000 pounds of food each year on three acres, it gives me hope that we may be able to eliminate hunger.
What are some of the projects or tasks at the farm that you have been involved with and enjoyed as a volunteer?
One thing I love as a member of the Community Farm Team is we seem to do something different every week. It was fascinating to see how okra grows! I enjoy learning new things, so harvesting celeriac was very interesting to me.
My most satisfying task was harvesting onions, since it amazed me how much food Gaining Ground produced in onions alone.
What keeps you coming back to the farm?
I love coming to the farm every week because of the wonderful people involved. The other volunteers, the farmers, the staff—everyone is energetic, respectful, collaborative, and makes the work very rewarding. Gaining Ground is extremely organized and well run. Having been involved with many charities over the years, I know this isn't always the case!
Outside of your work as a Gaining Ground volunteer where have your personal and professional interests and experiences taken you?
I love adventure and exploring and I'm a bit of an adrenaline junkie! I've had some great experiences, including hikes to the top of Mount Kilimanjaro, Rainbow Mountain in Peru, the bottom of the Grand Canyon and back, Angel's Landing in Zion National Park, and the top of Yosimite's Half Dome.
I'm an "outdoorsy" person who loves being active. I am also learning to play the piano and enjoy working three days each week as an I.T. contractor for TJX Corporation.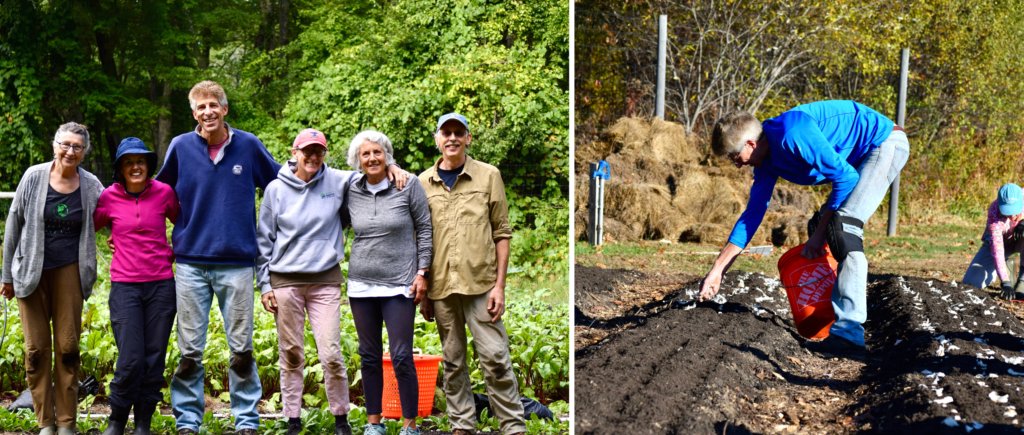 Where do you call home and what do you enjoy doing with your time?

I live in Concord and my partner, Susan (also a volunteer!), and I enjoy the plethora of outside activities it offers. We run, kayak, cross country ski, swim at Walden Pond, and enjoy both our road bikes and mountain bikes. I am also an avid gardener, so most weeks my volunteering is also an education on how to grow great vegetables.

Hunger Relief, Volunteers