What Teamwork Can Grow
November 30, 2021 • Gaining Ground

The end of November means the days are approaching their shortest and the coldest nights will soon be here. It also means that our volunteer season has come to an end for the year and the last of our seasonal farm team members have departed.
At the farm, we grow used to the many devoted, generous, and friendly folks who work and volunteer here, side by side, with their hands in the soil and the sun (or rain) on their backs. Folks we think of as the living, beating heart of the Gaining Ground community.
It hasn't been an easy season, and it isn't possible to fully express the gratitude we feel for what they have helped accomplish.
Our farmers and volunteers came together in the fields this spring—cautiously, but enthusiastically—before vaccine access was widely available, when the CDC still advised masking outdoors, and when COVID's winter surge was only recently under control. They worked through the record heat of June and the unprecedented rains of July, helping to buffer the toll that climate-related disease and pest pressure took on the crops. They kept the weeds at bay, fed and protected the soil, endlessly seeded and transplanted, and harvested despite buffeting winds and searing heat.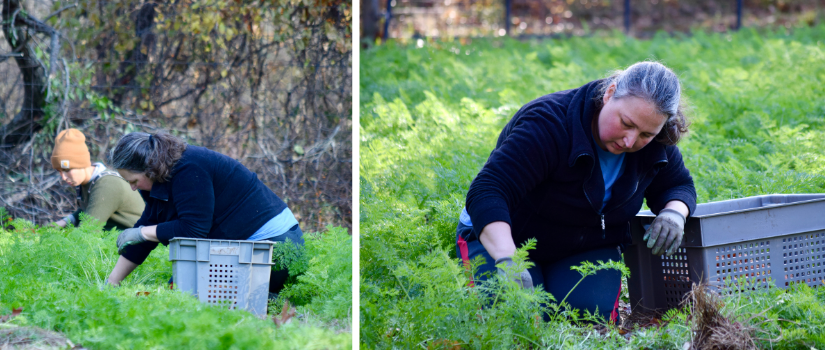 More than anything, they made the farm a community. They made friendships and discoveries. They made so much fresh, tasty, nutrient-packed food—and they helped make sure it was all given away to people who otherwise wouldn't have had enough to eat.
"Volunteering at Gaining Ground was an extremely rewarding experience. Knowing that the mission of the organization was making a meaningful difference in people's lives made my time volunteering completely worthwhile. In addition, it was fun and educational—I learned something about farming every time I volunteered. And to top it all off, volunteering at Gaining Ground is a community-building experience—it was wonderful working alongside volunteers who are like-minded. I also made new friends!"

—Christine L.
This season 2,195 volunteers came from 54 local towns and contributed more than 4,800 total volunteer hours on the farm. There are too many people to thank here, but we would like to take a moment to highlight some folks who exemplified the energy and spirit of the 2021 growing season.
A few such volunteers are Elif Tosun, Poulod Borojerdi, and Jerry Vanasse.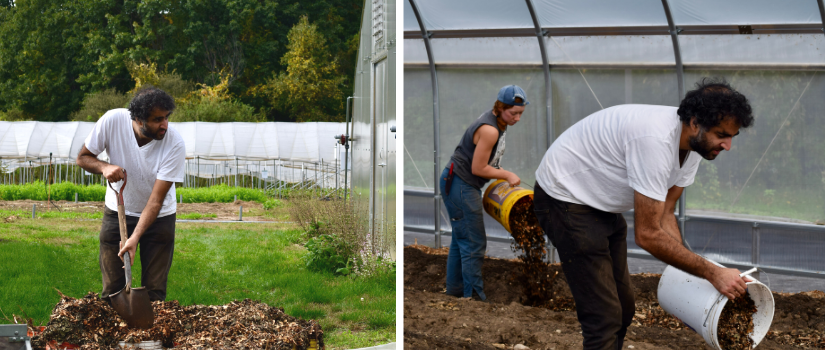 "Elif and Poulod felt like a part of the farm crew," said Farm Education Manager Erin Espinosa.
"Elif spent Tuesday mornings harvesting cherry tomatoes for our food pantry partners who picked up on those days. Her speed and independence made her an ideal volunteer to rope into our busy Tuesday morning harvests. On Thursdays, Elif returned to lead produce packing for our HeadStart market in Lowell. She was always so friendly with the volunteers she worked with—often sharing her enthusiasm for Gaining Ground's mission."
"Poulod volunteered in the afternoons where he would work alongside farmers and volunteers to complete farm maintenance and field projects. Our farmers enjoyed conversations with Poulod in the field while weeding carrots, processing garlic, and harvesting our storage roots. He played an integral role in maintaining our welcome garden this fall—and his flexibility and willingness to do any task needed was incredibly valuable."
If you visited Gaining Ground this season, you benefited from the efforts of volunteer Jerry Vanasse. The grounds of the farm are intensely beautiful—and also intensely laborious to maintain. Every week, Jerry donated his time, riding the mower along the paths and between the beds, weed-whacking along the fence lines and through the orchards, and keeping our landscaping equipment in good working order. He was a regular sight on the farm, casually arriving in his pick-up truck, sharing a cheery "Hello!", and digging into his plan of projects for the day. His exhausting efforts kept the farm tidy and clean, but also helped us keep unwanted habitat for rodents and rabbits to a minimum and prevented weeds from flourishing in and around our growing spaces.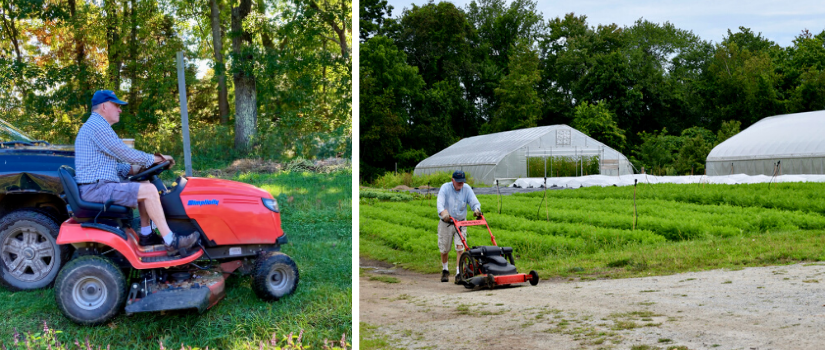 Like our many incredible volunteers, it would also be easy to fill every page of our blog with our gratitude toward this season's farm crew. But the simplest way to put it is that all season long they embodied the mission of Gaining Ground, the attitude of resilience, kindness, and curiosity our entire organization and community aspires to, and the spirit of teamwork.

We are grateful to Erin and Kim for their insight, care, and eye for experimentation. To Avery and Ava for their dedication, creativity, and enthusiasm. To Chrissie and Rae for their commitment, flexibility, and thoughtfulness. And to Anna, for what can be described as no less than devotion to the farm and to feeding people.

Because of their cohesion, vision, hard work, and kindness, the farm grew a lot more than food this year.

To everyone who joined us in the fields and behind the scenes this season, we thank you. We build a stronger, healthier, and more food secure community when we work together.

Featured image credit: Tony Rinaldo Photography, Inc. Missing from the photo is Avery Indermaur.

Staff and Farm Crew, Tales From the Farm, Volunteers