With Food Costs Rising, Hunger Relief Can Start With Storage
November 30, 2021 • Christine Savage, Communications Manager

On a bright, warm November afternoon two weeks ago, the Gaining Ground team gathered in front of the barn—some of us wearing t-shirts in the midday sun that filtered through the treetops along the edge of the farm. We set out hefty boxes and bags of harvested vegetables and got to work assembling and filling paper bags with the produce to be given away over the weekend.
Every year on the last Saturday before Thanksgiving, we hold a final Food for Families Market in Concord to give away a bounty of fresh, organic, nutrient-packed storage crops. We distribute fresh greens, cabbage, and winter root vegetables—including carrots, leeks, parsnips, potatoes, onions, and garlic. Among the final items packed into the bags is maple syrup from our sugaring back in March.
This year, we gave away over 1,100 pounds of food during our final Thanksgiving distribution on November 20.
Food for Families is a free farmer's market that we hold every week during the summer. Through the market this year we provided 8,904 pounds of organic produce to around 100 households experiencing food insecurity in Concord and Carlisle. The majority of the folks who receive our vegetables, fruits, and herbs through the program are seniors, which can mean their incomes are fixed and access to fresh, nutritious food can be a challenge.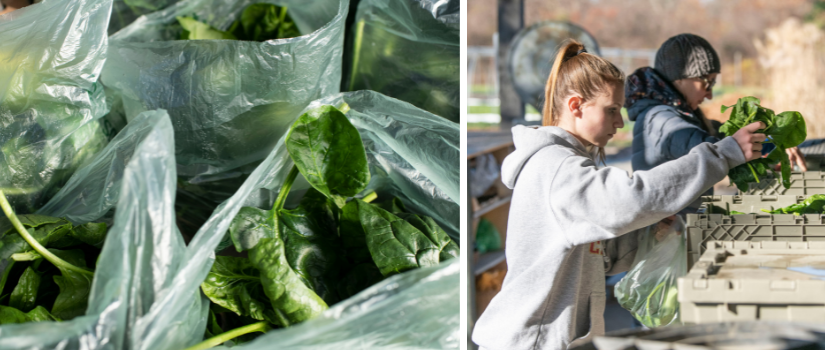 Right now, we know that 12 percent of households in Massachusetts are experiencing food insecurity—and that those most strongly affected by the pandemic are families that were already facing hunger or keeping it at bay by a very narrow margin.
At the same time, food prices are now on the rise. And they're increasing so quickly that folks already struggling to put food on the table don't have room in their budgets to make up the difference.
As a result, more people need help from food pantries and meal programs at a time when food banks themselves are also paying more for the goods they give away.
For these reasons, we consider our distribution of free, long-lasting, nutritionally dense produce late into the season to be a critical part of our hunger-relief work. Our overburdened food pantries frequently only have access to canned fruits and vegetables, yet we know how necessary a year-round diet high in fresh foods is to the health of individuals and communities.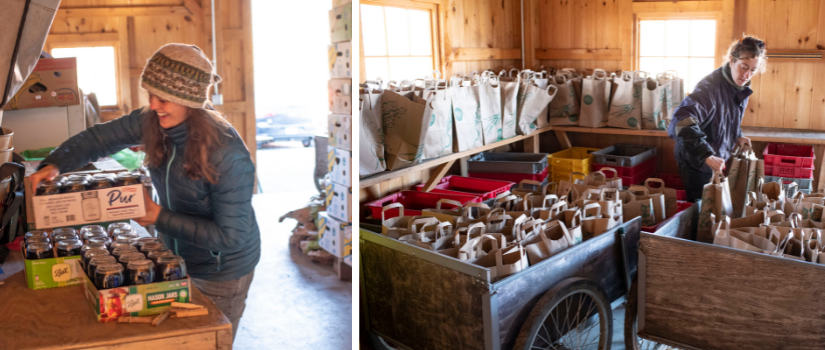 We consider winter storage seriously when we think of food access and what we grow on the farm each year. A pantry or crisper full of easy-to-keep foods like butternut squash, sweet potatoes, onions, carrots, beets, and radishes can be a powerful tool against hunger once the growing season has quieted.

This year, for example, we've grown 9,244 pounds of carrots, 3,597 pounds of beets, and 3,424 pounds of radishes. Foods like these give the people who receive our harvests a source of delicious produce that can be eaten when they need it, whether that's tomorrow, in three weeks, or two months down the road.

As November draws to a close and our big weekly distributions of produce are behind us for the season, we're grateful to be able to give away varieties of produce—storage crops now and harvests we continue all winter long from our hoop houses of cold season crops like spinach—that address hunger even as the main growing season ends. The process of examining the past year and planning for the next is only beginning, and hunger is high on our minds.

Photo credit: Tony Rinaldo Photography, Inc.

Hunger Relief, Recipients, Tales From the Farm