Women's Lunch Place: Growing Community Wellness Through Food, Fun, and Education
July 27, 2022 • Christine Savage, Communications Manager

Having a conversation with a talented chef about meals cooked from scratch with farm-fresh ingredients is a surefire way to jumpstart your appetite.
"Yesterday I had garlic scapes, we also got pea shoots, and then some spinach. I blended it all together—then I added a couple of magical ingredients—and it's just this really beautiful herby green sauce," said Chef Sherry Hughes. "So for lunch today we're having grain bowls with salmon; fresh tomatoes, fresh greens, shredded carrots, then the salmon and the herb sauce. Magical. And so many of the ingredients on those plates came from Gaining Ground."
Sherry is the food service manager for the meal and wellness programs at Women's Lunch Place.
Women's Lunch Place—a new hunger-relief partner of the farm this year—is a daytime shelter in Boston for women experiencing food insecurity, homelessness, and poverty. The organization offers healthy meals, a warm, welcoming environment, and one-on-one support focused on nutrition, health, housing, and economic empowerment.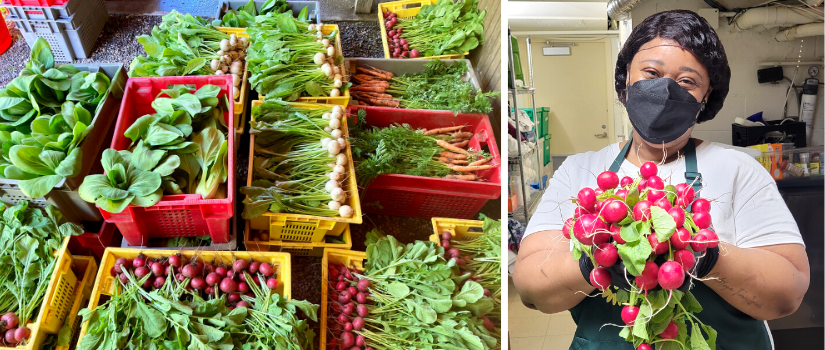 We are thrilled to be partnering with this amazing organization for many reasons, especially because for nearly four decades, Women's Lunch Place has been focused on meeting the growing needs of women affected by rising food insecurity.
"We serve about 400 meals a day, not only through our Healthy Meals program, but we also deliver food to two other locations," said Sherry. "One is a women and children's shelter in Dorchester and one is a church in Roxbury. The need was so great during COVID and it has just continued. So, we're a busy kitchen."
With a staff of five and the support of an army of volunteers—usually between seven and 10 each day—the kitchen is an industrious place where most of the meals are made from scratch. And that means the ingredients matter a lot. "It's sort of like Christmas when y'all arrive," said Sherry. "'What's in that box? What's in that box?' Our guests' tastes can be very sophisticated about food: Anything that they know is fresh from our kitchen—delicious, beautiful food like a Greek or Mediterranean platter, zucchini boats, or sugar snap peas—they really enjoy it."
But the food-related programming goes well beyond the kitchen. Just ask Rachel Orchard, the wellness program navigator at Women's Lunch Place. "I schedule different activities like yoga and tai chi, smoking cessation, and community field trips," said Rachel. "And then a big part of what I do is all food-related work—like group outings to the farmers market, cooking demos, visits to farms—which I broadly call food as medicine programming."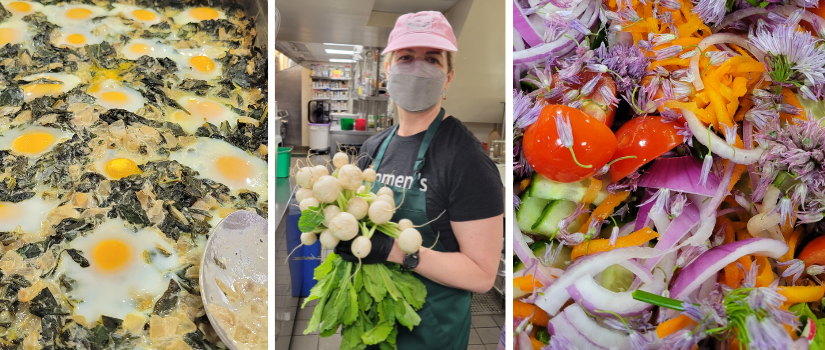 Through this programming, they are trying to get more nutritious, fresh food into the hands of as many people as possible. "And that includes our partnership with Gaining Ground," said Rachel. "It makes it possible for us to increase our sourcing of high-quality vegetables from local farms, and to introduce our guests to some varieties of produce that they might have never had before—like hakurei turnips and kohlrabi."

Rachel and Sherry both hope to make Women's Lunch Place more plant-forward, local, and nutritious. "We're trying to provide sustainable, long-lasting solutions to hunger through overall education," said Rachel. "Part of the bigger picture that we are working on now is supporting people as they leave our services—as they get housed, have their own kitchen, and are making their own healthy meals. That starts with food education at the shelter and can follow them wherever they go."

We would like to thank Sherry and Rachel for taking the time to speak with us. We're grateful for the important work that Women's Lunch Place does and are thrilled to be partnering with them to bring fresh, organic produce from Gaining Ground to the women experiencing homelessness and food insecurity who make use of their services and programming.

Farm Update, Hunger Relief, Recipients