Farmer Spotlight: Catching up with Erin Espinosa
October 28, 2022

This year marks Assistant Farm Manager Erin Espinosa's second season with Gaining Ground. Erin brings with her an incredible depth of knowledge and experience, as well as the kind of enthusiasm and attention to detail that help keep the farm humming along at all times of year.
What has it been like to work on the farm for a second season with so much more familiarity—both with the team and the farm itself?
It feels a lot like using the turbo speed feature in the Mario Kart video game—smooth sailing! But truly, I have never had a more easygoing year of farming than this year, which I mostly attribute to farmer retention. This is the first time (in my short five years of farm management) that almost all of the farmers are returning farmers. And wow what a difference it has made.
My favorite responsibility that comes with working in farm management has always been training farmers. Training for first-year farmers is focused on the basics, such as tool cultivation, proper harvest practices, ergonomics, and encouraging a culture of efficiency and quality work. Training returning farmers is even more fun because you get to dive into more of the systems thinking and development, the science behind the decisions made on the farm, and the kind of instruction that builds on the curiosity that the farmers have developed after a season under their figurative and literal tool belts.
As for myself, returning for another season has allowed for continuity in my personal farm education regarding new-to-me practices including no-till bed preparation and season extension in our many high tunnels. The time I have saved by learning the farm's systems last year has been spent nerding out on pest management research and rethinking current systems on our farm.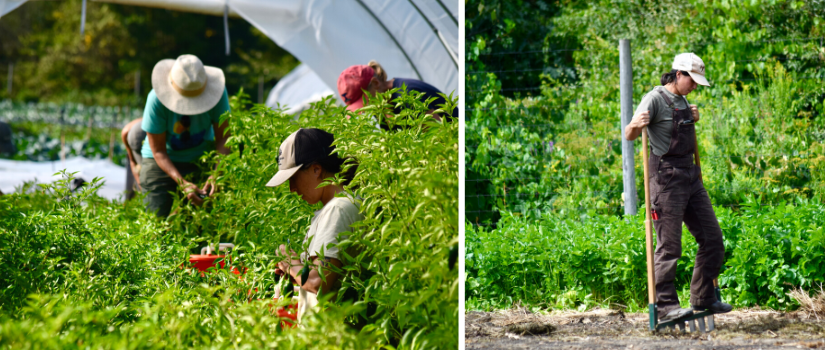 No two seasons on a farm are the same. What are some changes the farm has made this year—to what we grow, how we grow it, or to how the team engages with projects—that you've particularly enjoyed or found meaningful?

Well the elephant in the barn would be that last year we suffered from seemingly endless rain in July and this summer we dealt with a severe drought. Learning how to adjust in both situations has been a valuable experience that I imagine I will have to lean on much more in the future as I continue farming through worsening impacts from climate change.

Other changes that have been more deliberate and within our control include adding a suite of new-to-us crops to our crop plan this year, working towards more efficient hand-scale systems for spreading compost in the fields, and my favorite project this year: upgrading our wash station for greater efficiency and food safety.

What are you looking forward to on the farm in what remains of the season?

I am looking forward to diving into some bigger projects, like making upgrades to our wash station and propagation greenhouse. The wash station is being upgraded with more food safe materials such as aluminum and steel. These materials are long-lasting and will ensure the sustainability of our wash station for many years. Greenhouse upgrades will make for more efficient seeding systems.

My favorite part of farming is efficiency and systems thinking. I deeply enjoy creating or troubleshooting systems and then witnessing how minor changes make big impacts.

Photo credit (image 2): Tony Rinaldo Photography LLC

Farm Update, Staff and Farm Crew, Tales From the Farm