Learning from Our Partners: Food Insecurity in 2021
December 19, 2021 • Gaining Ground

Throughout the harvest season, produce from Gaining Ground goes to meal programs, food pantries, schools, and shelters in Greater Boston and Eastern Massachusetts. Some of these dedicated organizations use our food to prepare and distribute free meals for people who need them. Others give our vegetables, herbs, and fruit away as part of providing free groceries to individuals and families experiencing food insecurity. Our partners work ceaselessly to provide reliable access to fresh, nourishing food for more than 1,200 households each week during the growing season.
Every year, we make sure to visit all of our partners so that we can see the amazing work they do first-hand. After this season's visits were complete, we asked Allison Goodwin, our program manager, and Sue Mildrum, a Gaining Ground board member and the chair of our Partner Committee, to share with us some of what they learned.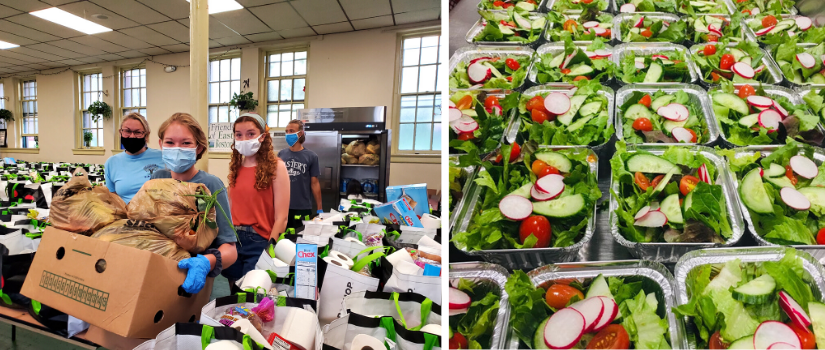 Can you describe for us what some of your key insights were about food insecurity in 2021 based on this year's partner visits?
Allison Goodwin: Visiting Gaining Ground's partner organizations is one of the highlights of my year. Without exception, our partners are passionate, hardworking individuals dedicated to improving equitable access to fresh, healthy food in their communities. It's been wonderful to observe the work they do and to hear how effectively they've adapted their operations in response to COVID-19.
The message from partners this fall was clear and unanimous: Food insecurity rates have decreased slightly from those seen during the height of the pandemic in 2020, but a return to pre-pandemic rates is still very much out of reach. More than 1.6 million of our Massachusetts neighbors are struggling to put enough food on their tables at the moment. Our partners report steady or increased traffic to food pantries, shelters, and emergency meal programs this year. This is the new normal. During our visit to the East Boston Community Soup Kitchen in September, a line of people more than two blocks long had formed by 7 AM, awaiting grocery bags of produce, meat, and dry goods. The food ran out before noon and the soup kitchen was forced to turn hungry people away. This is a heartbreaking, tragic scenario; one that simply should not be playing out in one of the wealthiest countries on earth.
Sue Mildrum: One key take-away for me was that our partners get their food from multiple suppliers, but Gaining Ground's produce is utterly unique in its freshness and quality.
Another was that COVID changed the distribution model for our partners, as well as for us. It changed or eliminated community meals and other services. However, our partners have been very nimble and creative in ensuring they still get food to their guests.
Also, our partners need produce all year round. This obviously is a challenge for a variety of reasons, including the growing season in Massachusetts.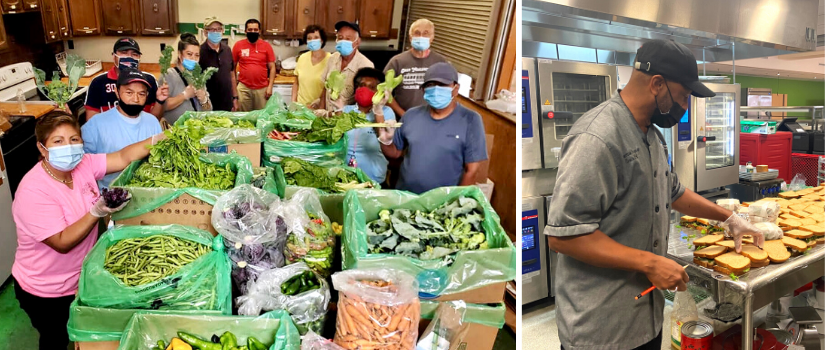 Can you describe any memories or particular details you learned during the visits that stood out to you?
Goodwin: It's difficult to narrow it down. Each visit is inspiring, thought-provoking, and deeply affirming of the work that Gaining Ground does to supply fresh, organic produce to those in need. I will share just a few reflections that come to mind:
Jim Larkin has been the chef at the Lowell Transitional Living Center for 16 years. When he told us with conviction that he was meant to work there, and described the kind of "calling" that he felt to address homelessness, tears came to my eyes. The Lowell TLC strives to meet the needs of our most vulnerable and struggling neighbors in Lowell—those battling substance use disorder and mental illness, fighting from day to day just to survive. Jim's commitment and dedication to supporting these folks with dignity and respect was moving to behold.
Our visit to Eastie Farm in East Boston was very inspiring as well. We were able to visit the urban garden site for the first time since welcoming Eastie as a partner in 2020. Director Kannan Thiruvengadam has an ambitious, expansive vision for engaging with his local community around food access, gardening, diverse cultural foodways, and cooking. He also runs weekly stand-up comedy nights at the farm! Along with Alicia and David Blais of Daniel's Table in Framingham, Kannan is tackling food insecurity with a systems-level approach that I find brilliant. These passionate individuals assert that we have all of the tools and resources to solve hunger right now if we can effectively coordinate at the organizational, municipal, and political level. Tackling food insecurity using collaborative, forward-thinking solutions just makes sense to me.
Mildrum: Walking into House of Hope in Lowell we could smell a delicious lunch being cooked. Chef Paul Dubuque and his staff cook three meals a day, seven days a week, for the families staying at three Lowell shelters. Paul ensures nothing he gets from Gaining Ground is wasted and showed us fresh herb pesto that he froze for winter, as well as pickled beets and cucumbers. He worked hard to provide tasty and healthy meals to their families and I was impressed by his resourcefulness to make his fresh produce last.
We arrived at Daniel's Table during a downpour and rushed through the entrance into a warm, welcoming, and busy environment. The founders, David and Alicia Blais, took turns giving us a tour of their operation. I loved seeing Gaining Ground's produce being offered in a market as well as being cooked into healthy meals that they make available all over town for their guests.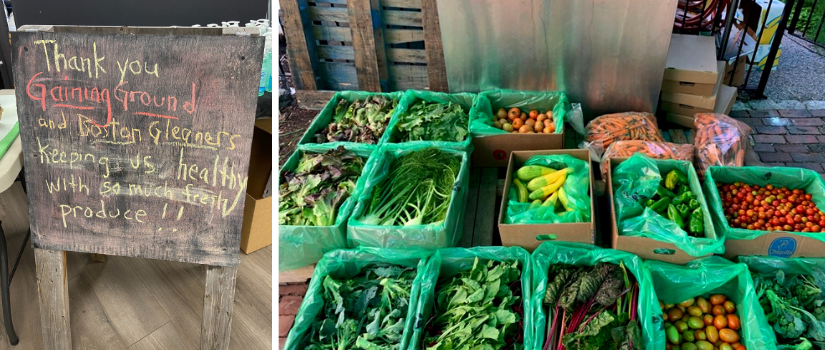 What did you enjoy most about this year's partner visits?

Mildrum: I most enjoyed meeting the compassionate and determined people driving these organizations. They each have their own story of what inspired them to start or work for a hunger-relief organization. They are in a stressful position, distributing limited food in the face of what looks like limitless and desperate need. Despite these difficult circumstances, they exude positivity and confidence. I am so impressed with our partners and more committed than ever to helping them get what they need.

Goodwin: Spending time at our partner organizations each year and speaking directly with the outstanding individuals we work with is a tremendous gift. It's rewarding to hear how our produce makes a positive difference in guests' health and wellbeing; how clients return to a pantry each week, eager to see what's fresh and in-season from the farm; how a couple of neighbors bonded while sharing kale recipes. The feedback fuels my work and keeps me engaged. Visiting our partners each year underscores the importance and success of Gaining Ground's mission.

Thank you so much for sharing your thoughts with us, Allison and Sue, and for highlighting both the ongoing need in our community as well as the amazing work being done through these partnerships. To learn more about the hunger-relief organizations we partner with each season, please visit our website.

Farm Update, Recipients